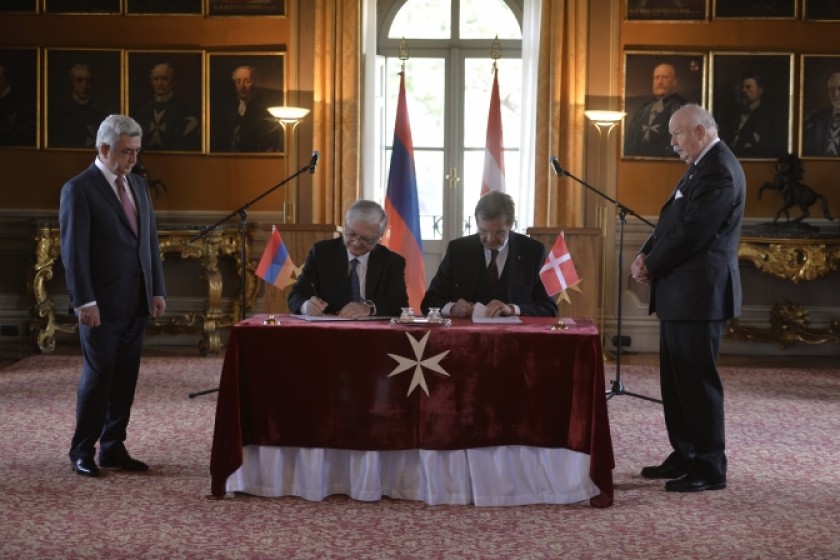 Armenia, Sovereign Order of Malta, Sign Cooperation Agreement
Armenian President Serzh Sargsyan yesterday attended the signing of a cooperation agreement between the Republic of Armenia and the Sovereign Military Hospitaller Order of Saint John of Jerusalem of Rhodes and of Malta (Sovereign Order of Malta).
The document was signed by ArmenianForeign Minister Edward Nalbandian and Grand Chancellor of the Sovereign Military Order of Malta, H.E. Albrecht Freiherr von Boeselager.
The Cooperation Agreement seeks to formulate a common framework for cooperation and set out guidelines for the promotion of patient care, social and healthcare activities carried out by the Sovereign Order of Malta in the territory of the Republic of Armenia.
Armenia and the Sovereign Order will cooperate in healthcare, food safety, volunteerism, disaster risk reduction, social programs, and other spheres subject to mutual agreement.

Following the signing of the Cooperation Agreement, President Serzh Sargsyan and Lieutenant of the Grand Master of the Sovereign Order of Malta Fra' Giacomo Dalla Torre del Tempio di Sanguinetto made statements for the mass media.