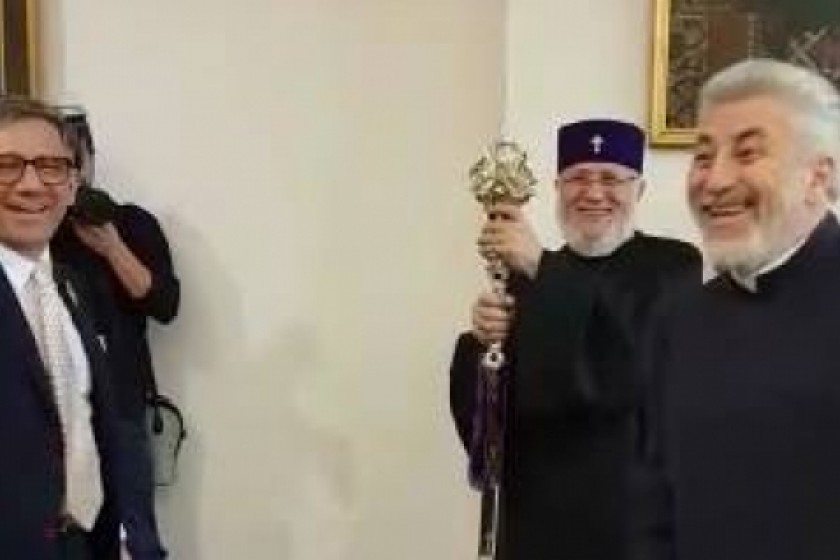 Open Letter to Garegin II: A Member of the Flock Takes Catholicos to Task for Accepting Gold Crosier
One of Hetq's readers sent an open letter to Catholicos of All Armenians Garegin II. We present it below with the attached video.
Your Holiness,
The video on the Internet, showing your delight when accepting a crosier made of 5 kg of gold from Russian-Armenian GarunKocharyan, only makes us recoil.
While a huge part of your flock is deprived of the elementary means of living, and Armenians face so many challenges, you, seeming totally out of touch with this reality, encourage similar gifts and do not think about advising wealthy Armenians to spend that money in more beneficial ways. You encourage this tainted approach by calling these people "benefactors" and by manipulating their delicate sensibilities of vanity.
With such an approach, you push the faithful away from the Armenian Apostolic Church.
Arsen Sargsyan, a follower of the Armenian Apostolic Church
Yerevan
---
On April 2, Armenian Shoghakat TV reported that Garegin II welcomed Russian-Armenian GarunKocharyan,a national benefactor, jeweler and businessman, one week earlier. "The benefactor, together with his wife, Sonya Kocharyan, presented a new crosier to the Catholicos of All Armenians Garegin II. It is a singularstaff, with exceptional sketches. His Holiness held the new crosier at the Easter Mass. It then found its place next to the Catholicos crosiers kept at the Mother See," the Shoghakat TV broadcast noted.