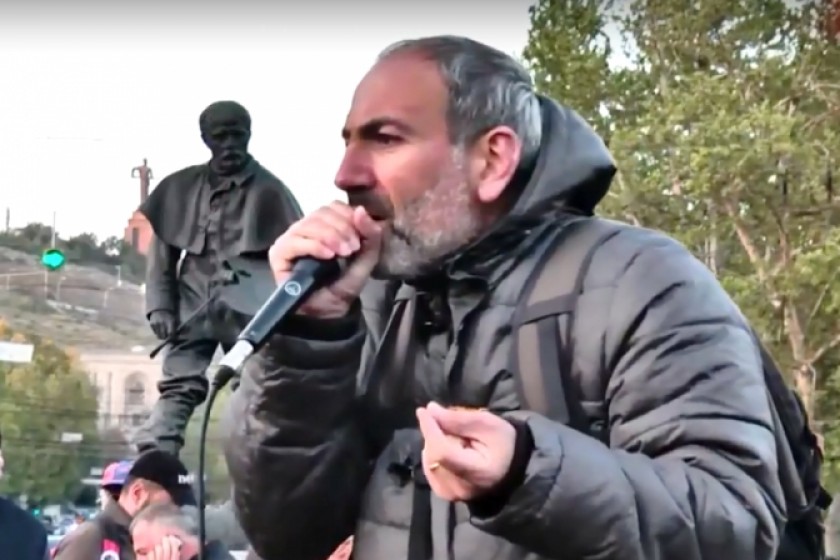 Nikol Pashinyan Wants to Shut-Down Yerevan: Calls for Strikes and Blocking of Bridges
Anti-Serzh Sargsyan Movement leader Nikol Pashinyan is now calling on citizens to block all the bridges in Yerevan with their cars in an attempt to spread the police thin and thus allow activists to approach the National Assembly and form a human chain around it.
Now into its third day of rallies in Yerevan, the movement seeks to prevent ex-Armenian President Serzh Sargsyan from becoming the country's next prime minister.
Pashinyan, apparently not concerned with tipping off law enforcement to the movement's plans for tomorrow, told a crowd of several hundred people attending a rally this evening in France Square to wake-up early on Monday and launch various acts of civil disobedience at 8:15 a.m.
Pashinyan also called on citizens to shut off their cars along various major intersections, thus causing traffic jams during the morning rush hour.
He also suggested that people lie down in the doors of Yerevan subway cars, not allowing them to close.
Perhaps sensing that the movement is sputtering, Pashinyan called on students to boycott classes and workers to strike.
"Serzh Sargsyan is trying to change the essence of our country. He's transforming it into western Azerbaijan. We aren't citizens of Azerbaijan. We are citizens of Armenia. We aren't citizens of North Korea or of Kazakhstan," Pashinyan declared.
Movement supporters will once again spend the night in France Square.