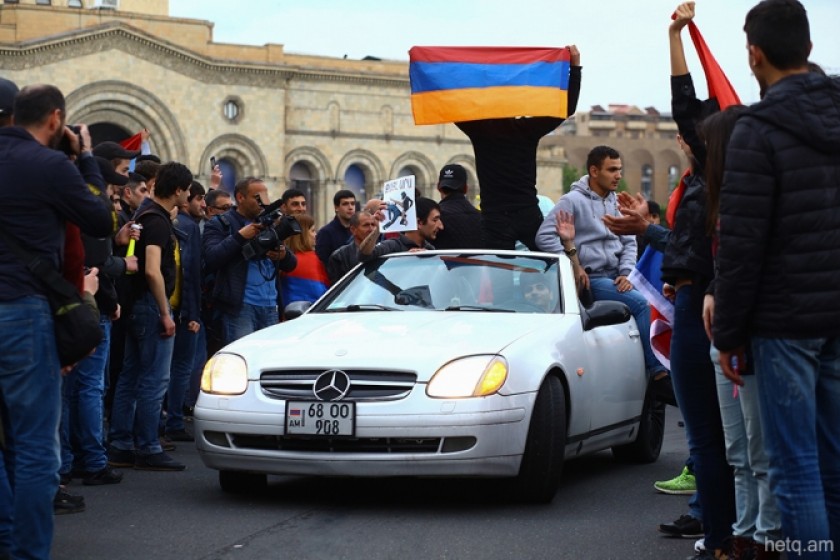 Yerevan's 'Velvet Revolution' Rally: Pashinyan Calls Sargsyan a "Political Corpse"
"The women of Armenia – our mothers, sisters and daughters – are the driving force behind this movement and have a crucial role to play in building the new Armenia." – Nikol Pashinyan
Speakers at today's Yerevan rally declared that there could be no negotiations with the current Serzh Sargsyan regime other than those related to its abdication.
Earlier today, the two leaders of the Armenian Apostolic Church (Catholicos Garegin II and Catholicos Aram I) called on protesters to exhibit patience and calm and for a roundtable discussion of the problems facing the country and the complaints of the people.
Yelk Alliance MP Nikol Pashinyan, who's spearheaded the drive opposing the April 17 election of Serzh Sargsyan as prime minister, congratulated the thousands gathered in Republic Square for waging a peaceful 'velvet revolution' that would soon achieve victory.
The crowd chanted "it's too late" when Pashinyan referred to feelers extended by the regime for negotiations.
Pashinyan then listed the areas in Yerevan (streets, metro stations, squares) that were, or still are, blocked today by protesters. He told the crowd that he had just received word that the roadway leading to Zvartnots International Airport was also closed. He later added that hundreds had closed the road in Parakar and were celebrating in the road.
Pupils in several Yerevan schools, Pashinyan said, had declared school boycotts today.
The firebrand MP, his voice hoarse after days of speechmaking, declared that "Sargsyan's regime was history; a thing of the past" and that "Serzh no longer was in control".
Pashinyan said that anti-Sargsyan demos have taken place in Buenos Aires and San Paolo, and that similar rallies will take place tomorrow in London, Athens and Berlin.
He then referred to a statement made today by the Russian Ministry of Foreign Affairs, expressing hope "that events in Armenia would be resolved democratically and within the confines of the law". Pashinyan argued that this signified that Sargsyan had lost the support of his ally Russia.
Describing Sargsyan as a "political corpse", Pashinyan rhetorically asked "how does one negotiate with a corpse?"
But he said the movement was willing to discuss how long to give Sargsyan to resign as prime minister.
As for would happen after Sargsyan's resignation, Pashinyan said the people would nominate their own candidate for prime minister and that a caretaker government would be formed before holding snap parliamentary elections.
Pashinyan said the movement was willing to discuss the smooth transfer of power with representatives of the ruling Republican Party of Armenia on the condition that elections be free and fair.
He again stressed the necessity to continue the protests in a peaceful manner. Pashinyan then called on the crowd to raise their hands in a symbolic gesture of non-violence.
Pashinyan described the use of force by police to detain protesters as counterproductive, saying such measures would only steel the resolve of citizens.
He declared that the era of fear and mutual disrespect in Armenia was at an end, to be replaced by an atmosphere of compassion and love.
Pashinyan then issued a warning to Yerevan Mayor Taron Margaryan to rein in his thugs that are reported to have assaulted peaceful protesters. Addressing him as "Taro", Pashinyan threatened to literally place the mayor under house arrest and bar him from leaving.
In conclusion, Pashinyan warned that acts of violence perpetrated against peaceful protesters would not go unpunished, despite the movement's non-violence principle.
He declared that the women of Armenia – our mothers, sisters and daughters – are the driving force behind this movement and have a crucial role to play in building the new Armenia.
If you found a typo you can notify us by selecting the text area and pressing CTRL+Enter