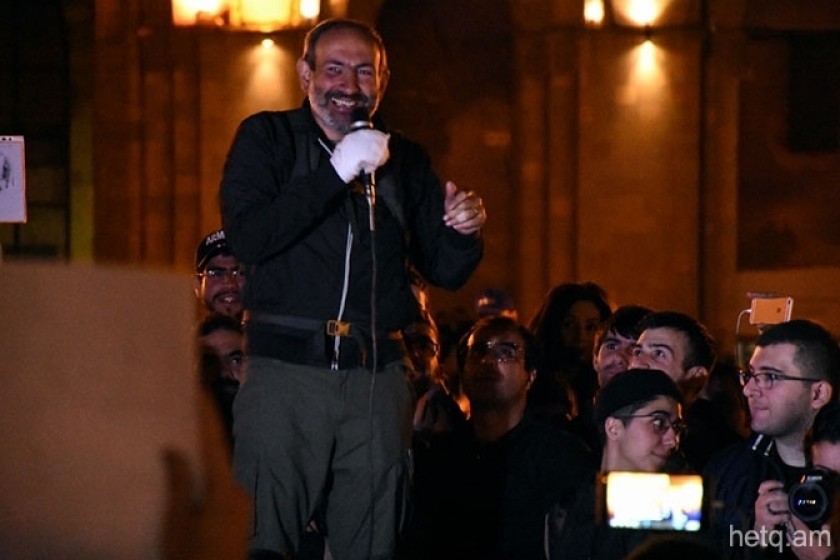 Yerevan Anti-Government Rally: Pashinyan Calls for Continued Civil Disobedience; Sargsyan's Ouster
Taking the podium this evening at a mass anti-government rally in Yerevan's Republic Square, Yelk Alliance MP Nikol Pashinyan reiterated the demand that any negotiations with the ruling regime are conditioned on the immediate resignation of Serzh Sargsyan as prime minister.
Pashinyan, who has spearheaded round-the-clock protests in Yerevan, asked the thousands crammed into Republic Square to endorse him as the people's representative to engage in such negotiations.
The people applauded in agreement, shouting "Nikol, Nikol".
Regarding his earlier meeting with Armenian President Armen Sarkissian in Republic Square, Pashinyan said he had invited the president to the square because he's not the "focus of the conflict" and could speak to him face to face.
Upon hearing Sarkissian's concerns regarding reports of violence, Pashinyan said he turned to the president and assured him that the protest movement "rejects all acts of violence" and that the president should instead monitor the actions of the police.
Pashinyan urged Sarkissian to use his office and see that the laws regarding peaceful assembly and speech are protected.
Pashinyan has called for a continuation of acts of civil disobedience tomorrow, followed by a rally in Republic Square at 7pm.
He called for more people to participate in the protesters and thus tip the balance in favor of "people power".
If you found a typo you can notify us by selecting the text area and pressing CTRL+Enter