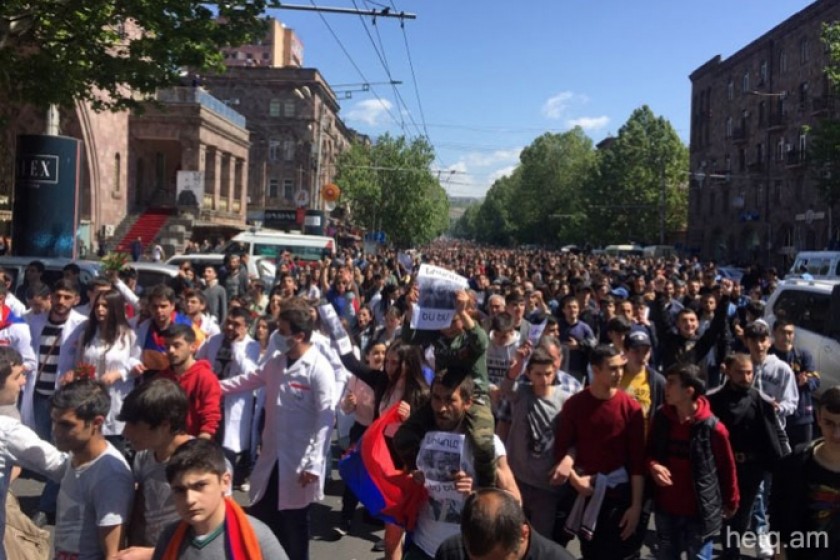 Yerevan: Thousands of Students Continue to March Despite Police Crackdown
Yerevan State Medical University students, started their protest nearby their university building, calling on others to join them. Some of them wore white coats.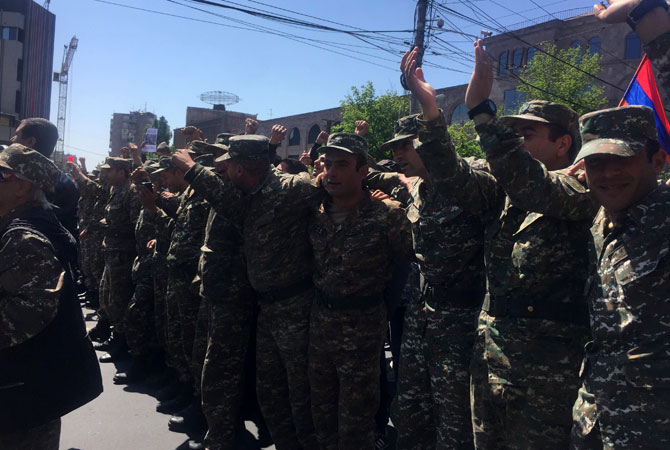 Students were peacefully marching on Heratsi Street when a group of policemen approached and employed force, beating and detaining some of the students. One of the students almost lost consciousness, but police kept dragging him. Police continued applying force again at around 10 am, as a result of which one of the students had to be taken to the hospital.
Medical students continued their march and joined thousands of other students from different universities, including Yerevan State University. At around 11am, the student march was so jam-packed that students closed down most of Mashtots Avenue.
While coming down Lousavorich Street, students were joined by twenty or more peace officers. Their presence has encouraged the students. The marchers, passing Lousavorich and Agatangeghos Streets, reached Rossia Mall at noon.
Note to Readers: Today is the eleventh day of protest in Armenia calling for the resignation of Serzh Sargsyan as prime minister and the transfer of power out of the hands of the ruling Republican Party of Armenia to the people. Yesterday morning, protest leader MP Nikol Pashinyan briefly met with Sargsyan, who balked at Pashinyan's demand that he resign. Sargsyan got up and left after three minutes. In a veiled threat, Sargsyan alluded to the unrest of March 1, during which ten people died. Sargsyan argued that Pashinyan had no right to speak in the name of the people. A hour later, MPs Pashinyan, Ararat Mirzoyan and Sasoun Mikayelyan were detained and subsequently arrested.