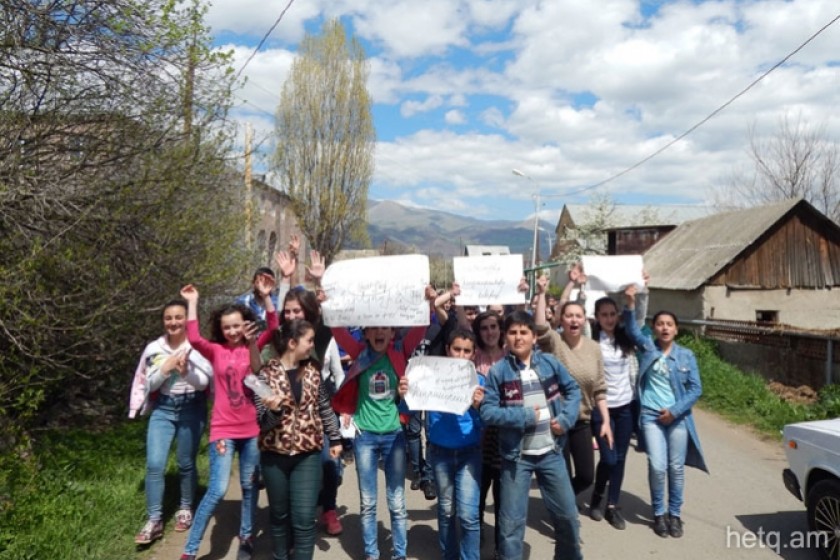 Odzoun: Students March, Disregarding Orders of Principal and Mayor to Return to Class
Some 200 senior class students at the Movses Zourabyan Public School in Odzoun, a village of 4,000 in Armenia's Lori Province, left the classroom this morning and staged an anti-Serzh Sargsyan strike of their own.
Gathering in the courtyard of the village cultural center, the students chanted "Take a step, reject Serzh".
The students then marched through Odzoun, calling on residents to join them.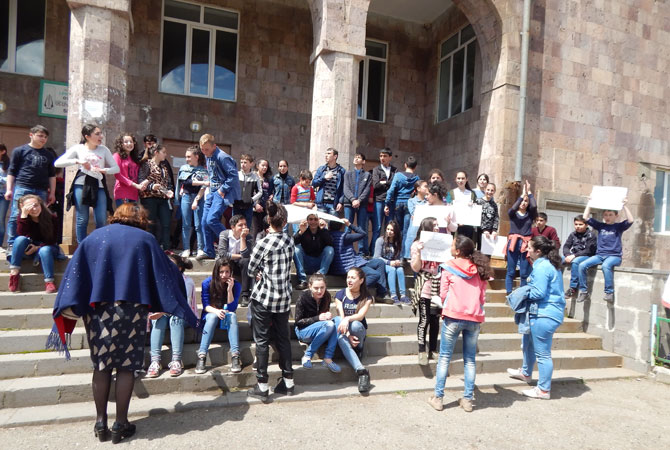 School Principal Hripsimeh Ghoulyan and Odzoun Mayor Arsen Titanyan demanded that the students return to class. Students continued to march.
Note to Readers: Today is the eleventh day of protests in Armenia calling for the resignation of Serzh Sargsyan as prime minister and the transfer of power out of the hands of the ruling Republican Party of Armenia to the people. Yesterday, protest leader MP Nikol Pashinyan briefly met with Sargsyan, who balked at Pashinyan's demand that he resign. Sargsyan got up and left after three minutes. In a veiled threat, Sargsyan alluded to the unrest of March 1, during which ten people died. Sargsyan argued that Pashinyan had no right to speak in the name of the people. An hour later, Pashinyan was detained and subsequently arrested. Police also arrested Yelk Alliance MPs Ararat Mirzoyan and Sasun Mikayelyan.