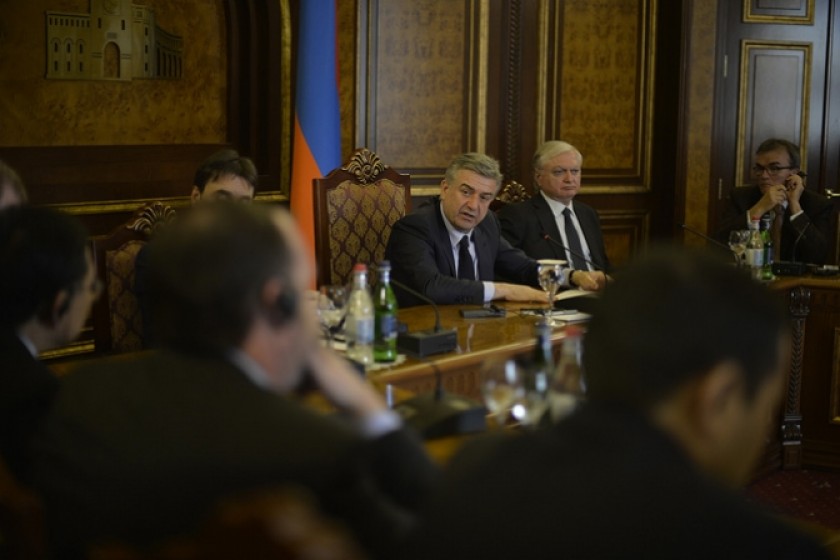 Karapetyan Reassures Foreign Ambassadors: Says He Will Meet with Pashinyan to Find "Solutions"
Sitting down with ambassadors of foreign countries posted in Armenia and with representatives of international organizations based in Armenia, Acting Armenian Prime Minister thanked all those governments who, in his words, "exhibited balance" in their statements regarding the two weeks of civil disobedience that forced Serzh Sargsyan to resign as prime minister on April 23.
Karapetyan assured them that Armenia will continue to carry out all its international treaty obligations. He then answered questions posed by the ambassadors, this according to a government press release.
Repeating an earlier claim made today, Karapetyan argued that the government had done everything to avoid violence and to create an environment of "national harmony."
"I believe this is the best evidence regarding the maturity of democracy in Armenia and the state mentality. I believe that Armenia sent a clear sign to the world that stable state institutions have been created, that democracy has been formulated, and that the two are marching confidently forward," Karapetyan said.
He then praised the "high level of professionalism and tolerance" exhibited by the police and internal security apparatus.
Referring to young people, who spearheaded the anti-government protest movement, Karapetyan described them as "our future" and "the strong foundation for building the Armenia we dream about".
The acting prime minister then assured the ambassadors and representatives of diplomatic bodies that all Armenian government institutions would continue operating normally, thus guaranteeing the safety of the country's citizenry and foreign guests.
Referring to the protest movement's demand that a new prime minister, selected by the people, would take over the running of the government, Karapetyan merely said, "we will sit down with Nikol Pashinyan and attempt to find solutions".
Here, Karapetyan is referring to Yelk Alliance MP Nikol Pashinyan who launched the protest movement against Serzh Sargsyan and the ruling Republican Party of Armenia government.
"Independent of all else, I want to stress yet again, that all solutions must be civilized and rational, within the parameters of the constitution and the law. I will do all possible to ensure national harmony and unity, and I expect the same from my colleagues," Karapetyan said.