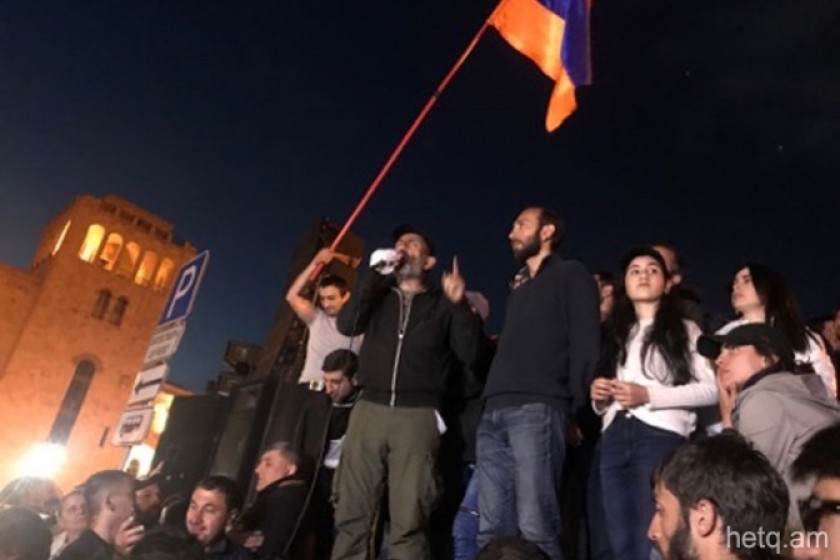 Pashinyan Returns to Republic Square; "Our velvet revolution must continue until the end"
"Proud citizens of Armenia, you have won!"
These were the words uttered by Nikol Pashinyan, the firebrand protest leader at a mass rally in Yerevan's Republic Square just an hour or so after the resignation of Serzh Sargsyan as the country's prime minister.
Pashinyan, who was arrested yesterday and released today shortly after Sargsyan's resignation, returned to Republic Square, the epicenter of almost two weeks of protest rallies, to thunderous ovation and applause by the thousands gather there.
"Yesterday, I met with Serzh Sargsyan at the Marriott Hotel. He got up and left in the middle of our meeting. I knew then that he had already left the post of prime minister," Pashinyan said.
Saying that there was a new government in charge of Armenia, the people's government, Pashinyan reminded the crowd that the movement's agenda wasn't finished.
"Sargsyan resigned. That's happened. The National Assembly must now appoint the people's candidate for prime minister. This must happen within one week. After this appointment, a caretaker government will be formed, followed by snap parliamentary elections."
Pashinyan said he would enter into negotiations with Karen Karapetyan (the acting prime minister) tomorrow to discuss the smooth transfer of power.
"I hope that the upper echelons of the Republican Party of Armenia will recognize the victory of the non-violent revolution. The quicker they recognize this fact, the better it will be for Armenia and Artsakh. The velvet revolution we've declared must not remain incomplete. It must continue until the end," Pashinyan said.
Calling on those business people who've "already packed their bags" to leave the country, Pashinyan said there would be no vendettas, promising to usher in "an atmosphere of fraternity, equality, justice and national unity".
Pashinyan said he reached an agreement with Karapetyan to have all those arrested released by the end of the rally.