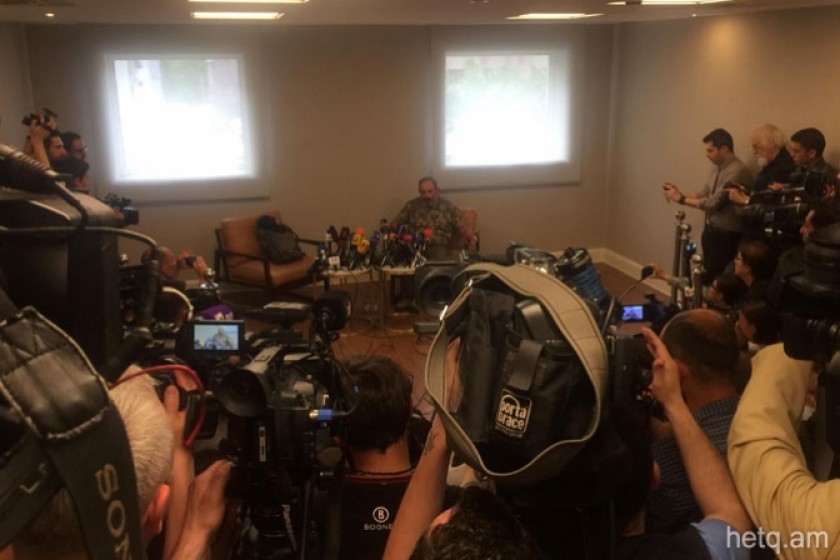 Karapetyan Bows Out of Meeting with Pashinyan, Calling It a "Show"
Acting Armenian Prime Minister Karen Karapetyan has turned down protest leader Nikol Pashinyan's invitation for a sit-down meeting today at Yerevan's Marriott Hotel.
Pashinyan extended the invitation at last night's anti-government rally in Republic Square.
Members of the press in full force, Pashinyan entered the room at exactly noon. Karapetyan wasn't there, and he never came, prompting Pashinyan to note that the man was probably uncertain about his negotiating skills.
Commenting on the departure of Edward Nalbandian and Armen Gevorgyan (acting foreign minister, acting deputy prime minister) to Moscow, Pashinyan said, "They have no support in Armenia and probably want to create the impression that they have support abroad."
Pashinyan stressed that he had the "mandate of the people" and that the parliament must bear this in mind. (The parliament is set to elect a new prime minister on May 1. Pashinyan opposes the election, arguing that current parliament is controlled by the Republican Party of Armenia-RPA)
The RPA has authorized Karapetyan as its spokesman in any negotiations with the opposition.
Aram Araratyan, Karapetyan's press secretary, posted on his Facebook page that the acting prime minister failed to show because Pashinyan was still setting the ground rules.
"Karen Karapetyan's answer is the same as the last time. Negotiations, were one side sets the agenda and the other cannot, aren't really negotiations," Araratyan wrote, adding that Pashinyan's condition that the press be present indicates that the opposition is more interested in putting on a show than actually negotiating.
Araratyan added that Karapetyan remains convinced that the most effective way to resolve the political impasse in Armenia is for all political forces, parliamentary and non-parliamentary, to accept the president's suggestion to jointly discuss the matter.
If you found a typo you can notify us by selecting the text area and pressing CTRL+Enter