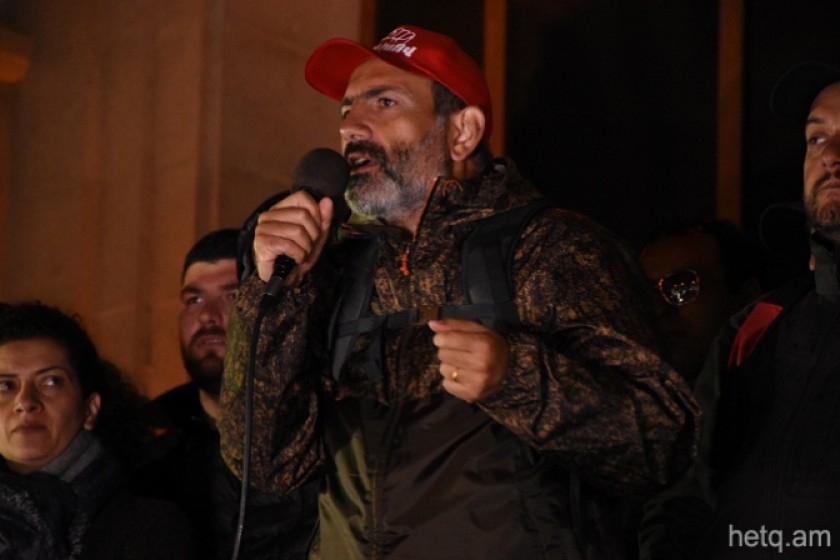 Anti-Government Rally in Gyumri: Pashinyan Calls for "People's Victory" on May 1
The ongoing anti-government movement, spearheaded by Yelk Alliance MP Nikol Pashinyan, moved their protests from Yeravan to Gyumri today, arguing that activists in the Armenian capital needed a few days of rest before May 1 when the National Assembly is scheduled to elect a new prime minister.
A convoy of cars, filled with movement supporters left Yerevan at 3pm, reaching Gyumri, the country's second largest city four hours later. The convoy was delayed on route since residents in communities along the way turned out to welcome the convoy.
Students, teachers and representatives of local NGOs met the convoy in Gyumri.
The rally kicked off with Arsinée Khanjian, who had flown in from Canada, taking the stage. She congratulated citizens of Armenia for standing up for their rights and declared that the diaspora supported them.
"We are certain that the diaspora must participate in the development of Armenia, but we don't know how to do so. We must stand in solidarity with you. There are Armenians in many parts of the world who are with you for your victory. Special congratulations from Serj Tankian, Atom Egoyan and others. You must encourage the diaspora because it too is fearful. We can have an independent country, without the interference of foreign powers. Today, we are an independent and free Armenia," Khanjian said.
Levon Barseghyan, a member of the "Reject Serzh" initiative and president of the Asparez Journalists' Union, said that except for a few people no one believed that it would be possible to achieve victory by marching. (He's referring to the march that Pashinyan and the "Take a Step" initiative made throughout Armenia that preceded the protests in Yerevan)
"I have no doubt that we will win. These days we see officials and politicians declaring that they are joining this revolution. In many cases, people are angered and amazed. Show tolerance. Such things happen during revolutions. People review their positions, understanding that they were wrong. Reviewing issues is a trademark of revolution. We will win through peace," Barseghyan told the crowd.
As customary, Nikol Pashinyan was the last to speak.
"There is no doubt that this spiritual people will win the Karabakh conflict, will triumph over corruption and poverty, will achieve great victories in the economic sector, will halt the parade of people to foreign shores, followed by a great march back to this dear and unparalleled homeland from different corners of the globe. Citizens of Armenia have straightened up and are confidently looking to the future. Today, the citizenry has won, and that victory is immutable," Pashinyan said.
He repeated that the only way to make the victory de jure, and not just de facto, is to elect the people's candidate for the post of prime minister.
"If I thought there was another way to achieve this, without destroying the victory of Armenian citizens and the spirit of victory, I would retract this statement on the spot. But the seriousness of the political situation tells me there is no alternative, and that the de facto victory of the people must be enshrined as de jure at the May 1 election for prime minister in the parliament," Pashinyan said.
He said it is possible to resolve the current crisis by just one step – to explain to Karen Karapetyan that he can't be Armenia's prime minister.
"This is a different Armenia. It is no longer a country where a member of the Republican Party can become prime minister or president. It's the Armenia of a victorious citizenry, of love and unity."
Pashinyan then attempted to dispel those concerns that after taking power he and his team would stage an economic and geo-political battle against Russia.
"We are not Russia's enemy, and certainly not enemies of our own country, inclined to take our country down the road of adventurism. There will be no geo-political reversals once assume power. We have never said that Armenia must leave CSTO. But we will work to see that it becomes more effective and issues more guarantees for Armenia and Artsakh. We declare that Armenia will respect all its international obligations, including those of the EU-Armenia Comprehensive and Enhanced Partnership Agreement and the Eurasian Economic Union. This doesn't mean that our cooperation with these two is flawless. Yes, we will try to make that cooperation perfect. With the support of this powerful people, we can surely do so."
Talking about the battle to come on May 1, Pashinyan called on citizens to flood the streets in Yerevan that morning.
"Today's rally was historic in scope. Gyumri residents tell me it's one of the biggest since those during the independence movement. It's important to commemorate today's mass march through the streets of Gyumri. This is especially the case because I started my march from this very square 28 days ago. I knew that by setting out from this square in Gyumri we would be victorious."
A rally in Vanadzor, Armenia's third largest city, is scheduled for tomorrow.
Photos: Narek Aleksanyan
If you found a typo you can notify us by selecting the text area and pressing CTRL+Enter