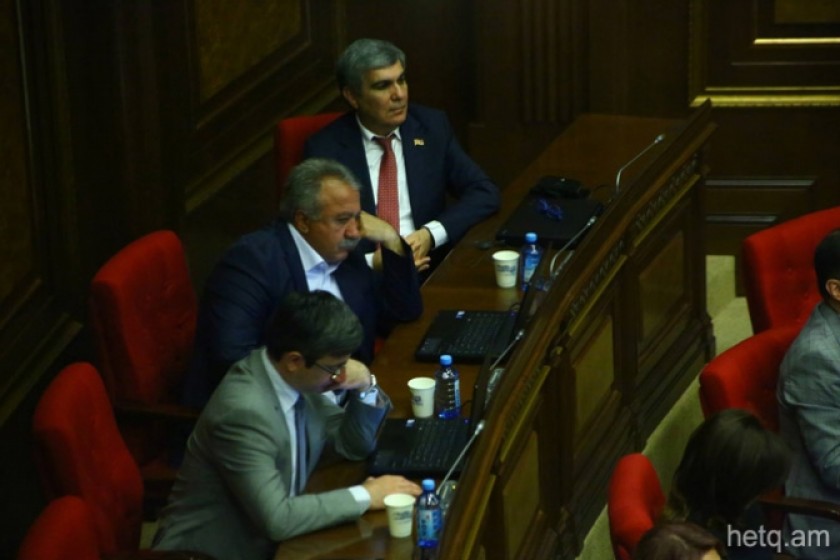 Yelk MP Aram Sargsyan Warns of Armed Resolution to Armenia's Political Crisis
At today's special parliamentary session slated to hold a vote electing Armenia's next prime minister, Republic Party President Aram Sargsyan, a Yelk Faction MP, scolded his colleagues for speaking about everything under the sun except the country's current political crisis.
Sargsyan said the only resolution is "in the streets", where thousands have gathered, voicing their solidarity with Nikol Pashinyan, the only declared candidate for the post of prime minister.
He said that the impasse is the result of years of corrupt elections and that elections are held for the people to express their free will, voting their leaders in and out of office.
"What are you thinking, that the people will lose out once again, and that we seated here will go on engaging in politics? What's the reasoning? The result will be an armed resolution. People will think that thousands rallying in the streets isn't sufficient and they will look for other resolutions," Sargsyan said.
He noted that Pashinyan's answers to the questions posed by parliamentary deputies today surpassed anything he's heard to date since his brother Vazen Sargsyan's confirmation hearing, saying they were so well prepared and measured.
As a former prime minister himself, Sargsyan called on Republican Party of Armenia MPs to think well before pushing the voting button.
(Aram Sargsyan served as prime minister from November 1999 to May 2000. He's the younger brother of Vazgen Sargsyan, a former defense minister who was prime minister from June 1999 until his assassination in June of that year.)
If you found a typo you can notify us by selecting the text area and pressing CTRL+Enter