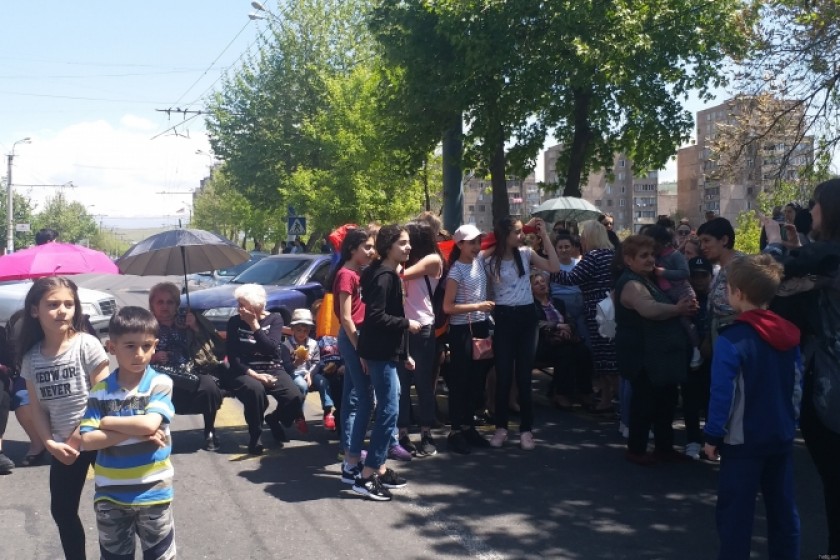 Yerevan: P.S. 180 School Teachers on Strike
Teachers at Yerevan's P.S. 180 are staging a work strike today. Joing them are pupils and their parents.
They've all sat down in the middle of Babajanyan Street, hindering traffic.
Ruzanna Melikyan, an Armenian language and literature teacher at the school in the Armenian capital's Avan District, told Hetq that all her fellow teachers have walked out.
She said it was no longer possible to teach her pupils about the meaning of Mikayel Nalbandyan's famous poem "Freedom".
"We're living in a country where the rule of law doesn't exist. How can I teach such a topic?" Melikyan said.
The teacher said they'd strike tomorrow as well.
"The dissatisfaction of the people is boundless. We demand a just and proper government," Melikyan said.
Note: Today, throughout Armenia, people are protesting yesterday's failure by the National Assembly to elect Nikol Pashinyan prime minister. Pashinyan, the "people's candidate" lost the election 56-45. All 56 opposing votes were cast by the Republican Party of Armenia. After the vote, Pashinyan called on his supporters to relaunch their acts of civil disobedience on an even greater scale intending to paralyze the country. The National Assembly will vote again next week. (The original tally of 55 opposing votes released by the National Assembly was incorrect. After the tally, one MP said his ballot against Pashinyan wasn't counted.)