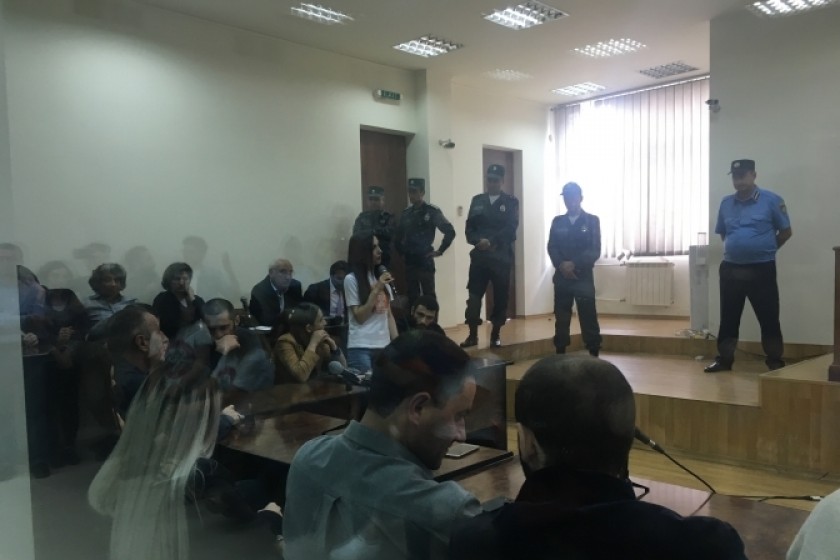 11 Sasna Dzrer Members to Remain in Pre-Trial Detention; Supporters Block Street in Protest
Judge Arshak Vardanyan today decided to keep eleven defendants in the Sasna Dzrer case in pre-trial detention.
Upon hearing the decision, their supporters filed out of the court and blocked Arshakunyats Avenue in protest.
Defense attorneys had earlier motioned the court to modify the mode of detention, thus allowing their clients to be released while awaiting trial in the case that dates to the summer of 2016.
The attorneys claim their clients, accused of the armed seizing a Yerevan police building and holding hostages, are political prisoners, describing what they did as a "rebellion".
Harutyun Baghdasaryan, lawyer for Aram Manukyan, told the court that if the Sasna Dzrer group hadn't done so, President Serzh Sargsyan would have handed Karabakh over to Azerbaijan.
The eleven defendants are Aram Manukyan, Hovhannes Haroutyunyan, Tatoul Tamrazyan, Aram Hakobyan, Tigran Manukyan, Arayik Hakobyan, Vardan Geravetyan, Martiros Hakobyan, Sergey Kyureghyan, Gevorg Iritsyan and Toros Torosyan.