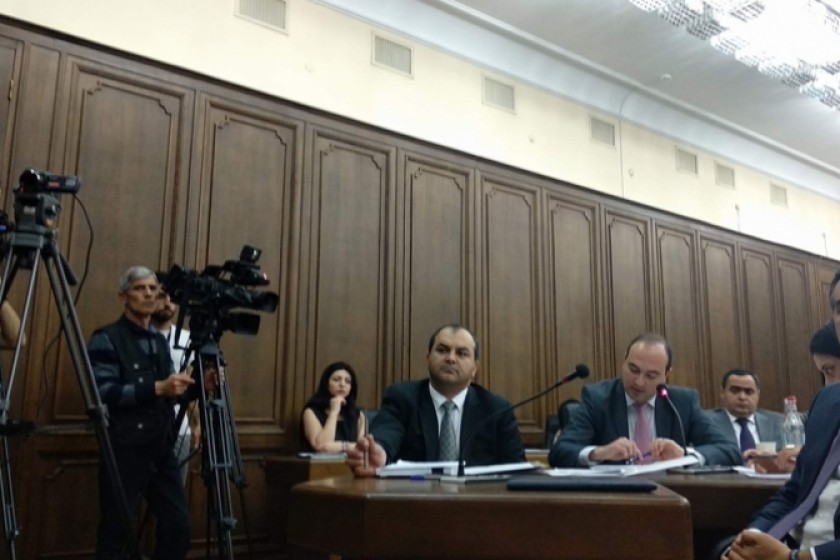 Armenian Prosecutor General Grilled about 2017 Death of "Bread Bringer" Artur Sargsyan
The Armenian National Assembly's Standing Committee on State and Legal Affairs and the Protection of Human Rights reviewed a petition filed by the Yelk Faction to look investigate the March 16, 2017 death of Artur Sargsyan – the man nicknamed "the bringer of bread".
Yelk MP Edmon Marukyan told the committee that he and Nikol Pashinyan (Armenia's current prime minister and MP at the time) had called for Sargsyan's release to due failing health.
Sargsyan, who was arrested and later released for bringing food to members of the armed Sasna Dzrer group who seized a Yerevan police building in July 2016, staged a three-week hunger strike after being detained in February 2017, allegedly for not appearing for a court date regarding his case. Sargsyan was pronounced dead at Yerevan's Armenia Medical Center after being diagnosed with an abdominal hernia. He died a few hours after being operated on.
"We had argued that if steps weren't taken and if he wasn't released, it was possible that he'd die in prison. He wasn't released and sadly he died. A criminal case was launched to investigate the circumstances of his death and to find those guilty. There is no information on this matter which is important for the public to have," Marukyan said.
Prosecutor General Artur Davtyan said that the matter was investigated in detail last year and the information appears in the annual report.
"Mr. Marukyan, let me repeat what I've already said. Artur Sargsyan didn't die while in detention. He was operated on due to a specific health matter, recuperated in hospital, and discharged. He died afterwards. The criminal case was launched on these facts. The preliminary examination hasn't finished," Davtyan said.
The committee also responded to Yelk Faction complaints that law enforcement wasn't doing enough to identify those individuals, sometimes masked, who attacked pro-Pashinyan supporters during the recent anti-government protests in Yerevan.
Prosecutor General Davtyan said that law enforcement had received numerous taped recordings of the attacks and were examining each one closely for clues. Davtyan said it was likely that several individuals would be charged.