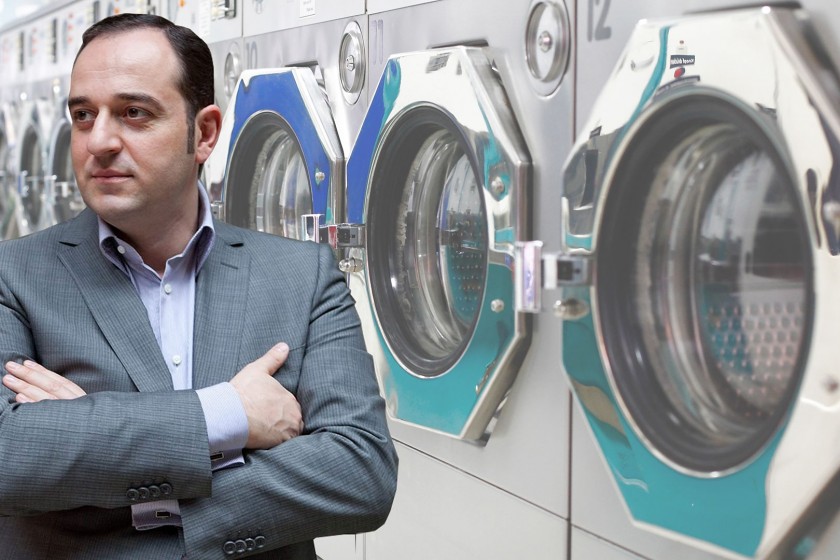 Public Television of Armenia: Ruben Jaghinyan's Money Laundering "Laundromat"
Chairman of the Council of Public TV and Radio Company of Armenia Ruben Jaghinyan, and colleagues, have turned Public Television of Armenia into a "laundromat" for money laundering.
The Ministry of Finance's auditing inspectorate has uncovered vast financial irregularities at Public Television of Armenia (PTA), but no one has been held accountable.
Jaghinyan, nicknamed "Jazz", knows how to take care of such issues.
Hetq has written that the inspectorate uncovered accounting infractions of more than 2 billion drams at Armenia Public Television. (See: Ministry Inspectors Uncover US$10.3 Million in Armenian State Budgetary Expenditure Violations)
This is taxpayer money that has been squandered. But there's a catch.
The inspectorate did not examine non-government budgetary expenditures. Such allocations are also vast. These aren't considered advertising expenditures since PTA cannot broadcast advertising. But the PTA has devised convenient accounting terminology to receive and spend such monies.
Only 321 million drams of the 2 billion violations are subject to restoration or reformulation. In response to a Hetq inquiry, the Ministry of Finance issued the following response.
"Of the amount mentioned, the 183.6 million drams subject to restoration has already been added to the Armenian state budget. 132.6 million drams has been registered as subject to reformulation. 1.692 billion drams is neither subject to restoration nor reformulation, and the company has corrected the registered irregularities of this portion."
Let's see how the 183.6 million drams were restored. Simply stated, the government of then Prime Minister Karen Karapetyan took 174.728 million drams from the reserve budget and allocated it to Public Television of Armenia.
The government allocated the money as a "gift" to PTA to cover "financial obligations stemming from the PTA's technical equipment upgrade program".
Thus, the government allocated yet another chunk of cash to Jaghinyan's agency. Meanwhile, Jaghinyan purchased two apartments on Yerevan's Northern Avenue, joining both into one large domicile.
The Ministry of Finance hasn't provided details about the violations uncovered at PTA. If it had, many now in jail would be freed, replaced by those running the PTA.
What Hetq has been able to find out is that the PTA, for years, has signed off on the expenditure of money for new programs it never prepared, substituting programs prepared years ago with similar names.
As for the technical equipment it purchased, you won't find it on the premises of PTA. And the amounts of money the PTA says it's spent on construction, which never ends, are also suspect.
Let's present one fact to show the mechanisms used by Ruben Jaghinyan to launder money.
Some 75% of PTA's budget was transferred to Sharm Holding. This company then took a portion of the money and transferred it to another company to lease equipment. Jaghinyan owns 50% of Sharm Holding. Hrant Tokhatyan and Karen Ghazaryan own 25% each.
If the Prosecutor General's Office hasn't been able to amass sufficient evidence to launch a criminal case, Hetq is ready to assist in this work.
All we need is for the appropriate agencies to allow Hetq to examine the PTA's financial documents. We'll thus be able to provide all the details about the "washing machine" also known as Public Television of Armenia.
The public should also know that the building housing the PTA has been put up as collateral in one of the local banks in Armenia.
If you found a typo you can notify us by selecting the text area and pressing CTRL+Enter