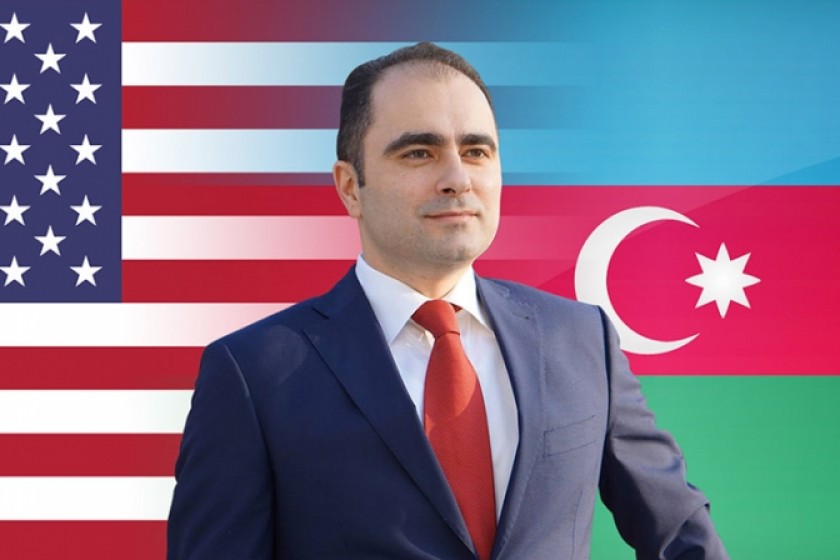 Adil Baguirov: Baku's Man in America
The Azerbaijani Laundromat — a set of intertwined bank accounts used as a slush fund by the country's elite to buy luxury goods, pay off European politicians, and launder money — also included payments to an individual working to influence American policy in the interest of Azerbaijan, an analysis of the data shows.
Overall, some €2.5 billion (US$ 2.9 billion) flowed through the Laundromat between 2012 and 2014. The Organized Crime and Corruption Reporting Project (OCCRP) and partners first revealed the scheme last September. A portion of the money was used to advance the Azerbaijani government's political agenda, with some ending up in bank accounts belonging to European politicians who spoke highly of President Ilham Aliyev's authoritarian regime even as it arrested journalists and opposition activists.
As it turns out, another recipient of Laundromat money — to the tune of a quarter million dollars — was an influential American oil and gas consultant of Azerbaijani origin who worked to influence US policy in his native country's favor.
Adil Baguirov, a business owner based in Dayton, Ohio and a vocal member of the Azerbaijani diaspora, received the $253,150 transfer just months after a non-profit organization he runs, the Houston-based US Azeris Network, helped host a conference in Baku, Azerbaijan's capital, that was attended by 10 members of Congress. The junket was widely criticized, and investigated by the House Ethics Committee, for being secretly funded by Azerbaijan's state oil company.
The precise origins of the money Baguirov received are unknown, hidden behind secretive shell companies. But there is ample evidence that the authoritarian country's ruling elite is behind it.
Baguirov's Washington lobbying in the interests of Azerbaijan goes far beyond the 2013 conference. He has also helped organize other US-Azeri conferences in Washington, repeatedly testified before the House in favor of US military aid to Azerbaijan, served as the coordinator of the Congressional Azerbaijan Caucus, and worked prominently in a Houston-based company that claims to have organized a trip by the country's president, Ilham Aliyev, to the White House.
Baguirov and his family run in elite circles back home. They are known to have close ties to President Aliyev – who awarded Baguirov a medal for his efforts in the US – and he and his father serve in numerous advisory roles to the Azerbaijani and Russian governments respectively. Baguirov did all this while holding American, Azerbaijani, and, it also appears, Russian citizenship ​until at least 2005.
His lobbying raises the question of whether he should have registered as a foreign agent, as the Foreign Agents Registration Act (FARA) requires people representing the interests of foreign countries to do. Although the statute is loosely defined and contains a number of exemptions and loopholes, Josh Rosenstein, a lawyer at Sandler Reiff, says "this case raises red flags and raises questions that the Justice Department may be interested in having answered."
When contacted by OCCRP reporters for comment, Baguirov said the payment he received was none of their business.
An American Success Story
Adil Baguirov's campaign website touts him as "An American Success Story"— a striving immigrant who came to the United States at the age of 16 to "study hard and pursue his dreams" of a better life.
He graduated from the University of Southern California in international relations and business administration, and also received a PhD in political science in Moscow. Today, however, he's a local business owner and educational leader in Dayton, an Ohio city with a population of around 140,000.
In a 2016 feature on Dayton, Politico described Baguirov as "handsome and well-spoken enough that it was easy to imagine him going far [in politics] … just the sort of new American who Republican Party leaders said the party could bring to its side, if only it tried."
In fact, he recently mulled the possibility of running for Ohio's state senate as a Republican, though he ultimately decided to sit the 2018 election cycle out in order to, as he told Dayton Magazine, "take a little time off."
According to the magazine, the businessman has "spent his entire life committed to the idea of education, both for himself and others." Indeed, his first foray into local politics began five years ago, when he was elected to Dayton's school board, a position he held until 2017, when he resigned more than a month before the end of his term after local activist David Esrati discovered that he appeared to have lied about his residential address.
But, as it turns out, Baguirov's eligibility for the school board is not the only controversy surrounding the businessman.
Just one week after he was elected to the position, a consulting company he runs called Turbillion LLC received a payment of US$ 253,150 from Hilux Services, a shell firm that is part of the Azerbaijani Laundromat. The reason for the payment is listed, cryptically, as "to the contract."
While Baguirov lives in Ohio, Turbillion is registered in Wyoming, a state popular with those looking to create secretive companies due to its tax-free incentives and provision of anonymity.
Turbillion has no website and no publicly known activity, and it's just one of a number of similar companies controlled by Baguirov. For example, it shares the Dayton mailing address of Nobel Brothers Pictures LLC, another Wyoming-based company which is allegedly producing a Hollywood movie about the history of the Azerbaijani oil industry.
Scarves, Tea Sets, and Rugs
Baguirov's Houston-based non-profit, the US Azeris Network (USAN), describes itself as a "genuine grassroots advocacy and voter education network" for Azerbaijani-Americans and other Turkic Americans, "created by the grassroots, for the grassroots." Much of its activity, however, appears to advance the interests of Azerbaijan.
Six months before Baguirov received the Laundromat payment, the organization helped organize a two-day conference in Baku called "US-Azerbaijan Relations: Vision for Future." It was the second of three annual conferences meant to celebrate and strengthen the countries' relationship, with a focus on energy security, stability, and regional cooperation in the South Caucasus and the Caspian Basin.
The conferences came at a sensitive time for US-Azerbaijani relations. At the time, a consortium of major oil companies — including Azerbaijan's state-owned SOCAR, BP, Russia's Lukoil, and the National Iranian Oil Company (NIOC) — was seeking exemptions from US sanctions against Iran, which affected its work in the vast Shah Deniz gas field in the Caspian Sea and its plans for the so-called Southern Gas Corridor to pipe the gas to Europe.
So it was noteworthy that the Baku meeting in 2013 was attended by 11 members of Congress, 10 of whom were paid for, and over 30 of their staff — and that, according to a confidential report by the Office of Congressional Ethics (OCE) obtained by the Washington Post, they were lavished with silk scarves, crystal tea sets and Azerbaijani rugs valued at $2,500 to $10,000.
Upon their return to the US, many of these lawmakers spoke favorably about Azerbaijan and promoted the Southern Gas Corridor project. Five days after the conference, President Obama signed an executive order further tightening US sanctions on Iran. But it included an exception for "certain activities relating to the pipeline project to supply natural gas from the Shah Deniz gas field in Azerbaijan to Europe and Turkey," according to a statement by the White House press secretary.
In invitations sent out by representatives of SOCAR, Azerbaijan's state-owned oil firm, Baguirov's USAN was initially named as one of the conference's organizers, alongside another Houston-based non-profit, the Turquoise Council of Americans and Eurasians. But without explanation, Baguirov's organization vanished from the list — a fact that an OCE investigator found worth raising questions about. Instead, a third Houston-based non-profit, the Assembly of the Friends of Azerbaijan, had taken its place.
According to the OCE, this organization had secretly funneled $750,000 to pay for travel, accommodation and venue rental from the state-owned SOCAR.
The estimated proposed budget for the conference was $1.5 million. But it appears that its organizers had trouble securing the necessary funds. Two managers from ConocoPhillips told OCE investigators that Kemal Oksuz, the president of both hosting organizations, asked the corporation for a $250,000 sponsorship. But it eventually agreed to provide just $10,000, as did two other sponsors, McDermott and BP.
Reporters found no evidence that either Baguirov or his non-profit helped cover the shortfall. But his consulting company received the $253,150 Azerbaijani Laundromat payment six months later.