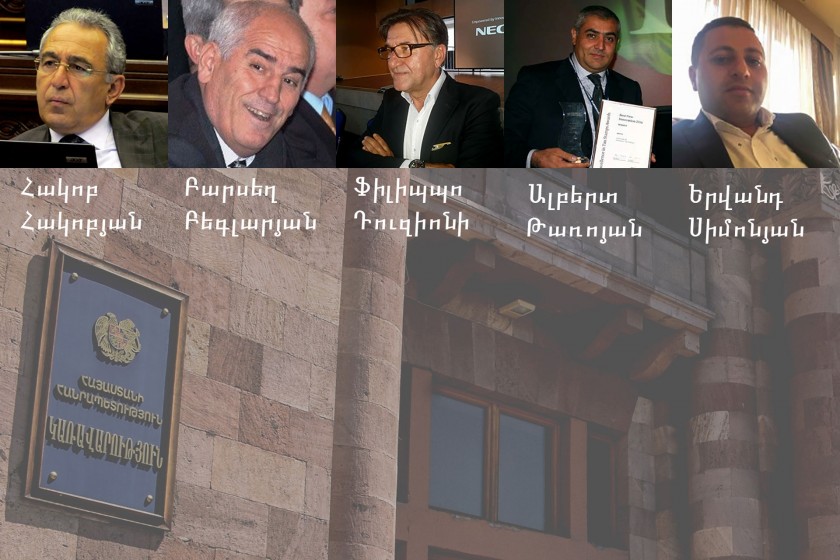 2017: Largest Government Contract Awarded to a Company Owned by MP Hakob Hakobyan
In 2017, the Armenian government awarded its largest contract, in the amount of AMD 1.873 billion, to the Arpa-Sevan company owned by Republican Party of Armenia MP Hakob Hakobyan, who chairs the parliament's Standing Committee on Health Care and Social Affairs.
Few will be surprised to learn that the most lucrative state contracts go to companies linked to government officials.
Last year, the five largest state contracts were won, in descending size, by the following companies – Arpa-Sevan, Flesh, Suarti, AMPG Group, and EIC Telecom.
The AMD1.873 billion ($3.9 million) contract was signed with the State Committee for Water Managementand obligated the Arpa-Sevan company to make repairs to sections of the Arpa-Sevan #2 tunnel.
The gasoline retailer Flash won the second largest government contract last year – AMD 1.864 billion. The company's owned by BarseghGeglaryan, a close friend of Serzh Sargsyan. The company was to supply gasoline and diesel fuel to the Ministry of Defense.
Flash won the largest state contract in 2016, in the amount of AMD 2.342 billion to supply the defense ministry with gasoline and diesel fuel.
The third largest contract, AMD1.528 billion, was signed between the Ministry of Transport, Communication and IT and the Italian Suarti company's branch in Armenia. The company was to capitally repair 103 kilometers of the Yerevan-Sevan-Ijevan-Azerbaijan interstate highway.
The director of Suarti's branch in Armenia is Filippo Duzioni, who also serves as the director of ItalGusto Food, a company that produces frozen food.
On December 5, 2016, Suarti sued the Sevan Municipality for not paying it AMD70.674 million for repairing asphalting and repairing streets in the town. The sides later reconciled, and the case was dropped.
The fourth largest state contract, AMD 1.411 billion, went to AMPG Group, a company owned by Albert Taroyan, Armenia's Honorary Consul to the Philippines, to print excise stamps "2018" for imported and local alcoholic drinks (37 million) and cigarettes (295 million), in compliance with standards.
In 2016, AMPG won the second largest state contract in Armenia, totaling AMD 1.891 billion, to print excise stamps "2017" on polymer membranes for imported and local alcoholic drinks (45 million), cigarettes (259 million) and articles subject to mandatory marking (500 million), in compliance with standards.
The fifth largest state contract in 2017 went to EIC Telecom. The company received AMD 960 million to videotape the April 2 parliamentary election vote count in all polling stations throughout Armenia.The State Registry of Legal Entities lists YervandSimonyan as the company owner.
To see what companies won the largest state contracts in 2016, please see: 5 Companies in Armenia Receiving Largest State Procurement Contracts Are Linked to Government Officials.
The photos above show (from left): Hakob Hakobyan, Barsegh Beglaryan, Filippo Duzioni, Albert Taroyan, Yervand Simonyan.