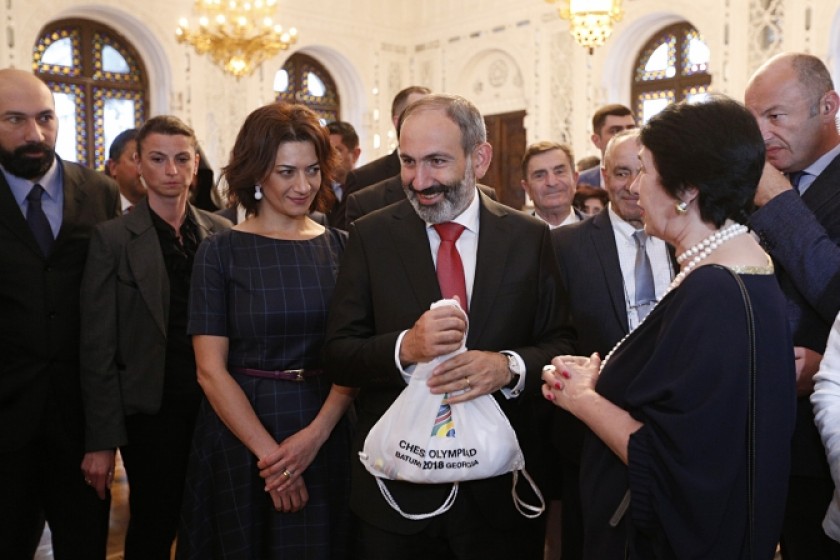 Following the 'Velvet Revolution', a New Opening for Armenia and Georgia?
On 30-31 May, Armenia's new PM Nikol Pashinyan made his first official visit, to Georgia. This is a major highlight and gives some cues on Armenia's future foreign policy priorities following its 'velvet revolution'. Pashinyan has previously emphasized that cultivating better ties with Armenia's immediate neighbours, namely Georgia and Iran, are among his government's foreign policy priorities.
Armenian-Georgian relations have been faring well, considering the tough geopolitical context. The two neighbours have long been allied to each other's rivals: Armenia has been building a-meant-to-be "strategic partnership" with Russia, while Georgia has been cultivating a much–advertised trilateral alliance with Turkey and Azerbaijan. This has objectively limited avenues of cooperation between Yerevan and Tbilisi.
Given Yerevan's overreliance on Moscow, and the presence of a Russian military base in Armenia, Georgia has traditionally been suspicious towards Armenia. Similarly, Yerevan has feared that Tbilisi is dragged into a hostile alliance with Baku and Ankara which have been pursuing a policy of isolation vis-à-vis Yerevan.
But none of these fears have materialized so far. Following the Russian-Georgian war of 2008, Yerevan resisted Moscow's pressure to recognize de-facto republics of Abkhazia and South Ossetia. Armenia has also refrained from pushing its concerns on the situation of ethnic Armenians in Georgia's Javakheti region high on the bilateral agenda so as not to open up differences and allay Georgian worries of separatism of the region. And while Tbilisi's closely-stitched partnership with Turkey and Azerbaijan has inadvertently contributed to Armenia's isolation, its participation there has also helped to ensure that the trilateral format is not directed against Armenia, especially militarily. Yerevan and Tbilisi have thus been cautious not to allow that the South Caucasus divisive lines pass between them.
Over the last few years, each have also been facing challenges in their respective alliances. Armenia-Russia relations have been marred by a deep crisis triggered by a dangerous asymmetry in which Moscow has been ignoring critical Armenian interests. The biggest elephant in the room has been Moscow's arms sells to Azerbaijan, which Yerevan interprets as going against the spirit of Armenia-Russia partnership.
The initial logic of Baku-Tbilisi-Ankara axis has been eroding, too. Back in the 2000s Tbilisi saw the trilateral alliance as a stepping stone for Euro-Atlantic integration. The geopolitics of energy flows westwards through the axis has helped to advance this cause. But Turkey's and Azerbaijan's relations with the West have been deteriorating over the last years, mainly due to steep democratic decline in both countries. Turkey's fallout with the West has also pushed it closer to Russia, which compromises Ankara's role in counterbalancing Moscow in Tbilisi's policy thinking. In what has been a bit of a taboo to point to, Georgia has also become somewhat over reliant on the alliance with Azerbaijan and Turkey. This has squeezed Tbilisi between geostrategic interests and its ambitions to be a democratic member of the Euro-Atlantic space.
So far Armenia and Georgia have tried to address their respective regional rivalries by relying on outside powers – Armenia on Russia and Georgia on the West. For both, these directions have faced constraints, exacerbated by the Western-Russian contention. Now they might want to explore the merits of closer engagement with each other to help diversify their foreign policies. Armenia's 'velvet revolution' was closely watched in Tbilisi. Georgia's own 'rose revolution' of 2003 and the geopolitical upheavals that followed have served as lessons learned – both good and bad -- for Armenia. The political regimes in the two countries, both geared at being democratic, may now be more naturally aligned.
By making his first official visit to Georgia, PM Pashinyan is extending a hand to build closer ties. Traditionally, Armenia has taken more interest in Georgia than the other way around. Georgia's determination in Euro-Atlantic integration has also developed a self-perception that it is more part of the West than part of the South Caucasus. The ball may now be in Tbilisi's court to respond to Yerevan's extended offer.
Re-energized Yerevan-Tbilisi ties can potentially have broader regional implications. Georgia and Russia have been negotiating around opening of communications via Abkhazia and South Ossetia and have recently reached a critical point. Yerevan would be a major beneficiary from such opening as its land connection to Russia depends on a single passage in the Upper Lars which is often closed due to weather conditions. Yerevan can also play a mediating role between Tbilisi and Moscow. New connecting routs between Georgia and Russia will also potentially raise the economic benefits for a prospective Iran-Armenia railroad -- Georgia eyes to benefit from it as well.
Closer convergence between Armenia and Georgia does not imply that they their respective alliances with Russia and Azerbaijan/Turkey be hurt. Rather, the new relationship can be precisely about not allowing third party interests impede closer ties between them. Pashinyan has proposed a formula which sums as: Georgia and Armenia should be sure the other is not conspiring against it.
In Georgia, Pashinyan also visited the Armenian-populated Javakheti region. This was the first time since 1996 that an Armenian leader has set foot there. Here, there is a message too, suggesting that all existing problems between the side should be openly discussed and solved rather than be swept under the rug.
In Armenian-Georgian relations the glass can be half-empty or half-full. It is half-empty because Armenia and Georgia are part of different geopolitical and economic constructs. Armenia is a member of the Eurasian Economic Union and Georgia has signed a free trade agreement with the EU. But it is half full, because they can as well potentially benefit from each other's alliances and thereby slightly defy the consequences of Western-Russia fallout. Whether Yerevan and Tbilisi choose to see the glass as half-full will determine how far they can take the bilateral partnership.