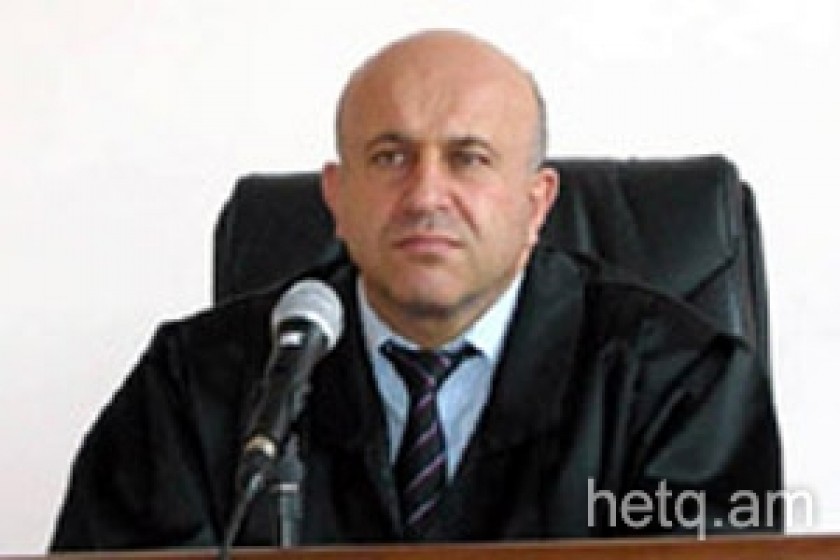 Judge Forgets About Yenok, Too
On November 27, in the Kentron and Nork Marash Court of First Instance, Judge Mnatsakan Martirosyan presiding, the trial of Irina Yenokyan, a renowned madam known as Ikush, concluded.
For years, Armenian girls had worked as prostitutes in the United Arab Emirates under Ikush's patronage. The madam had taken all the money the girls earned. Besides that, she and her friend, Yenok Yenokyan [Irina's maiden name is Danielyan. She was married to Yenok and had taken his surname] regularly beat up Hermine Zakaryan and subjected her to sexual exploitation.

Thanks to the efforts of Aristakes Yeremyan and Nerses Misakyan from the Prosecutor General's Office, Yenok's name did not come up during the trial. The case against Irina was based on Articles 132 (tricking into sexual exploitation) and 262 (the organization of prostitution) of the Criminal Code.

During the pre-trial investigation, Ikush partially admitted her guilt, but refused to testify, without providing any sort of explanation.

During the court session on November 23, however, Irina Yenokyan expressed her willingness to testify.

"But I am ill, I've lost my voice. Please give me a couple of days time," she said.

Let us also note that plaintiff Hermine Zakaryan demanded during the same session that the court take 340,000 drams from Ikush and transfer it to her. According to her calculations, over four months of sexual exploitation she had been due 140,000 drams (calculated at the rate of an average salary, 35,000 drams, for each month). The rest of the sum came from her damaged health as a result of "beatings and sexual exploitation". Hermine is now being treated for pulmonary tuberculosis.

At the next court session, on November 27, Yenokyan had changed her mind, and refused to testify once again. She utilized her right to a final statement, saying "Please be lenient."

According to Ikush's lawyer, Gayane Galoyan, there were no grounds to charge her client on the basis of Article 132, because first of all, Hermine had not been tricked into going to Dubai-she had known very well where she was going and why-and secondly, Irina had never beaten her.

"Look at the physical constitution of the defendant. How could she force anyone into prostitution?" concluded the defense lawyer.

Galoyan requested that before giving a verdict the court also take into consideration the fact that Yenokyan was divorced and had a small child, who had been born prematurely and continued to remain under medical supervision.

"The child needs a mother; there is nobody else to care for him. There is no information regarding the whereabouts of the father [the child's father is Yenok Yenokyan]," said the lawyer, "Besides which, Irina herself is ill. She has pulmonary tuberculosis."

The court found Irina Yenokyan guilty on both counts and sentenced her to 4 years and 3 months imprisonment. Hermine Zakaryan's civil claim of 340,000 drams was rejected.

Judge Mnatsakan Martirosyan seemed to forget about Yenok as well, although he had questioned the plaintiff during one of the court sessions and expressed surprise at the fact that Yenok's name had not been included in the case. This name did not appear in the verdict either, this time through the leniency of the judge. He had also been "forced to forget" that name.