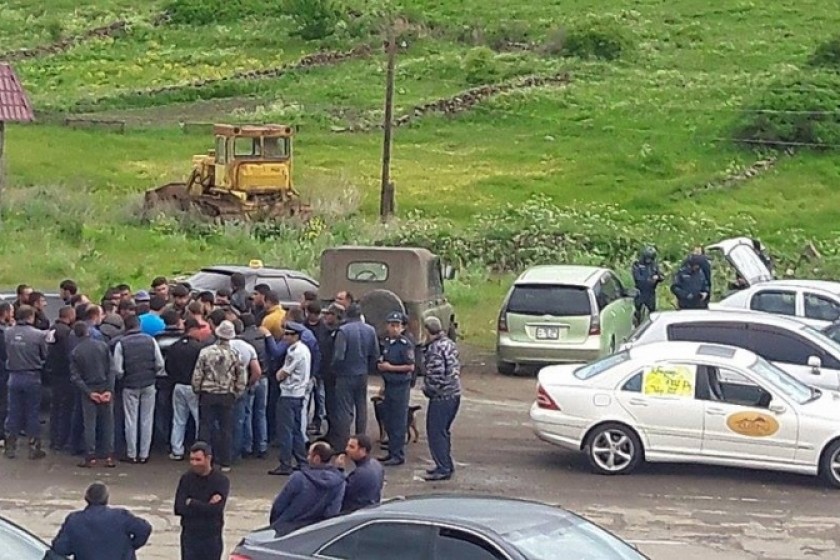 Armenian Government Promises Environmental Inspections at Amulsar Gold Mine Site
Yesterday evening, First Deputy Prime Minister of Armenia Ararat Mirzoyan met with protesters opposed to the Amulsar mine who had blocked the road leading to Amulsar for several days.
The demonstrators urged Mirzoyan to carry out extensive checks at the mine site.
Mirzoyan promised to discuss the issue with Prime Minister Nikol Pashinyan and the government in an attempt to find a quick solution to the matter. Mirzoyan told the demonstrators that he'd need 25 days to organize the inspections.
Though Armenian Chief of Police Valery Osipyan had earlier promised a meeting with Prime Minister Nikol Pashinyan, in the end the meeting was held with Mirzoyan.
Jermouk resident Vazgen Galstyan, who had participated in the meeting, told Hetq that a group of 14 demonstrators who attended the meeting consisted of inhabitants of Jermouk, as well as representatives of the "Amulsar without Mine" group and the Armenian Environmental Front.
The demonstrators shared their concerns regarding the exploitation of Amulsar mine.
Mirzoyan promised that the first inspection would be held in Amulsar.
After the meeting, Jermouk residents decided to stop all protest actions. The demonstrators opened the road leading to the mine and mine workers returned to work.