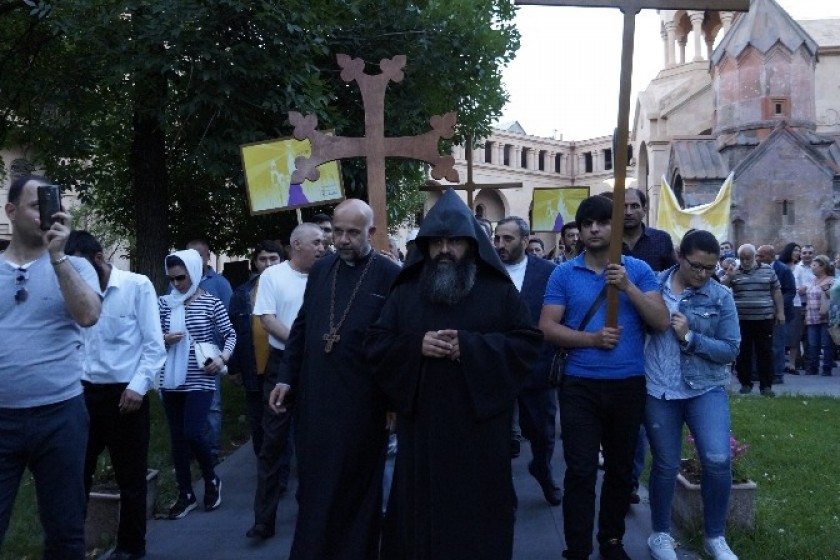 Hundreds March in Yerevan, Demanding Resignation of Catholicos Garegin II
Hundreds demonstrated in the courtyards of the St. Anna and St. Katoghike churches in Yerevan demanding the resignation of Catholicos of all Armenians Garegin II.
The demonstrations were organized by a group calling itself "New Armenia, New Pontiff".
As to why the demonstrators are calling for the resignation of Garegin II and new elections to replace him, Reverend Father Armen Melkonyan from Holland, who was stripped of his duties as a parish priest, told reporters that immediate reforms are need in the Armenian Apostolic Church but that many clergymen are afraid they'd be defrocked if they raised their voices.
"We want a patriarch who not only appears among the people on May 28, but on other holidays as well and on Khorenatsi Street," Melkonyan said, referring to the May 28 Sardarapat celebration and the public clashes with police on Yerevan's Khorenatsi Street following the seizure of a police building by the armed Sasna Dzrer group.
Melkonyan said that more people would rally around the movement to oust Catholicos Garegin II since Armenia must have a spiritual leader that enjoys the same level of popularity as Armenia's new secular leader Prime Minister Nikol Pashinyan.
"Our dear prime minister was receiving great love and respect at Sardarapat. I looked for our patriarch, at his side, and saw a man, with his staff, that had the appearance of a rejected man. I found it very sad," said Father Koryun, another clergyman participating in the protest.
The protesters, some carrying large crosses, then marched through downtown Yerevan.
Catholicos Garegin II has invited the protesters to meet with him tomorrow in Etchmiadzin.
If you found a typo you can notify us by selecting the text area and pressing CTRL+Enter