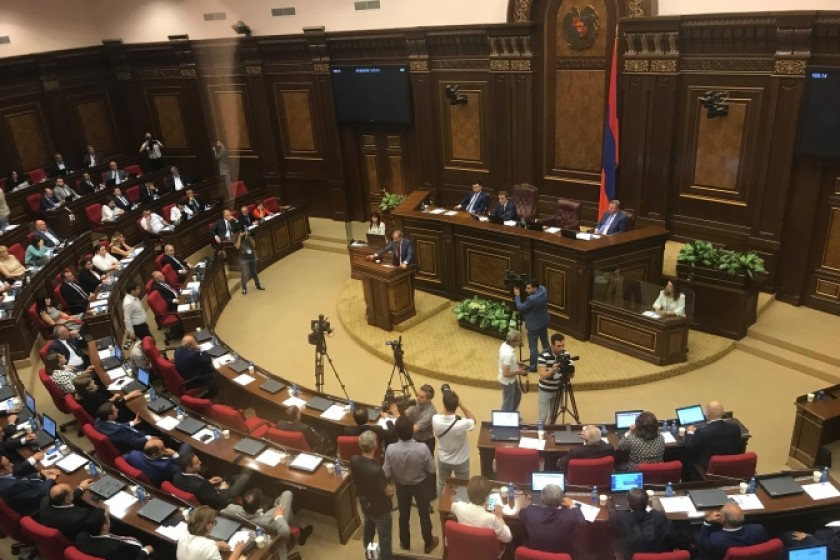 PM Pashinyan Presents His Policy Agenda; Promises to Easily Eradicate Corruption
Armenia's National Assembly is now in special session to discuss the Government program, presented by Pashinyan.
While presenting the program, Pashinyan reassured there would be no privileges in Armenia, and everyone would be equal before the law, starting from himself, his relatives and his circle of friends.
He recounted that his son was going to leave for military service soon, and he would follow up with officials' sons to serve in the army, too, including those of ministers.
Pashinyan announced that his government would eradicate corruption and would do it very easily. "When the leader of the country is not soaked in corruption, this is already an important precondition for the fight against corruption," said Pashinyan and assured that he would never be involved in any business or corruption deal and would demand the same from every member of the government and every official.
The Prime Minister talked about his recent meeting with major businessmen, where he announced that no official could appropriate shares in others' businesses.
Pashinyan touched upon the topic of holding extraordinary parliamentary elections within a year.
"The main goal of these elections is to restore the mechanism and opportunity of free, fair and transparent elections," said Pashinyan, adding that although holding it right away would be beneficial for his political team, who would win absolute majority, but they should improve electoral system first.
.
If you found a typo you can notify us by selecting the text area and pressing CTRL+Enter