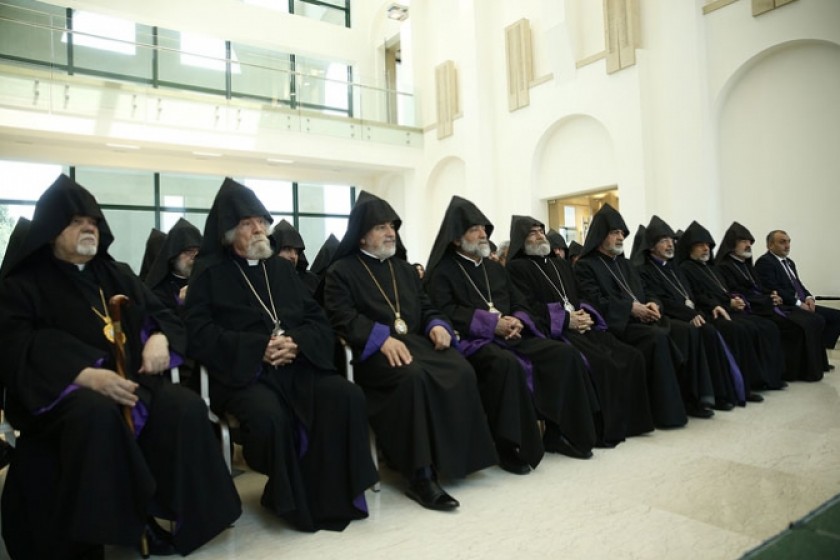 Etchmiadzin: Council of Bishops Decries Demand for Resignation of Catholicos Garegin II as "Unacceptable Ultimatum"
The Council of Bishops in Etchmiadzin released a statement condemning protests calling for the resignation of Catholicos of All Armenians as "unacceptable and invalid".
The statement decries the protests, organized by a movement calling itself "New Armenia, New Pontiff", for making ultimatums directed against the Armenian Apostolic Church, arguing that the demands made in public venues go against church canon.
A translated section of the statement reads:
"The ultimatum approach adopted, directed to the Catholicos of All Armenians, to raise concerns is unacceptable. The class of bishops, as the prime guarantor of the Armenian Church's charter protocols and the inviolability of the Catholicos of All Armenians, stipulates that the demand for the Catholicos' resignation, now being pushed forward through external and violent intervention, is anti-canonical and thus invalid. We understand our obligations regarding the future of the Church and the need to continue reforms in the life of the Church corresponding to modern-day life."
The statement says that while the Council of Bishops respects rational concerns raised by the faithful, reforms must be made via the canonical bodies of the Armenian Church, the Supreme Spiritual Council, the Episcopal Assembly, the Church-Representation Assembly, the National Church Assembly.
The statement was signed by the Primates of the Dioceses of Gugark, Vayots Dzor, Shirak, Tavoush, Aragatzotn, the Araratyan Pontifical Diocese, and several other high-ranking clergymen.