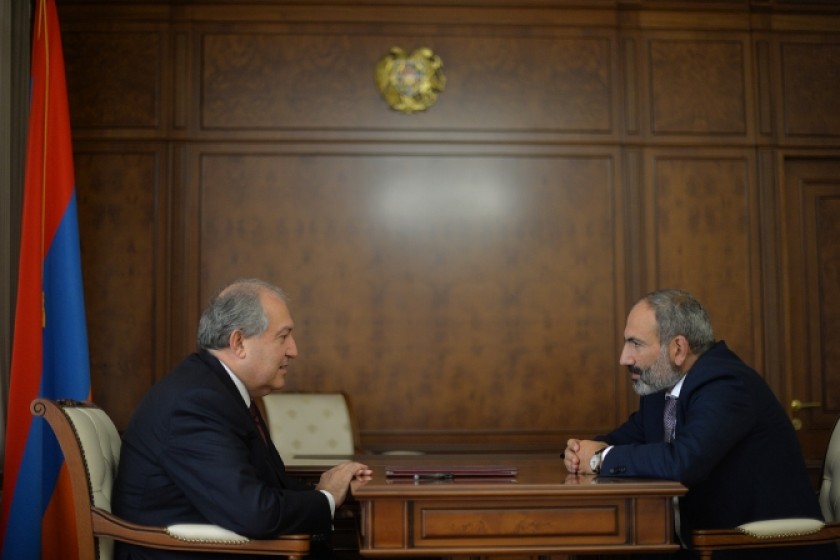 Pashinyan to Sarkissian: Do the "Right Thing" and Publish Armenian Citizenship Document
The issue as to whether Armenian President Armen Sarkissian was a legally qualified candidate for the job in the first place, given questions regarding his citizenship, fremains unresolved.
Pashinyan now believes that these documents should be made public, even though Sarkissian's office refuses to hand them over, arguing they're personal in nature.
Many in Armenia had called on Sarkissian to prove that he had given up his British citizenship six years before his candidacy for the post as president as specified in the country's new constitution (Article 124, Part 2).
When the issue was raised in the National Assembly, candidate Sarkissian only provided a notice issued by the chief of the Police Department's Department of Passports and Visa regarding his citizenship and residency details.
But the documents substantiating this information were never made public.
Hetq has since contacted Sarkissian's office, asking that it provide copies of the documents presented to Pashinyan on April 26.
Presidential assistant, Hasmik Petrosyan, refuses to hand over any documents verifying that Sarkissian renounced his British citizenship in 2011, arguing they contain personal information.
Petrosyan writes that the police notice presented to the parliament, alleging that Sarkissian was solely a citizen of Armenia since 2011, was regarded as "credible".
Petrosyan adds that Sarkissian showed the documents to Pashinyan, in private, because he had promised to do so.
Prime Ministerial Press Secretary Arman Yeghoyan told Hetq that the document Sarkissian showed to Pashinyan at their meeting in the Marriott Hotel was an affidavit issued by a private British legal firm confirming that the future Armenian president had renounced his British citizenship in December 2011, and that from a legal perspective, he was no longer a British citizen from that moment on.
Yeghoyan, in his reply to Hetq, writes that when Pashinyan asked Sarkissian why the affidavit was issued by a private firm and not a government agency, the future president responded that such was accepted practice in Great Britain.
Yeghoyan says the prime minister took the affidavit at face value but now believes it should be made public and scrutinized by specialists.
Photo (from left): President Sarkissian, Prime Minister Pashinyan