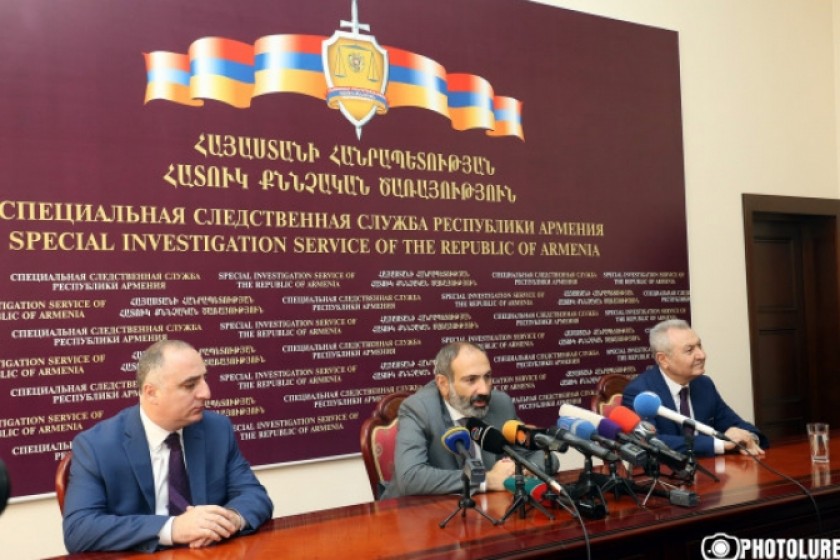 Pashinyan to Special Investigation Service: Launch Probe Into March 1, 2008 Deaths
By Norayr Shoghikyan
Prime Minister Nikol Pashinyan today called on the Special Investigation Committee (SIS) to get to work and finally find out how ten people were killed on the streets of Yerevan on March 1, 2008.
The deaths of the ten individuals (eight civilians and two police officers) during a series of mass protests that rocked Yerevan in the wake of the February 2008 presidential election has remained an open wound for many in Armenia.
Pashinyan told the SIS employees the investigation into the March 1 deaths should be one of their top priorities when he introduced them to their new boss, Sasoun Khachatryan.
"If there have been cases that never moved forward in the past due to a variety of reasons, I hope that SIS employees, under the leadership of the new chief, will take a look at all such cases with the aim of ensuring a fully functioning legal systemin Armenia," Pashinyan said.
Pashinyan also spoke about the fight against corruption, saying that no one guilty of corruption should "sleep easy" in Armenia.
"When we say that all are equal before the law in Armenia, we don't mean that some are more equal than others. If we say that corruption must be uprooted in Armenia, we don't mean that corruption is to be found everywhere," said Pashinyan.
The prime minister also ordered SIS investigators to remove all photos of top government officials, including those of himself, from their offices.
"I believe that photos of top government officials shouldn't appear in the offices of SIS investigators because the SIS deals with cases that might be linked to those officials. What should appear in SIS offices are the flag and insignia of Armenia," Pashinyan said.