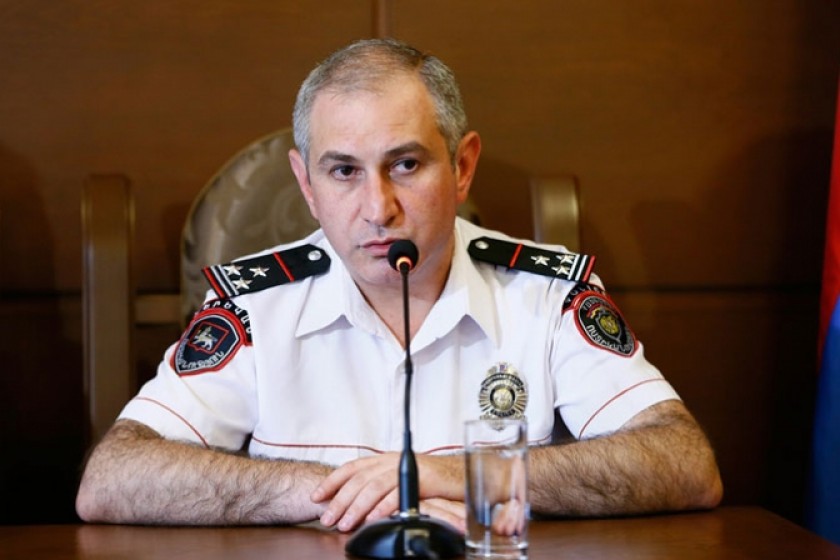 Reporter Describes Appointment of Artak Poghosyan as Yerevan Police Chief a "Slap in the Face" to the Press
Reporter Ani Gevorgyan is more than a bit incensed over yesterday's appointment of Artak Poghosyan as Yerevan Police Chief.
She says that on February 12, 2014, Poghosyan, then Chief of the Kentron Department of the Yerevan Police, slapped her face while she was being detained for covering an Armenian National Congress (HAK) publicity event for the opposition newspaper Chorrord Inknishkhanutyun.
Gevorgyan testified at the time that police seized the video equipment of reporters who were covering HAK activists publicizing a rally to commemorate the anniversary of March 1, 2008. (On that day, eight civilians and two law enforcement officers died during a police crackdown on public protests following a contested presidential election).
Gevorgyan told Hetq that Poghosyan's appointment, made by Armenia Chief of Police Valery Osipyan, is a "slap in the face to the press" in Armenia.
Based on her testimony a criminal case of official abuse of power and hindering the work of a reporter was launched but dropped several months later due to lack of evidence of criminal intent.
Gevorgyan eventually took her case to the European Court of Human Rights after the courts in Armenia failed to overturn the decision of the Special Investigative Service to drop the case.
Update: The Police have responded to the above article, claiming that the criminal case was dropped due to the lack of corpus delicti (Latin: body of the crime); i.e. evidence that a crime ever occurred. The Police statement adds that Artak Poghosyan was never charged with any crime and calls on people to respect the presumption of innocence of high-ranking officials and not to call into question, via emotional formulation and disrespectful observation in a non-legal setting, the results of a criminal proceeding that have already been deemed legally valid and the objectivity of the pre-examination body.
"I believe appointing this individual to such a post is unacceptable and must be condemned by the press community and those who support freedom of speech. It was the first case in Armenia of the use of violence against a reporter that made it to the European Court, and Artak Poghosyan is the protagonist," Gevorgyan told Hetq.
Photo of Artak Poghosyan from Police.am
If you found a typo you can notify us by selecting the text area and pressing CTRL+Enter