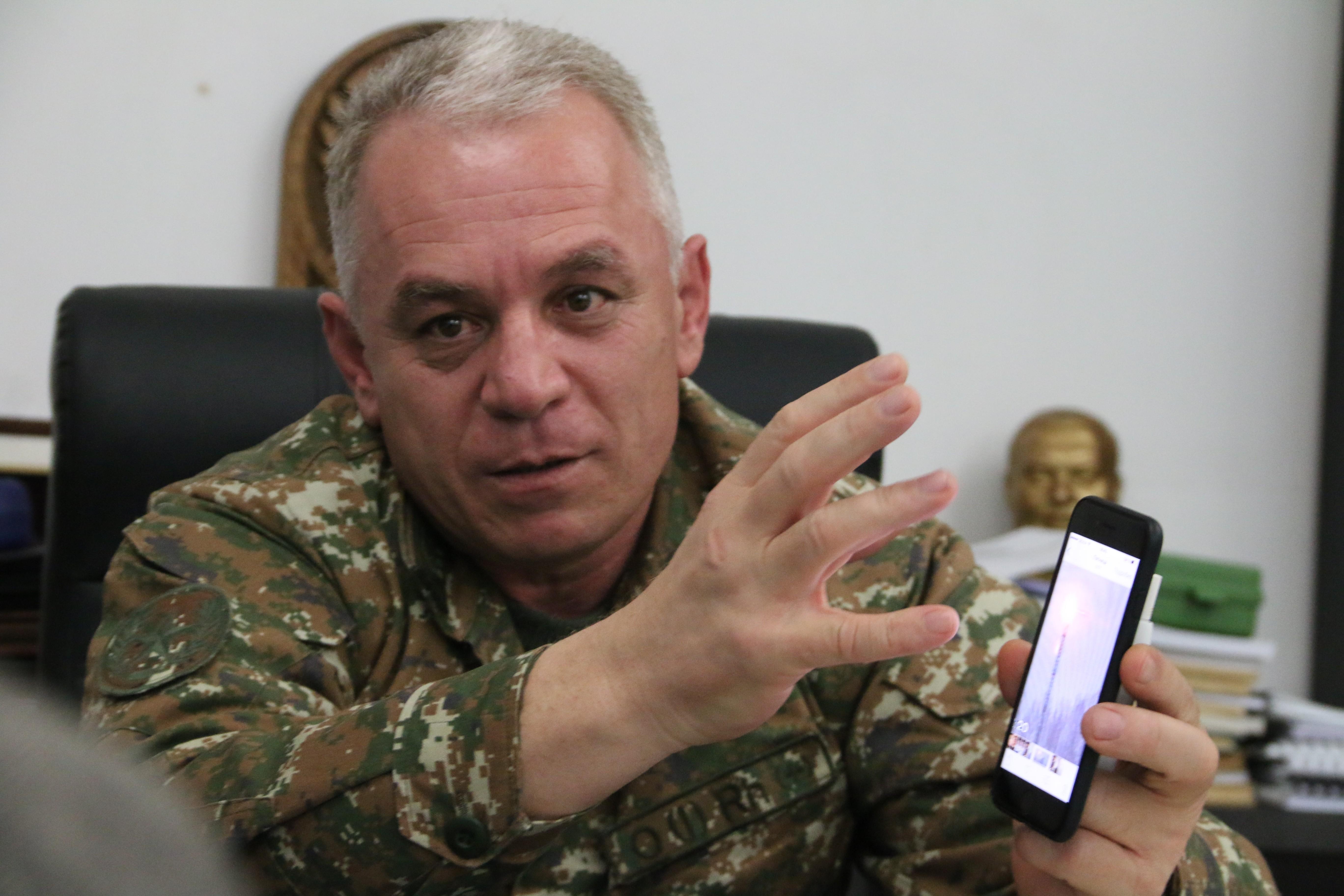 Artsakh Defense Minister: "If they fire on a civilian area, the outcome will be very bad for them"
An interview with Artsakh Minister of Defense and Commander of the Artsakh Defense Army Levon Mnatsakanyan.
Azerbaijan has been amassing troops and equipment along several sections of the border. During this interview, you have been constantly looking at the screen. (The minister is watching videos taken all along the border separating Artsakh and Azerbaijan-EB) Do you think an attack is possible? Why has Azerbaijan been active of late?
The possibility of an attack is small right now but can't be ruled out. They're conducting exercises at the frontline. They're testing equipment, practicing tactical maneuvers, and exercising the troops. All of it reminds us to be on our toes all the time.
There are Azerbaijani military exercises taking place along different sections of the border. According to the video footage, they don't look too big.
These exercises haven't stopped for the past month. Various military units are participating, involving a host of technical capabilities. They are focusing on the artillery divisions. Right now, their engineer corps is undergoing exercises. These actions lead us to think that some kind of operation is in the works. We're also seeing tank and reserve troop exercises.
Azerbaijani media outlets have shown footage of recently acquired armaments and are repeating the old refrain of liberating Artsakh. We know that Azerbaijan has recently obtained the Polonaise multiple launch rocket system from Belarus and Bell 412 military helicopters. Does the Artsakh Defense Army have the resources to neutralize these weapons?
Yes, they show these weapons. In addition to the Polonaise, they've acquired a similar rocket from the Israelis, plus supplementary artillery installations and anti-tank equipment. We know what they have. Azerbaijan continues to manufacture drones, both for attack and surveillance. They've purchased more drones from Israel. Of course, we monitor all of this and take appropriate measures. We mostly focus our attention on their Israeli LORA missiles and the Polonaise rocket systems. Our air defense forces are working to counter them.
We're also making changes to our tactics. We're doing all we can to decrease the effectiveness of those weapons.
Is the Artsakh military acquiring new weapons?
Yes. I don't want to list them, but we have new missiles and other resources we lacked in the past. We increased the number of our weapons. We've acquired new surveillance equipment that works in all types of weather.
So, you can neutralize their missiles?
Yes. Our air defense units can bring them down.
You said that Azerbaijan is employing drones, both day and night, way behind our lines. Can the Artsakh Defense Army do the same behind their lines?
We've never stopped employing drones, whether along the border or deep behind the frontline. In no way are we lagging behind them in terms of technical capability.
Do you have new programs to improve the socio-economic issues facing the officer corps?
Sure we have. All are focused on these issues. Take the housing problem. We're initiating a mortgage financing program. It's now being reviewed. Our hope is that it will alleviate the housing issue. Rest assured that those officers approaching retirement will not be neglected. If they can't get an apartment through this program, we'll take other measures to get them housing.
You're basically saying that a surprise attack is out of the question. How far in advance will you know about any such operation?
There will be no surprise attack since we're constantly monitoring Azerbaijani military movements. But we must consider that the enemy is equipped with modern military resources. This means that, unlike in the past, we now have hours and not days to surmise what their intentions are.
We take this factor into account when we conduct all our preparatory and preventative measures. I'm certain that our army, given these new operational conditions, will carry out its obligations with honor.
What if Azerbaijan strikes civilian targets?
If they fire on a civilian area, the outcome will be very bad for them. We've warned Azerbaijan about this on several occasions.
If you found a typo you can notify us by selecting the text area and pressing CTRL+Enter