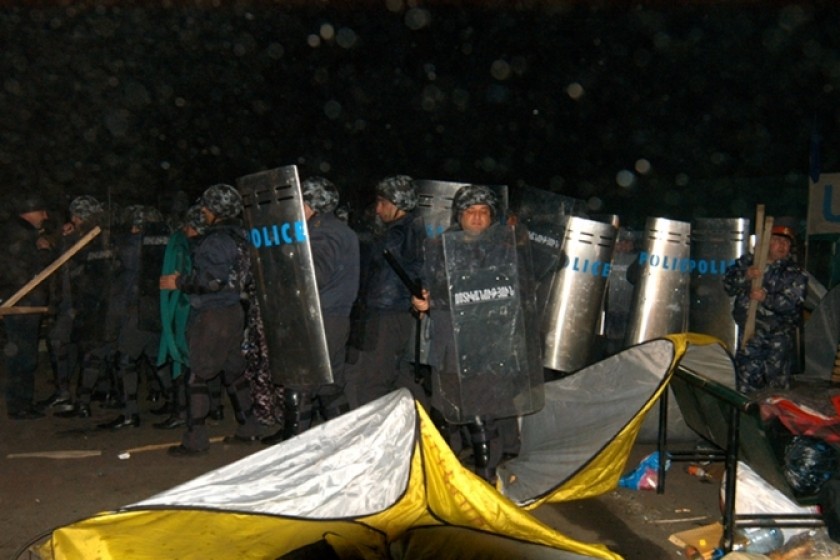 March 1, 2008 Investigation: Ex-Defense Minister Mikayel Harutyunyan Charged with "Usurping State Power"
Police are looking for Harutyunyan
As part of its investigation into the mass public protests of March 1-2, 2008 in Yerevan during which ten people were killed, Armenia's Special Investigative Service (SIS) reported today that charges of "usurping state power" have been filed against Mikayel Harutyunyan, who was serving as defense minister at the time.
The SIS says that Harutyunyan and other top government officials disregarded several articles of the constitution in an attempt to quash peaceful protests following the contested February 19 presidential election.
For example, the SIS says that Armenian military units were used to disperse the protesters, which violates Article 8.2 of the Constitution prohibiting the military from intervening in domestic political affairs.
The SIS also says that Harutyunyan and the others created a "military emergency" in the country by deploying army units against the protesters, and that this is in violation of Article 55 Point 13 of the Constitution that states that only the president can declare a "military emergency" in case of am outside attack or the threat of one.
Thousands in Yerevan took to the streets when the Central Electoral Commission declared Serzh Sargsyan the winner of the February 18 election.
Combined units of the police and army attacked the protesters on March 1. Eight civilians and two police officers died in the melee.
An all-points bulletin has been issued for the arrest Harutyunyan.
If you found a typo you can notify us by selecting the text area and pressing CTRL+Enter