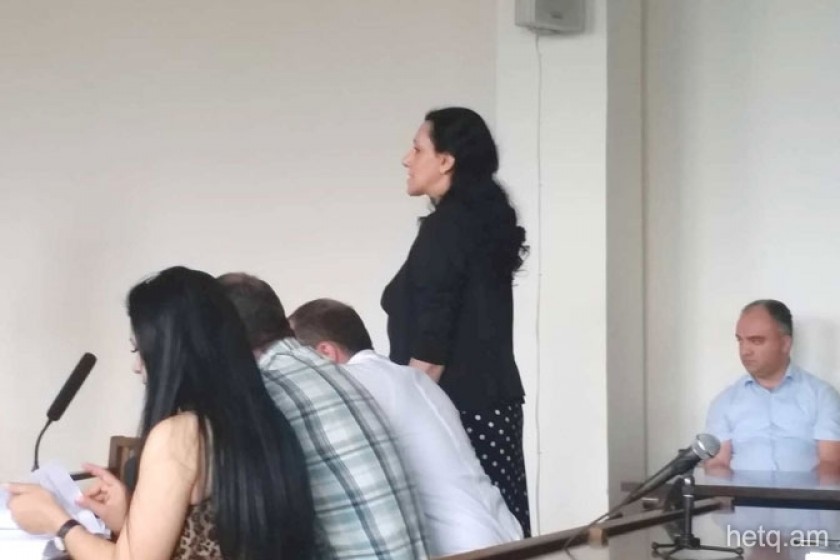 Former Coordinator of EU Grants Programs in Armenia, Arrested in 2017 for Swindling Millions, Eligible for AMD 10 Million Bail
Marineh Papyan, a former coordinator of the European Union's grants programs in Armenia arrested in April 2017 on swindling millions of drams from various EU programs over the years, is eligible for release from pre-trial detention if she pays AMD 10 million bail.
This was the decision of a Yerevan court today.
Papyan and 18 others were charged with swindling AMD 907.281 million from various European Union grant programs over the years.
Hunan Babyan, Papyan's lawyer, argued that all the other defendants in the case had been released from detention long ago and that his client had to care for her child and ailing mother.
At today's trial, Judge Arman Hovhannisyan announced that the EU had filed a civil suit with the courts in Armenia and is demanding that the defendants pay back the AMD 907 million. (At today's exchange rate AMD 907.281 million equals US$1.881 million)
Investigators in Armenia started looking into the case in early 2016, after having received a report from the European Anti-Fraud Office (OLAF) about some accounting irregularities connected to a €120,000 grant made to the Martuni Student Council NGO.
It seems that representatives of the EU delegation in Armenia examined the books of the NGO and found that many of the expenditures noted weren't justified. Armenia's Investigative Committee launched a criminal case of "swindling".