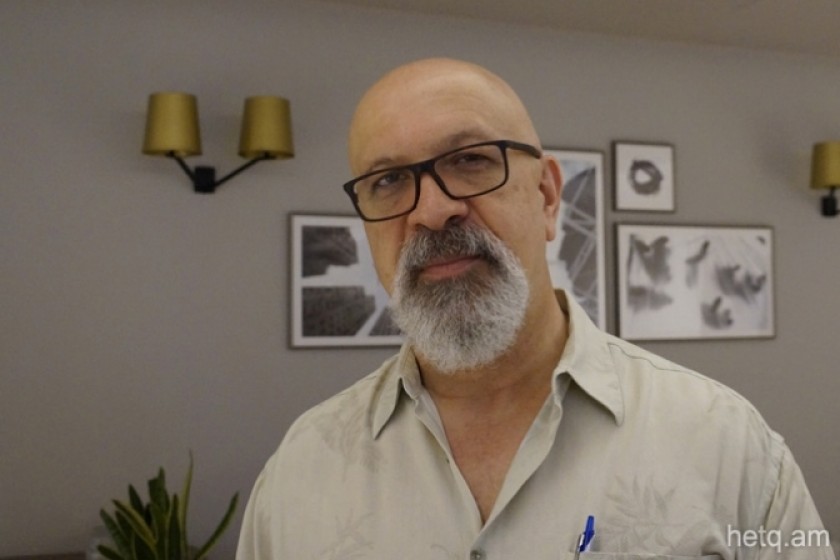 Garo Yeknukian to Yerevan Court: "Remove My Case From Sasna Dzrer Trial"
Garo Yegnukian, a codefendant in one of the three Sasna Dzrer trials now underway in Yerevan, has once again asked that his case be separated from that of the other defendants.
Yegnukian, a prominent opponent of the former Serzh Sargsyan regime, is being tried as part of a case against ten members of the Sasna Dzrer (Daredevils of Sasoun) group who seized a Yerevan police building in July of 2016. The official charges against Yegnukian have nothing to do with illegal arms possession or the taking of hostages, charges faced by the others.
At today's trial session, attorney Tigran Hayrapetyan filed a motion for separating Yegnukian's case from the others, arguing that this would allow the court to hear the telephone conversations the prosecution alleges prove that Yegnukian conspired to publicize the seizure of the police station and to distribute disinformation injurious to the police.
Hayrapetyan told the court that Yegnukian's 83-year-old ailing mother, living in the U.S., hasn't been able to travel to Armenia and see her son since 2016.
Yegnukian, recently released from pre-trial detention on 10 million drams bail, still cannot leave Armenia.
Judge Artoush Gabrielyan said that the court would have to examine the evidence before rendering a decision on the motion. Gabrielyan added that there was no documentation verifying that Yegnukian's mother was in the U.S. and not able to visit Armenia.
The other ten defendants in the case have also been released from pre-trial detention.