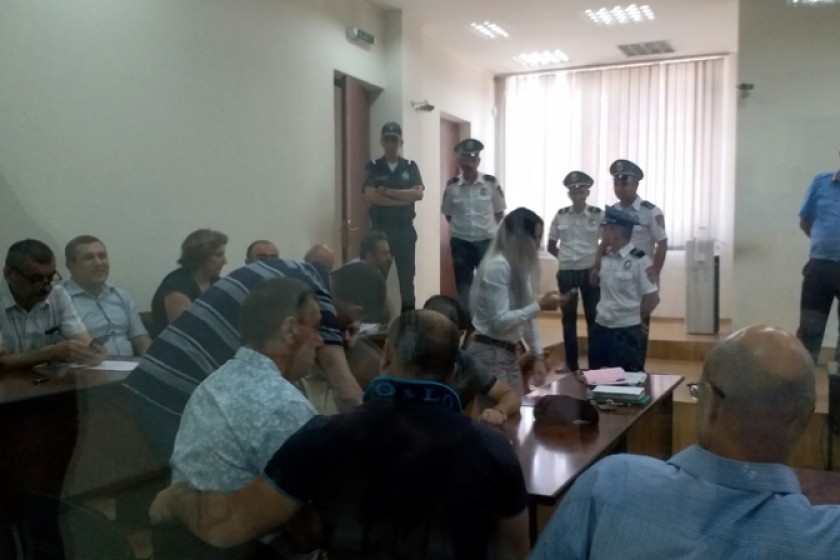 Sasna Dzrer Defendant Says Wrong Man Charged in Shooting Death of Policeman
A statement made one of the Sasna Dzrer defendants at today's trial caused more than a few gasps in the courtroom.
Defendant Pavel Manukyan told the court that Gagik Mkrtchyan, the policeman who was shot and later died during the July 2016 seizure of a Yerevan police building, was not shot by Armen Bilyan, who has been so charged, but by Edward Grigoryan.
Within the past month, the court released Grigoryan from pre-trial detention, but not Bilyan.
Manukyan's allegation stunned both his codefendants and defense attorneys.
After the trial session, Grigoryan's defense attorney Yervand Varosyan told Hetq that his client never fired a weapon during the seizure of the police building and that no one had been injured due to his actions.
Grigoryan told reporters that Manukyan's information was wrong.
When this reporter asked if there had been a falling out between Manukyan and Grigoryan, Varosyan failed to comment and advised that I direct such questions to Manukyan.
Azat Shahbazyan, one of Manukyan's lawyers, told Hetq that his client was on the side of justice and that's why he made the statement.
The other defense lawyers in the case refrained from commenting on Manukyan's statement, arguing it wasn't the right time.
The next trial date is August 1.