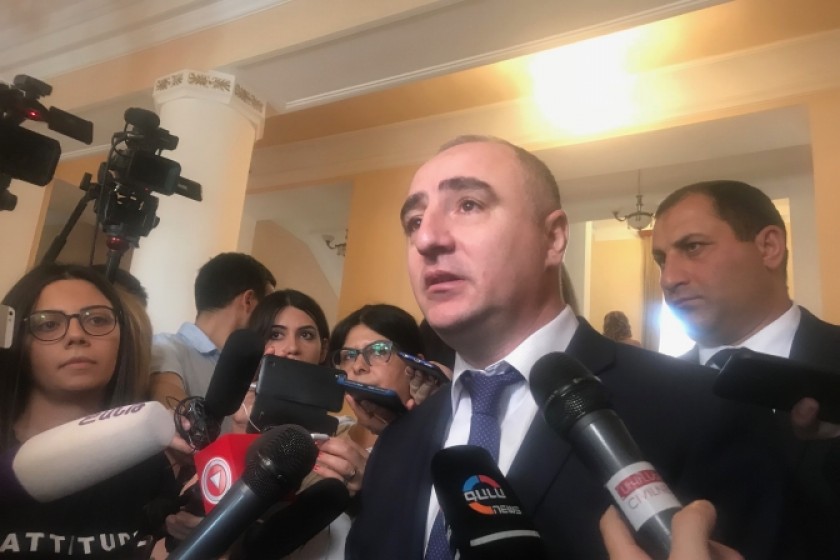 Head of Special Investigative Service Says Those Responsible for March 1, 2008 Deaths Will be Identified
Sasun Khachatryan, the head of Armenia's Special Investigative Service (SIS), told reporters today in Yerevan that he is sure that those responsible for the death of eight civilians and two police officers in March 2008 will be identified.
The current government has reopened the investigation into the events following the contested February 2008 presidential election that ushered Serzh Sargsyan into power in Armenia.
Robert Kocharyan, the outgoing president at the time, has been charged with usurping state power at the time. He had been detained but was later released by a higher court.
Khachatryan replied to a criticism voiced by Kocharyan that the investigation carried out by the SIS has nothing to do with the ten deaths.
"I leave that up to you - whether our work has anything to do with the ten victims, or whether the cases of usurping state power and the deaths have been linked. What I'm saying is that everything is and will be done, and I'm very hopeful, that this case, including the part about identifying those responsible for the deaths, will be closed."
Khachatryan avoided answering a reporter's question whether Sargsyan or Nikol Pashinyan, then a protest organizer and now Armenia's prime minister, would be called in for questioning by the investigative body.
"It remains a secret who will be called in for questioning and when. As a principal I've said it once before that all those possessing pertinent information in the case will be summoned. As to the details of who will be called and when, we will limit the information to an amount that does not undermine the investigation," Khachatryan said.
He said that a large number of citizens have filed requests to be registered as injured parties in the investigation, and they have the theoretical right to do so.
"In a formal sense, everyone subjected to material, moral or other injury due to a crime can apply and be registered as an injured party. However, rational limits must be placed. If we use the logic that the right of freedom of movement of all in Armenia was violated, and that all need file for injured party status, it would really disrupt the work of those conducting the investigation," Khachatryan said.