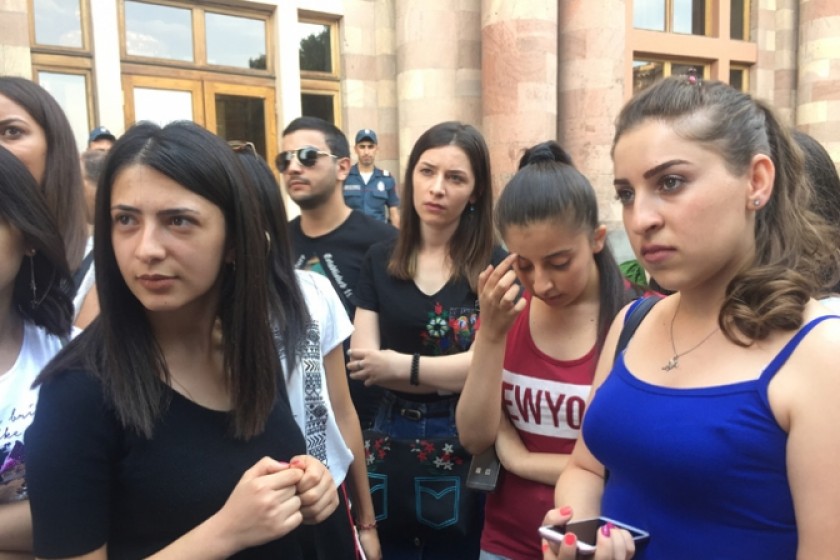 Armavir Students Who Commute to Yerevan Colleges Demand Return of Free Bus Service
Students from Armavir Province, who commute to college in Yerevan, demonstrated outside the Government Building today demanding that their daily free bus service be reinstated.
The roundtrip student buses were cut on September 1, the first day of school, in response to complaints lodged by Galaktika Trans Service, the private company that now plies the route between the town of Armavir and Yerevan with its minivans.
Students complain that they now have to pay for the ride to and from Yerevan and that their daily commute is much less convenient than before.
Also demonstrating outside the Government Building were Galaktika drivers and management representatives, who were demanding that the company be granted a monopoly to the route. They say that the contract Galaktika signed with the government includes such a clause.
Gurgen Grigoryan, a Galaktika representative, told Hetq that a number of illegal buses also ply the Armavir-Yerevan route, making it hard for the company to stay in business.
Galaktika Director Shoushan Khachatryan says that the company has been servicing the rout for the past sixty years. It now operates 22 minivans and four buses. She also claims that the government contract specifies that Galaktika should have exclusive rights to the route.
"Every day, two or three new vehicles arrive on the route. They have Russian and Georgian license plates. We don't know where they've come from. Today, there are some 35 illegal vans on our route. My drivers can't work. They're literally being pushed aside," says Khachatryan.
Deputy Minister of Transport, Communication and IT Armen Pambukhchyan briefly met with the demonstrators and invited a few inside to discuss the matter.
If you found a typo you can notify us by selecting the text area and pressing CTRL+Enter