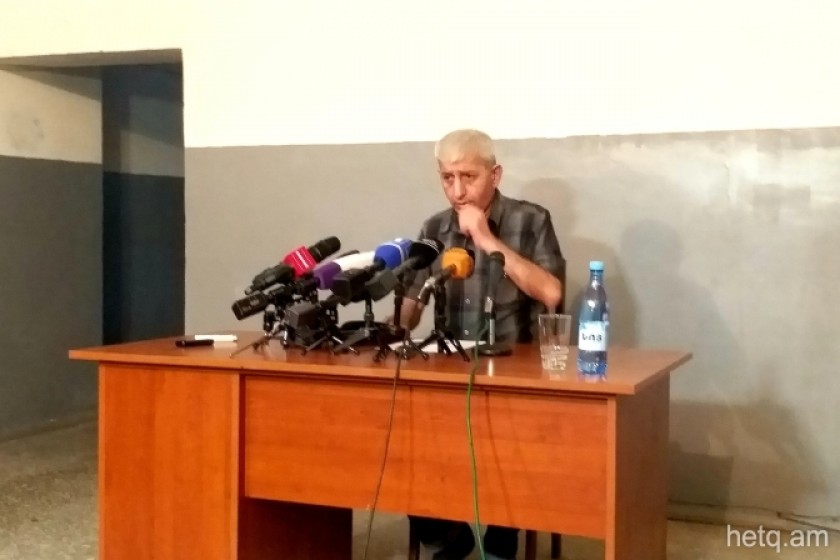 Jailed Activist Shant Harutyunyan Holds Press Conference in Prison: Demands Justice and Nothing Less
Shant Harutyunyan, the leader of the Tseghakron political party arrested on November 5, 2013 for organizing a march in Yerevan entitled "The Revolution of Values" and sentenced to six years imprisonment, was finally given the opportunity today to hold a press conference from within the walls of the Vardashen Correctional Facility.
Harutyunyan first thanked Armenian Prime Minister Nikol Pashinyan and prison official for the chance to talk to reporters, noting that this fact alone proves that Pashinyan differs from past government heads.
Harutyunyan told reporters that he would reject any offer of conditional release or being allowed day leave, only to return to prison at night.
Harutyunyan took issue with a recent statement by Pashinyan that as prime minister he can't intervene in the case simply by making a telephone call to a judge as past government heads were accused of doing.
The jailed activist said that Pashinyan is the guarantor of justice and is responsible for the legal operation of all sectors in the country.
Harutyunyan said other court cases have been reopened in Armenia since Pashinyan came to power in May, and he hoped that his case would be reviewed as well.
He said that all charges against him must be dropped and that he wouldn't even agree to being released under a general amnesty.
In all, 38 protesters were arrested on November 5, 2013 when they set off fireworks as they made their way from Liberty Square to the Presidential Palace. Fourteen of the 38 were formally arrested on charges of hooliganism, and twelve were found guilty.