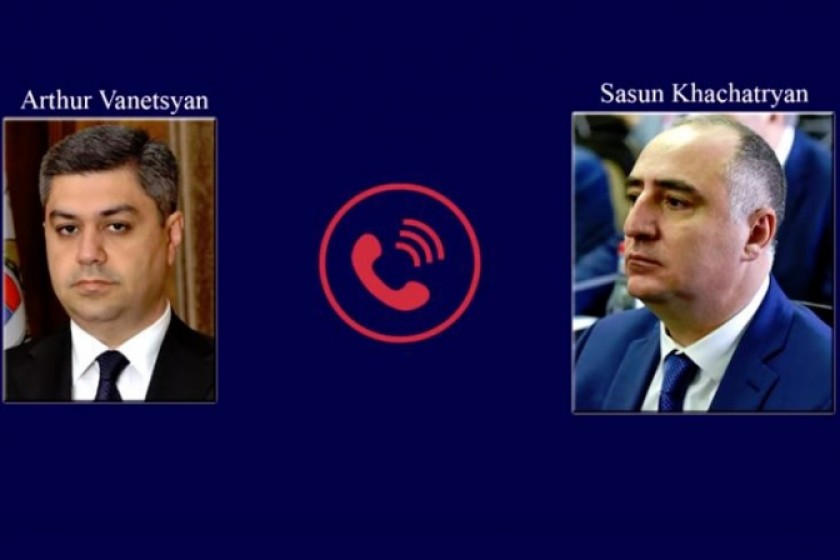 Pashinyan Refutes Implication that Secret Recording of Conversation Between Law Enforcement Heads Reveals Government Meddling in Courts
A secretly taped conversation, allegedly between Artur Vanetsyan (head of Armenia's National Security Service) and Sasun Khachatryan (head of the Special Investigative Service), surfaced on the internet today.
The two men are heard talking about various ongoing court cases involving several former high-ranking officials, discussing the pros and cons of how each should be adjudicated and settled. They are also heard talking about receiving requests from judges as to how to proceed in each case.
The person, or persons, who taped and uploaded the conversation, seems intent on proving that the judiciary, even after the "Velvet Revolution", is still not a fully independent arm of the government.
In a Facebook post on the matter, Armenian Prime Minister Nikol Pashinyan said that his government is waging an all-out war against corruption, but that the court system he has to work with was appointed by past corrupt officials.
Pashinyan said there was nothing in the recording that could be construed as an abuse of power or a basis on which to launch an investigation.
"The courts served that corrupt system for years," Pashinyan says in the post, adding that judges always call him asking what verdict they should hand down in cases where former officials have been charged with corruption or other crimes.
"I have declared that I will not give instructions to the courts," Pashinyan says, adding that former high-ranking officials and mid-level bureaucrats now realize that the monies they plundered over the years must now be returned and are pulling out all the plugs to derail the judicial process.
Pashinyan mentions the following names in this matter – former presidents Robert Kocharyan and Serzh Sargsyan, former prime minister Hovik Abrahamyan, former Yerevan mayor Taron Margaryan, and former MP Manvel Grigoryan.
Pashinyan also took a minute or two to refute allegations in the press and social media that his family has profited economically ever since he was elected prime minister in May.
He also joked that the internet was cutting out several times during the recording of his post while it remained steady during the revolution.
Pashinyan reaffirmed that those responsible for the death and injuries of March 1, 2008 would be brought to justice.
In conclusion, Pashinyan said he would never compromise in the fight against corruption and called on the people to decide whether they supported his government or not.
If you found a typo you can notify us by selecting the text area and pressing CTRL+Enter