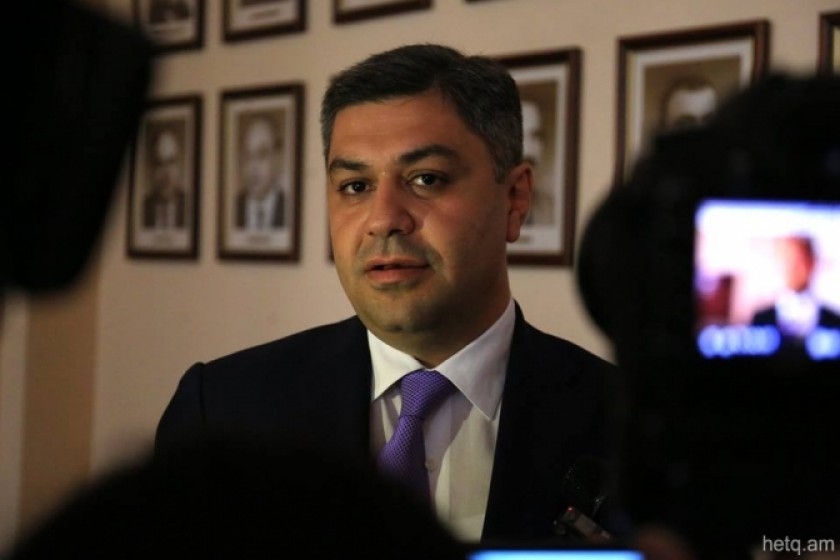 National Security Chief Confirms Veracity of Taped Telephone Conversation
Artur Vanetsyan says he merely discussed legal issues with Special Investigative Service Chief Sasun Khachatryan
National Security Service Chief Artur Vanetsyan has confirmed that he and Special Investigative Service Chief Sasun Khachatryan are the ones conversing in a taped recording that surfaced today on the internet.
"It's very odd that a conversation between the heads of the National Security Service and the Special Investigative Service has been secretly recorded. It's of concern, and a detailed examination will be conducted to uncover the source of the recording," Vanetsyan said at a press conference convened on the matter, adding that the Prosecutor General's Office has launched a criminal investigation.
Vanetsyan said that the telephone conversation occurred on the day when the Court of Appeals freed ex-President Robert Kocharyan from detention on the basis that he cannot be prosecuted for the March 1, 2008 post- election violence in Yerevan.
"Considering the fact that the republic's second president, Robert Kocharyan, and CSTO Secretary General Yuri Khachaturov had appeared before the court, one must be 100% certain that no irregularities occurred in the case. The discussion between myself and Mr. Khachatryan took place and it was a discussion purely of legal issues," Vanetsyan said at the press conference.
Sasun Khachatryan, who was also at the press conference, said that during the phone conversation he had presented Vanetsyan with legal arguments on which Kocharyan and Khachaturov could be arrested.
"I regard this as an attempt to derail the examination of March 1, 2008. The publishing of such material, information under the court's jurisdiction, without the prior permission of those involved, is a crime and has already resulted in a criminal investigation," Khachatryan said.
Vanetsyan said he was in Geneva at the time to discuss matters related to the election of the president of the football federation.
In the secretly taped telephone recording the two men are heard talking about various ongoing court cases involving several former high-ranking officials, discussing the pros and cons of how each should be adjudicated and settled. They are also heard talking about receiving requests from judges as to how to proceed in each case.
Earlier, in a Facebook post, Armenian Prime Minister Nikol Pashinyan said there was nothing in the recording that could be construed as an abuse of power or meddling in the work of the judiciary.
If you found a typo you can notify us by selecting the text area and pressing CTRL+Enter