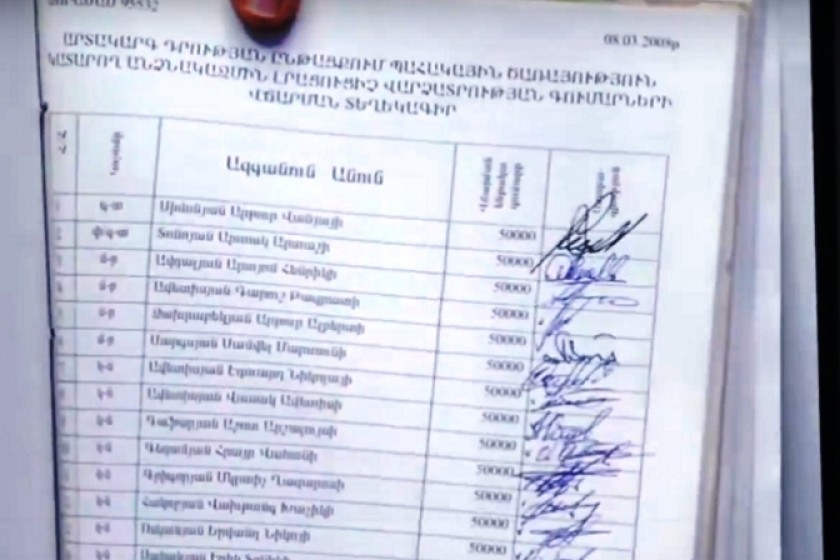 Special Investigative Service Chief Says Armenian Peacekeepers Were Paid to Guard Assets of Oligarchs During 2008 Post-Election Protests
At yesterday's press conference where National Security Service (NSS) Chief Artur Vanetsyan and Special Investigative Service (SIS) Chief Sasun Khachatryan offered their take regarding a secretly taped phone conversation during which the two are heard discussing the detention of former Armenian President Robert Kocharyan and the ongoing investigation of the events of March 1, 2008, Khachatryan revealed that military personnel were used to safeguard the assets of various oligarchs during the post-election protests ten years ago in Yerevan.
"The most outrageous thing they did to the army was that those former officials used our soldiers as mercenaries. The criminal investigation has proved this, and I will submit evidentiary documents here, the originals, showing that from February 23 to March 7/8, oligarchs divided army soldiers up into units to defend their assets and political interests," Khachatryan said, adding that the amounts paid as salaries to the soldiers had been taken from the oligarchs' bank accounts.
Khachatryan handed the file of documents to NSS Chief Vanetsyan, who then held them up to reporters for a few seconds.
The document (top photo) shows that each of the 3,600 soldiers "recruited" by the oligarchs was paid 50,000 drams for their security services. Khachatryan says the total amount paid was 180 million drams.
In the top left of the page one can make out the number 95532, referring to the army post housing a brigade of Ministry of Defense peacekeepers opposite the Yerevan Municipality.
One of the names listed in the document is Colonel Artur Simonyan, who served as brigade commander from 2007-2017. President Serzh Sargsyan bestowed him the rank of major general in 2012.
The brigade's first commander was Artak Tonoyan, who is listed in the document as a lieutenant colonel. He later achieved the rank of colonel.
Two of the majors listed, Artyom Avdalyan and Samvel Sargsyan, were platoon commanders (lieutenants) when the peacekeeper forces were formed. (The first mission of Armenian peacekeepers was in 2004, in Kosovo, under the command of Avdalyan.)
Artur Simonyan, in a 2012 interview, talked about the brigade and the soldiers under his command.
He said that Colonel Artak Tonoyan had studied at the NATO Academy, followed by Lieutenant Colonel Artur Zakhrabemyan, who is listed in the document as a major.