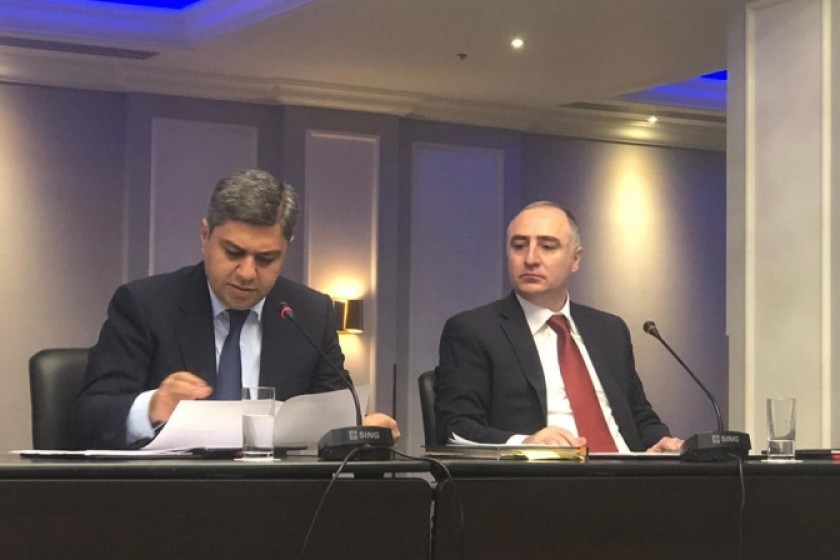 Armenia: Special Investigative Service Chief Says Army Fired on People's Homes in March 2008
At yesterday's press conference, where National Security Service (NSS) Chief Artur Vanetsyan and Special Investigative Service (SIS) Chief Sasun Khachatryan offered their take regarding a secretly taped phone conversation during which the two are heard discussing the detention of former Armenian President Robert Kocharyan and the ongoing investigation of the events of March 1, 2008, Khachatryan made the following pronouncements regarding the post-election violence that claimed the lives of eight civilians, one policeman and one soldier.
Starting on February 23, 2008, the army intervened in the events taking place on the ground in Yerevan.
Khachatryan said that there was a clause in Secret Order 0038 that read "Certain individuals and organizations are not accepting the results of the election after having been freely and fairly evaluated and are fomenting disturbances.
"Please take note that this order was issued on February 23, one day before the Central Electoral Commission (CEC) published the results of the presidential election. Thus, one day before, Robert Kocharyan and Mikayel Harutyunyan knew that the CEC would declare Serzh Sargsyan the winner and that the international community would have to regard the election as free and fair. It was in this context that the army was put on alert to prevent any peaceful protests," Khachatryan said at the press conference. (Kocharyan was the outgoing president at the time, and Harutyunyan was the defense minister.)
The army not only opened fire, soldiers fired on people's homes.
"We have concrete evidence that Armenian military personnel fired automatic weapons in the direction of houses on Leo Street after someone tossed a Molotov cocktail from a balcony. In other words, the army fully participated in those events," Khachatryan said.
Tigran Abgaryan, a member of the Interior Forces, was deliberately killed by Special Unit personnel.
"We have definitive proof of this," Khachatryan said, and stressed that Tigran Abgaryan was killed after Kocharyan had declared a state of emergency and when no soldier had received a gunshot wound.
"The preliminary examination backs our contention that Abgaryan was shot in order to substantiate Kocharyan's claim that 'we have suffered losses'", Khachatryan said.
Seyran Ohanyan will testify as a witness.
In the taped phone conversation, Sasun Khachatryan describes the actions of Seyran Ohanyan (Chief of the General Staff of the Armenian Armed Forces in March 2008) as "obscene".
"You know what's at the core of Seyran's sin? He got up that night and said that if the citizens did something he, the army, would fully respond, very roughly," said Khachatryan, who, despite believing that Ohanyan's actions are sufficient to be prosecuted, he'll only be called as a witness in the March 2008 investigation.
Top photo (from left): NSS Chief Artur Vanetsyan, SIS Chief Sasun Khachatryan