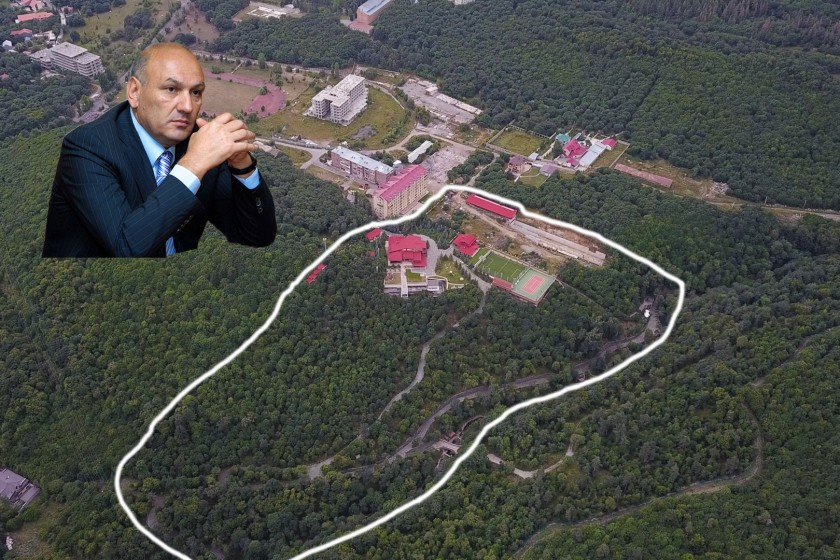 Former Armenian Finance Minister's Family Controls 12 Hectares of Specially Protected Forest in Tzaghkadzor
Former Armenian finance minister Gagik Khachatryan's family controls 12 hectares of a specially protected forest area in ​​Tzaghkadzor, an area in north-central Armenia known for its lush woodlands.
The family has built several buildings on the land.
Around 2.5 hectares of land, where the buildings stand, are owned by the Khachatryans, while 9.5 hectares of forest were leased from HayAntar (ArmForest) SNCO for 50 years.
Gagik Khachatryan's wife, Laura Yepremyan, and his daughter Anzhela Khachatryan are the registered owners.
The house and adjacent structures are built in a specially protected area, earmarked for leisure purposes. Armenia' Land Code describes such areas as public zones rather than private spaces.
When Hetq was videotaping there, a new building was being constructed without a building permit. After Hetq sent a query to the Tzaghkadzor mayor, the town's municipality fined the Khachatryans for 200,000 drams.
Khachatryan's house and illegal construction in a specially protected area of ​​Tzaghkadzor
According to state real estate documents, Gagik Khachatryan's daughter, 22-year-old Angela Khachatryan has owned 0.5 hectares of land located at 20 Khachik Muradyan Street since September 2016. Before that, it belonged to Hayk Khachatryan, Gagik Khachatryan's cousin, since 2008.
Laura Yepremyan, Gagik Khachatryan's wife, owns more than 2 hectares of land at 18 Khachik Muradyan Street. The Real Estate Cadastre Committee mentioned this address as "specially protected areas" and "for leisure purposes."
Tzaghkadzor Mayor Artur Harutyunyan clarified what this means.
According to Article 22, paragraph 2 of the Armenian Land Code, "Lands occupied with cottages, resorts, sport and physical training objects, tourism facilities, permanent and tent, fishing and hunting cottages, child tourism facilities, tourism parks, forested parks, investigative-tourism paths, defined paths for child and sport camps and similar objects are included in the lands foreseen for leisure may be constructed with rest homes, boarding schools, physical education and sport objects, tourist bases, permanent and tent, fishing and hunting lodges, children's tourist stations, tourist parks, forest parks, study paths, children's and sports camps other similar objects."
In other words, they should be used in the public interest, while in this case they are not.
The 18 Khachik Muradyan address, which consists of more than two hectares, is registered in the name of Laura Yepremyan, Gagik Khachatryan's wife.
Based on Hetq's letter about the new construction, employees of the Tzaghkadzor Municipality visited 18 and 20 Khachik Muradyan addresses. Mayor Harutyunyan says they've found a two-story illegal construction located on 500 square meters between the two mentioned addresses. The Tzaghkadzor Municipality claims it never received any construction permit requests for this location. The municipality has launched an administrative proceeding in the matter.
Mayor Harutyunyan says such a building, constructed without a permit, might be fined for 2-3 million AMD. If the building is not legitimized, the court will demand to dismantle it.
As for the forest lands of 9,42 hectares controlled by the Khachatryans, the lease agreement signed between Hayantar and Khachatryan's wife in April 2010 mentioned reforestation as an aim: the Khachatryans had to plant trees in the area.
Lusine Hakobyan, spokesperson for the Forest Committee, informed Hetq that based on our inquiry, on September 6, the area was inspected, and the inspection showed that the tenant has planted 8,500 trees.
Hetq tried to get clarification from Gagik Khachatryan's son, Artyom Khachatryan. The latter said his father was out of the country, but that his representatives would answer our questions.
Shushan, an employee of the Galaxy Concern, one of the Khachatryan's companies, says it's the building contractor to be blamed for the missing construction permit, since they did not finalize the construction permit earlier, as a result of which the owner was fined 200,000 drams by the Tzaghkadzor Municipality.
After registering the violation, a petition was filed with the municipality to legalize the unauthorized building.
The municipality has already issued the permit for legalization, and the Khachatryans have to pay five million drams to the state treasury. Currently, the building is legalized, with a certificate of ownership.
This is just one episode of the Khachatryan family's various activities. Hetq will soon publish the findings of its investigation of the family's business activities.
If you found a typo you can notify us by selecting the text area and pressing CTRL+Enter