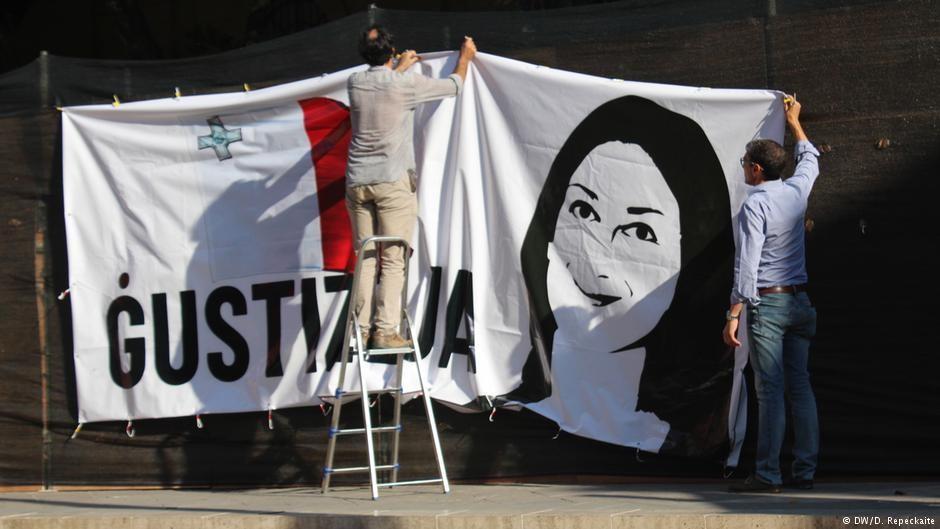 Malta Battles over Memorial to Murdered Journalist Daphne Caruana Galizia
Walking across the center of Valletta, Raymond and his partner stop to look at the latest additions to a makeshift memorial for the immensely popular blogger Daphne Caruana Galizia, who was murdered in a car bomb on October 16 last year. "We are lucky to have had someone like her," the man remarks. "People like her … OK, they are not perfect, but not everybody can investigate [like] that." Nearby, a city employee is sweeping the square after thick crowds of tourists have dispersed and artisans, competing for their attention, have packed their goods and left. Valletta carries on in its usual rhythm even as, for the past month, this memorial has been different from day to day.
A year of soul-searching, monthly demonstrations and revelations that ebb and flow in Italian media have not brought Malta much closer to finding the truth about the murder. Arrests of three suspectshave not led to the masterminds. The memorial in front of the court has become an unlikely battleground to define how to remember the slain journalist, who focused on nepotism, corruption, and anything she considered to be in bad taste in those close to power.
Three days after the assassination, Maltese journalists gathered near Parliament to proclaim that they would not be silenced. They marched toward the Courts of Justice building, where 26 of the 28 cases of bomb explosions since 2003 remain unresolved. The foot of Antonio Sciortino's monument to the fallen during the Ottoman siege of Malta in 1565, which Caruana Galizia had called an overrated "non-event," became the location of her memorial. Dozens gather monthly to demand a fair and transparent investigation not only into the murder, but also into the nepotism and corruption she exposed.
Bedecked with colorful flowers and candles, this place is where foreign TV crews get their stock footage to report on the case. Hundreds of tourists pass by every day. "We only heard about [the murder] when we were planning to go to Malta on a holiday," says Douglas, a British tourist visiting with his partner, Kat. The two stopped at the makeshift memorial on the way to the nearby cathedral. They could not remember reading about it in the British news, but are now determined to learn more.
Not everyone is happy about this addition to the tourist experience of Malta. Although activists behind commemorative rallies claim to be non-partisan, various current and former figures of the opposition Nationalist Party get the podium. Voters of the ruling Labour Party tend to shy away from their company, but do not organize their own commemorative practices for Caruana Galizia. Multiple government officials have spoken out against the memorial in this highly visible place.
As the annual commemoration of the Ottoman siege on September 8 drew nearer, all the items that made up the memorial were removed to make space for official wreaths. Activists promptly recreated the memorial. Heritage Malta, the authority responsible for monuments, has since obscured it with a giant sign, reportedly for restoration. When a journalist from Newsbook, a church news portal, filmed workers clearing banners, flowers and candles again, one worker tried to push him away, and the matter was brought to the police.
Heritage vs. self-expression
Activist, blogger and former Nationalist politician Manuel Delia, who speaks at the monthly rallies and has placed banners at the memorial, filed a constitutional case after commemorative items were taken away 17 times, which he says violates the right to self-expression. Civil Society Network, an activist group behind commemorative activities for Caruana Galizia, dressed other monuments on the island in T-shirts with her last words, only to see them disappear immediately.
"When people organize a manifestation, they usually clear the site after making their message clear," Minister Owen Bonnici told Maltese media. "When they don't, we're obliged to clear it ourselves." With his portfolio of justice, culture and local government, all matters of Caruana Galizia's commemoration fall under his remit: from the courts and the fight against corruption to cultural heritage and also the cleansing and maintenance units that keep public spaces tidy.
Officials' statements on why the memorial has been repeatedly removed or blocked from view have not satisfied critics.
"In a normal country, the government would try to foster debate and discussion, and not piss on it. In a normal country, we would be allowed to protest and have our voices heard without fear of prosecution and harassment, but Malta is not a normal country," declared Pia Zammit, an actor and onetime Nationalist Party campaigner, at a demonstration in the spring. Holding aloft portraits of Caruana Galizia, a crowd of protesters echoed her words.
If you found a typo you can notify us by selecting the text area and pressing CTRL+Enter