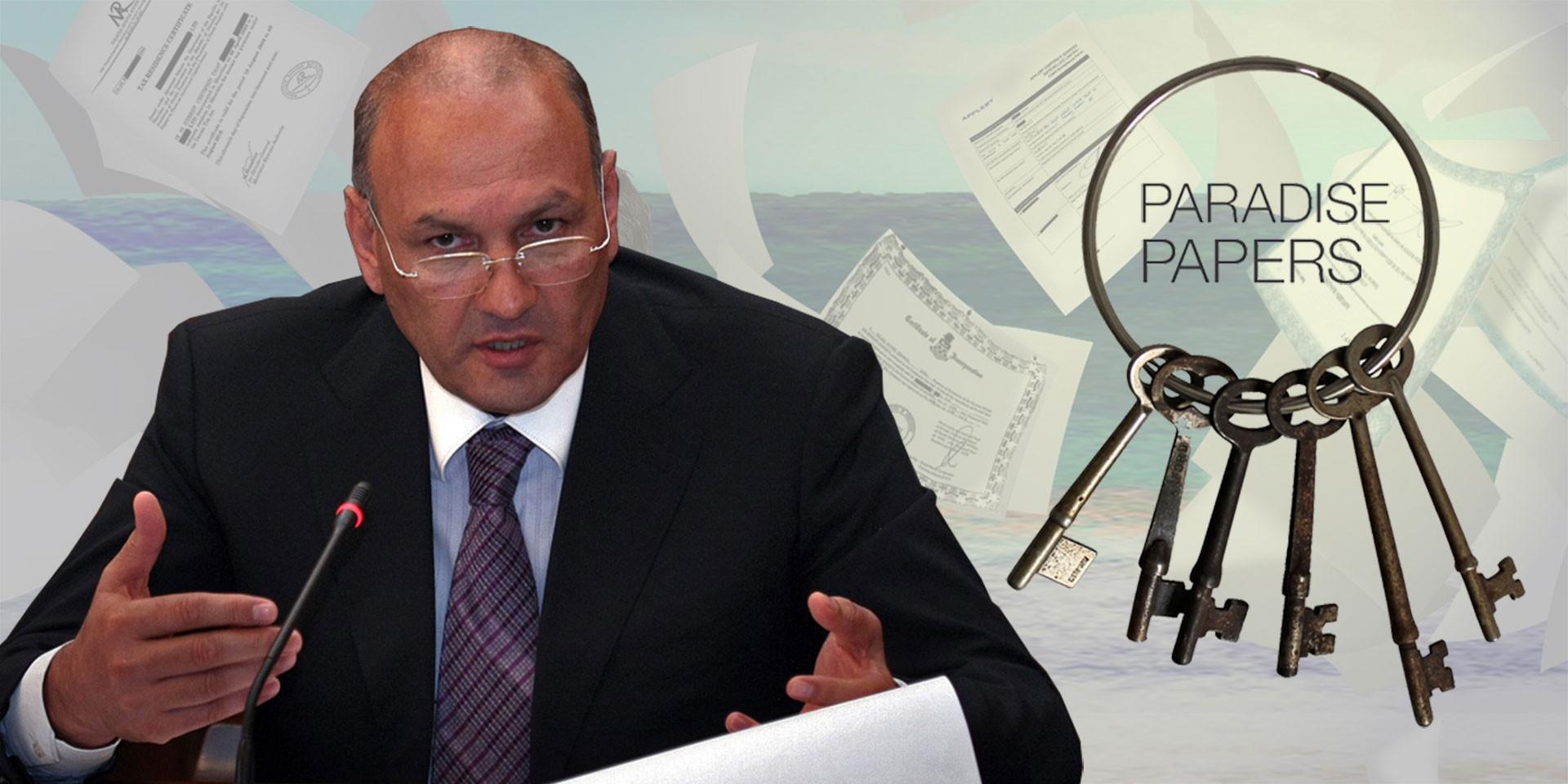 The Khachatryan Family's Shady Offshore Transactions and the Mysterious Death of an Armenian Businessman
Former Armenian Minister of Finance Gagik Khachatryan and his family have been swept up in a financial scandal involving Bradwell Investment Corp., a company owned by Khachatryan's nephew Aram Khachatryan. Bradwell Investment is accused by the Seychelles government's Financial Intelligence Unit of laundering $11.8 million in addition to several tax infractions.
The revelations are part of the Paradise Papers expose on offshore investments. The Paradise Papers consist of over 13 million confidential electronic documents leaked to the German newspaper Süddeutsche Zeitung. The newspaper shared them with the International Consortium of Investigative Journalists (ICIJ) and a network of more than 90 media partners, including Hetq.
The Paradise Papers include documents on the offshore business dealings of the Khachatryan family, and a possible link to the 2016 suicide of Abram Amirkhanyan, a prominent luxury real estate developer in Yerevan.
The leaked documents originate from the offshore legal firm Appleby, which was founded in Bermuda and has offices worldwide, and also from corporate services providers Estera and Asiaciti Trust, and business registries in 19 countries.
In April of 2014, the Financial Intelligence Unit of the Republic of Seychelles began investigating Bradwell Investment for possible money laundering using its account in Barclays Bank Seychelles Ltd. The Unit soon froze $6.5 million out of more than $11 million Bradwell had transferred to the bank.
A search of public sources shows that Bradwell filed a suit in the Seychelles Constitutional Court against the Financial Intelligence Unit for freezing Bradwell's account. The court rejected Bradwell's claim.
On March 9, 2015, a Seychelles prosecutor alleged that Bradwell owner Aram Khachatryan committed money laundering and tax infractions. He's the nephew of former Armenian Minister of Finance Gagik Khachatryan. Before serving as finance minister (2014-2016), Gagik Khachatryan held various provincial tax authority posts and headed the State Revenue Committee (2008-2014). Throughout his government career, Khachatryan owned businesses registered in the names of family members.
Aram Khachatryan, 41, is the son of Gagik Khachatryan's deceased brother. According to Armenian corporate registry documents he either is, or was, a shareholder or director in at least 15 Khachatryan family businesses.
From 2005-2011, Aram Khachatryan and Gagik Khachatryan's sons Gurgen and Artyom owned shares in Mega Food, a major distributor of food and confectionary items. All company shares were transferred to him in 2011, and he's served as director since 2012. The company imported 7,000 tons of food items to Armenia in 2017.
Aram Khachatryan owned 41% of the shares in UCOM, a leading mobile network operator and internet service provider in Armenia, from 2011-17. Now he owns 25.98 percent and Gagik Khachatryan's sons Gurgen and Artyom each own 12.71 percent.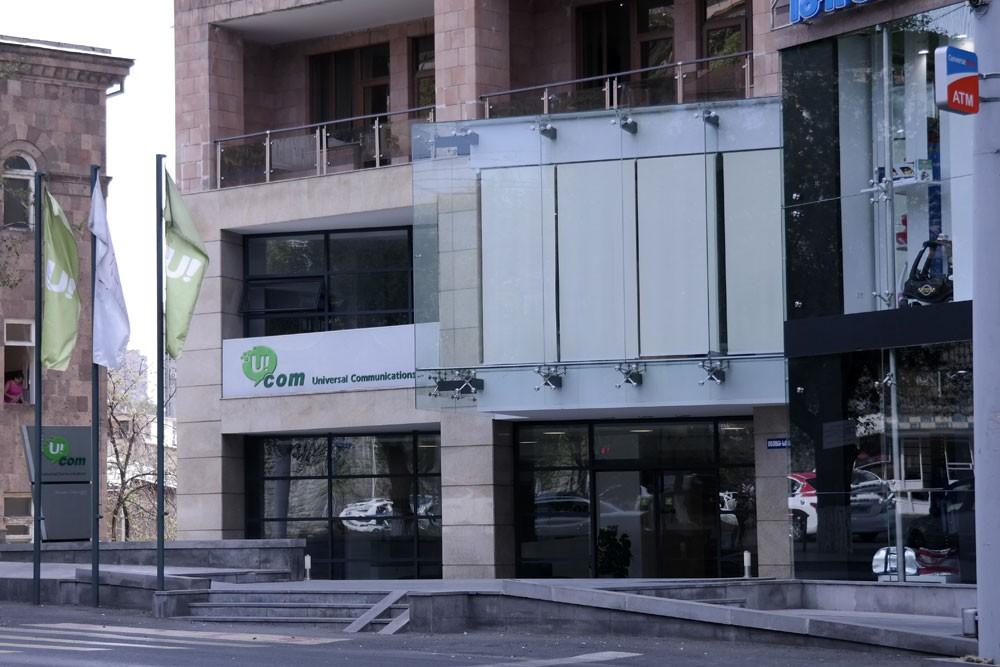 Ucom office, 40/1 Sayat-Nova
The most interesting change in UCOM ownership was 11.21 percent to Tashir Group, a Russian construction and real estate group owned by Armenian businessman Samvel Karapetyan, via his Russian Fora Bank. Karapetyan's bank may have obtained these UCOM shares based on a loan to the company. Cyprus-registered IU Telecomunicate LTD now owns 31.05 percent, and brothers and top UCOM officials Hayk and Aleksandr Yesayan each own 3.17 percent.
In 2015 the Seychelles prosecutor entered evidence showing that large sums of money were being funneled through Bradwell to purchase expensive artworks on the international market.
In 2013-2014, Bradwell transferred US$708,000 to the Sloane Gallery in Denver, Colorado, and $170,000 was transferred to GALERIE THADDAEUS ROPAC , which has galleries in Paris, London and Salzburg.
Sloane Gallery director Mina Litinsky verified that Bradwell purchased six paintings worth $2,263,750 from the gallery between April 1, 2013 and January 1, 2015.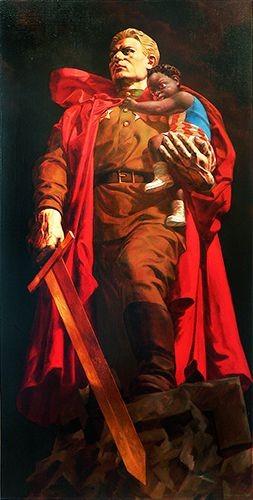 Komar & Melamid "World War 3 Ends"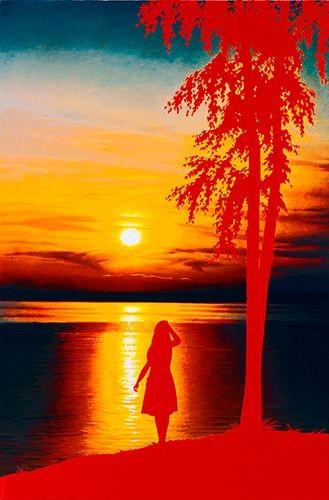 Bradwell was founded in Seychelles in April, 2011. Two months later, a company named Red Hill Enterprises was founded in Scotland. In a three-day period, Red Hill transferred a total of $7 million to Bradwell for uses including the purchases of art and to Abram Amirkhanyan.
He was the founder of Levon Amirkhanyan Ltd, a prominent luxury real estate developer in Yerevan. In a letter he wrote one day before his 2016 suicide, he blamed theKhachatryan family for his financial ruin.
The British Companies House Register shows no corporate activity for RedHill Enterprises L.P., indicating it is was founded for a specific purpose and then dissolved on December 4, 2017. A contract signed by the two companies shows that Red Hill had an account with AmeriaBank, one of the leading banks in Armenia.
Paradise Papers documents show that the Khachatryan family paid thousands of dollars to Appleby lawyers. Appleby is a leading offshore law firm with around 470 employees, including 60 partners, operating from 10 offices around the globe. It has offices in key offshore jurisdictions of Bermuda, the British Virgin Islands, the Cayman Islands, Guernsey, the Isle of Man, Jersey, Mauritius, and the Seychelles, as well as in the international financial centers of Hong Kong and Shanghai.
In Armenia, Aram Khachatryan consulted with AmeriaBank Legal & Advisory Services Head Davit Sargsyan. In response to a request from Hetq about Bradwell, Sargsyan wrote that all bank services and relations with clients are confidential and cannot be provided to a third party without prior consent of the client.
After several attempts, Hetq received this written response Aram Khachatryan:
"I founded Bradwell Investment Corp., by taking out loans, as an investment holding company to carry out international projects and to attract investment to Armenia. The company operated within the letter of the law and its transactions were legal. As to the court verdict in the matter of the Seychelles Financial Intelligence Unit, I should note that it concluded in a compromise and that no legal action was taken against the company. Furthermore, the compromise is duly noted in the court decision."
Asked to provide the court's decision, he said: "Such information cannot be provided by hand or be published, given the conditions of the compromise, and cannot be published according to the obligations assumed by the parties to the agreement."
Asked whether Levon Amirkhanyan LLC's credit financing was part of any international project, Aram Khachatryan replied: "I cannot provide any information of commercial confidentiality on the mentioned transaction. But I can note that this project's credit financing was done through lending resources."
A Barclays Bank (Offshore) Seychelles Ltd) statement shows that in 2013, Levon Amirkhanyan LLC transferred some $1.2 million to a Bradwell account. The transfer was described as payment on a loan's principal and interest.
Abram Amirkhanyan, committed suicide on February 16, 2016, one week after an Armenian court declared his Levon Amirkhanyan LLC bankrupt. Amirkhanyan founded the company in 1998 and it constructed luxury apartment buildings in the best Yerevan neighborhoods. The company was registered in the name of his son, Levon Amirkhanyan, who served as its director until 2014.
Hetq wrote to Armenia's Investigative Committee, who confirmed they received information from the National Security Service (NSS) on May 29, 2017:
"During the preliminary investigation, large-scale investigative measures were taken, and some 300 citizens were questioned. Around 150 citizens were recognized as victims as a result of (Levon Abrahamyan LLC) practices and were questioned. To clarify the links between Abram Amirkhanyan and various companies and their obligations, several theories were drafted, and appropriate measures are being enacted."
The court certified 180 creditors for the company. Court-appointed bankruptcy manager Armen Sargsyan told Hetq that the number of creditors rose to 210, and that Levon Abrahamyan LLC owed 14 billion Armenian dram, US$29.2 million, and €1.3 million.
As part of this bankruptcy case, Bradwell filed a motion to have $2.2 million returned. The court rejected the motion, stating that Bradwell had offered no evidence proving it had loaned that amount to Levon Amirkhanyan LLC.
Hetq asked Aram Khachatryan how much money Bradwell Investment lent to Levon Amirkhanyan LLC and how much had been paid back. He replied:
"I cannot provide any commercial confidentiality information, but I can note that (Bradwell) did provide Levon Amirkhanyan LLC with loan financing, and that only some 65% has been recovered. The remainder was a loss for (Bradwell). Levon Amirkhanyan LLC proposed the loan. (Bradwell) invested and suffered great losses as a result of Levon Amirkhanyan LLC's bankruptcy."
Amirkhanyan family members refused to talk to Hetq about the suicide. They did say Abram Amirkhanyan's son Levon, while serving as a company director, "had lost everything".
Hetq has obtained a copy of a Russian language letter written by Abram Amirkhanyan the day before he committed suicide.
| | | |
| --- | --- | --- |
| Abram Amirkhanyan and excerpts of his suicide note | Abram Amirkhanyan and excerpts of his suicide note | Abram Amirkhanyan and excerpts of his suicide note |
A translated excerpt reads:
"In 2010 I naively borrowed $6 million from some 'monsters'. The creditor was some outfit called Bradwell Ltd. I put up a 2,200-meter parcel of land on Vardanants Street as collateral, with the right to build, and a structure at 29 Khanjyan Street.
"I fell in the trap with both feet. The time came to pay off the loan, but we were facing a crisis, and despite my requests to extend the deadline for the principal, there were no concessions. The 'monsters' intended to seize those two buildings and they started to offer a new loan arrangement via VTB Bank. For four months they were taking documents to the bank, and opened the (new) Ourm company to receive that loan. VTB Bank steered clear from this folly, and they completed the deal through ArdshinBank and got their four million…"
He accused the same people of forcing him to sell them five floors of a building at 40 Sayat-Nova Street at a very cheap price. A UCOM service center and a MegaSport store were established in that building.
In 2014, Amirkhanyan started to build a hotel at 40/3 Ajaryan Street in Yerevan.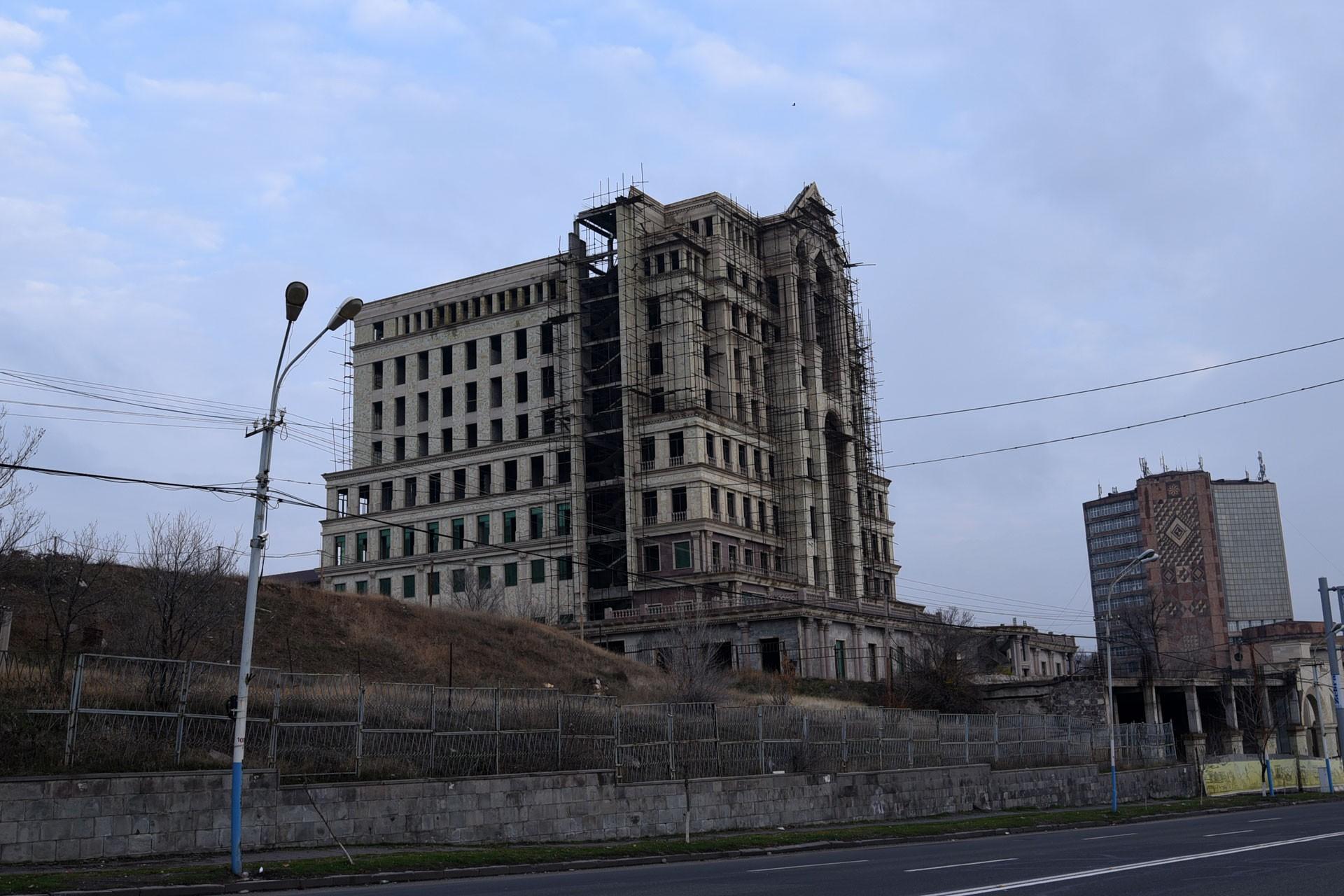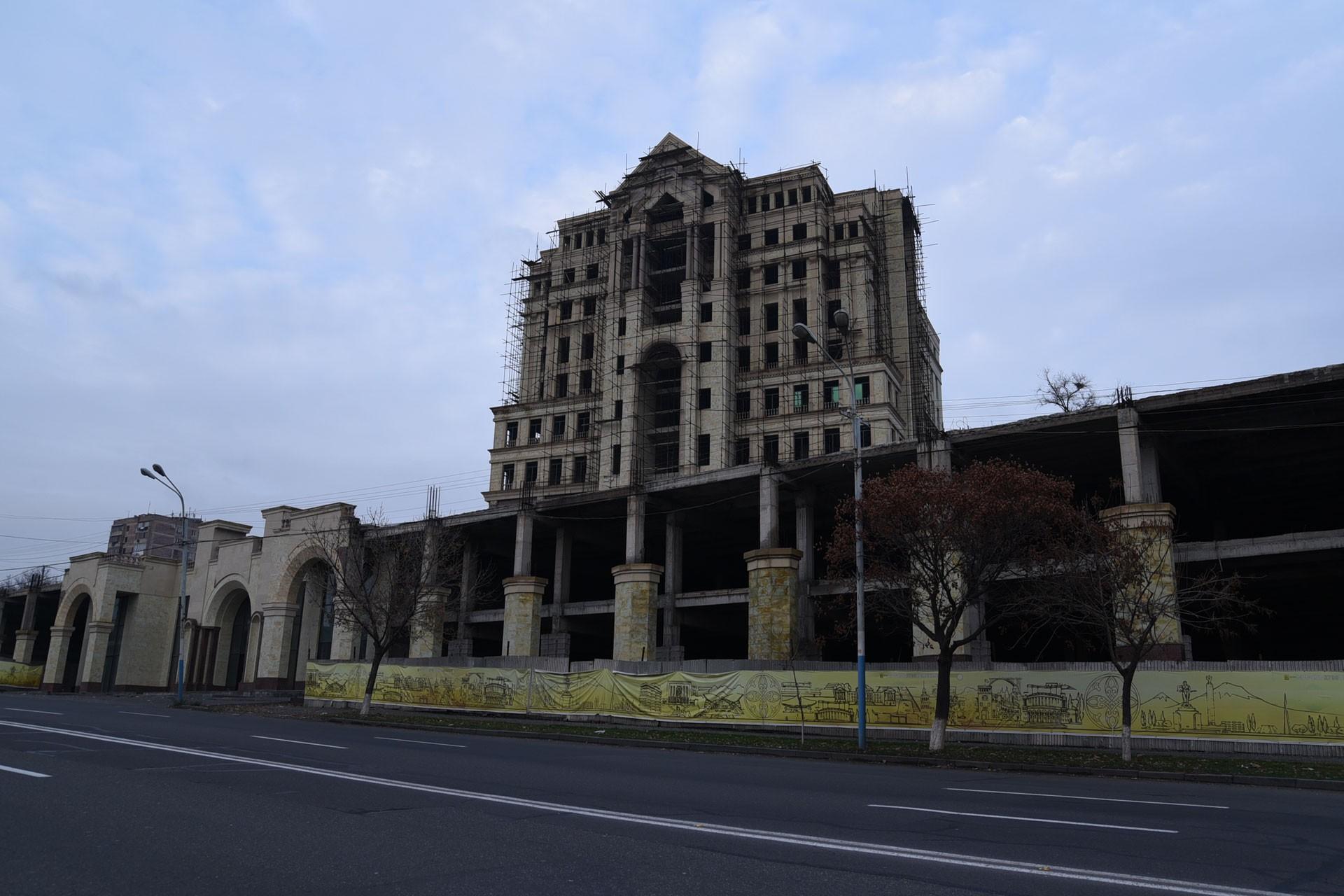 Another excerpt:
"We have a wonderful country, but why can't we live here without monsters? In a few days I must pay my share in the hotel, otherwise living is impossible. This is what the monsters have achieved. It's a tragedy that all this ends this way.
"I am certain that the monsters will always find a justification for their actions, but I'm also confident that they'll never be healthy, and their relatives will always be enveloped in sickness, ulcers…and now the name of that monster, Artyom Khachatryan.
"He walks on the backs of corpses and is ready to seize everything. Now he plans to seize two buildings that are put up as collateral in Ardshin Bank, and for which (he used) his offshore company. I've paid back $2.4 million of the $6 million, but he's calculated most of that amount as penalties. He's given apartments at 29 Khanjyan, sold (to him) at a rock-bottom price, to his friends and relatives for almost nothing."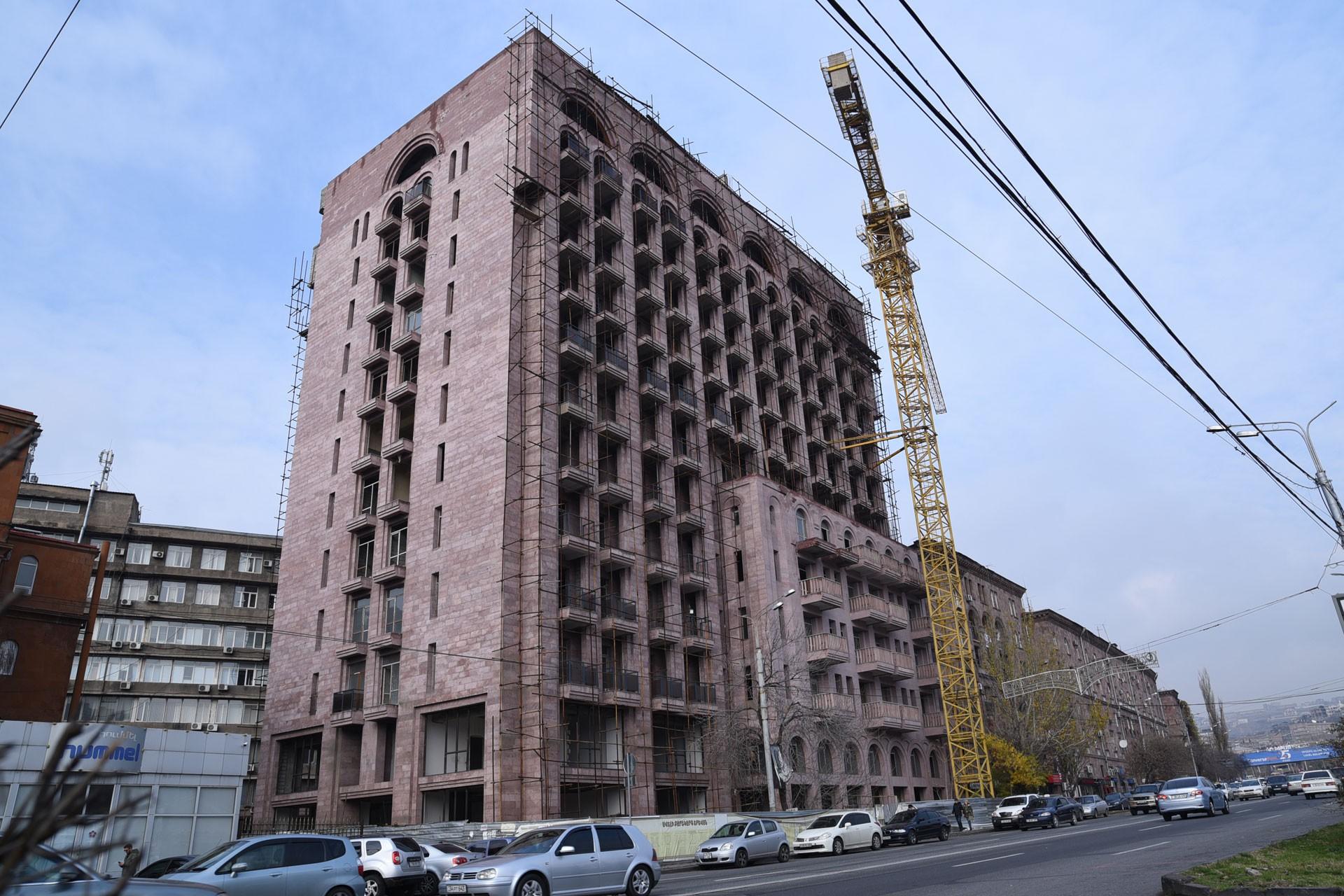 The building at 29 Khanjyan Street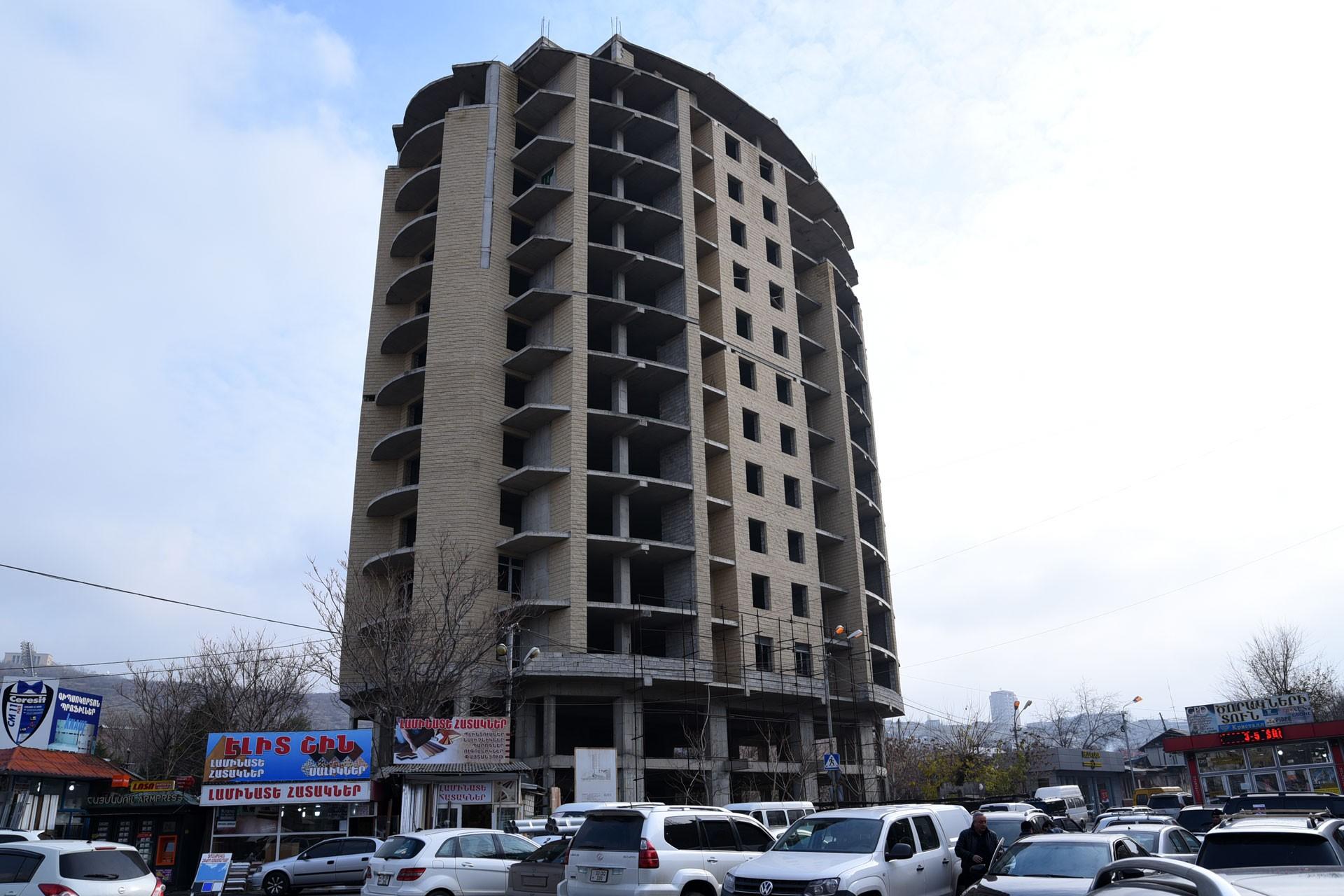 The building at 69 Vardanants Street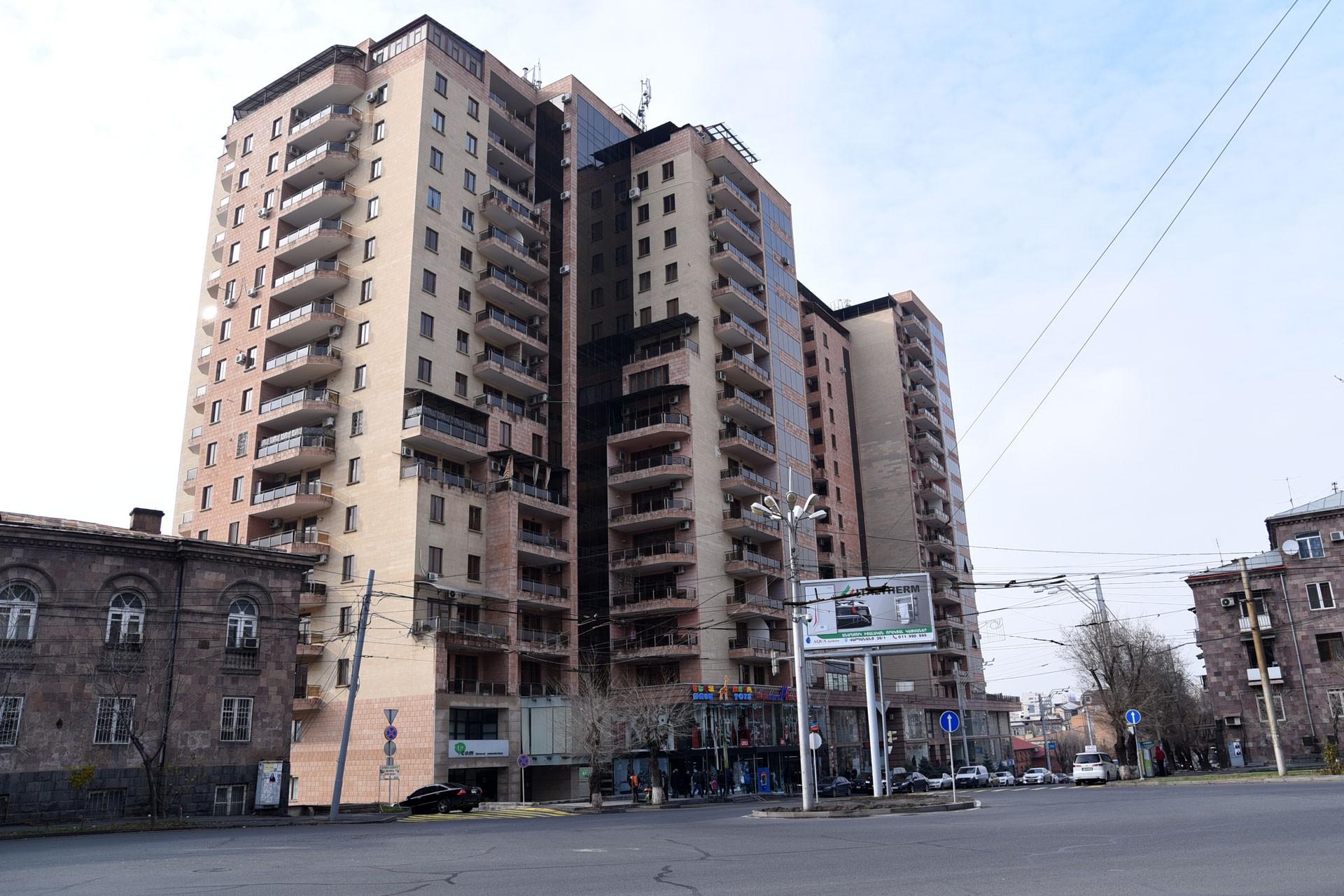 The building at 40/1 Sayat-Nova Street
In the letter, Amirkhanyan writes that he was forced to sell apartments in buildings on Vardanants and Khanjyan streets to Khachatryan's relatives at the cheap rate of $400-$600 per square meter to help pay off his debt.
Amirkhanyan also wrote about negotiations he entered into with an Arab sheikh regarding an investment in a Yerevan hotel construction. He accused the "monsters" of spoiling the deal so that they could take control.
"Now, they and VTB Bank are preparing to seize the hotel. They'll create an offshore company and donate the hotel to it. It's their style."
The current owner of the hotel built at 40/9 Ajaryan Street is D&H Group LLC, whose director since December 2016 has been Aram Karamanukyan, son of Ardshin Bank's former Board of Trustees president Nerses Karamanukyan.
And while millions of dollars are still flowing to art galleries and other directions unknown, unfinished construction projects that Abram Amirkhanyan launched have left hundreds of individuals who purchased apartments at 29 Khanjyan, 69 Vardanants, Charents 70/8 and 40/1 Sayat-Nova still waiting to move in. Some have filed court cases, while the fate of others remains in the hands of the banks.
Khachatryan family business interests in Georgia
The business interests of the Khachatryans have long since expanded outside Armenia. They own businesses in neighboring Georgia, in various European countries, and the U.S.
Aram Khachatryan runs the family's Georgian operations. The family's Chronograph high-end watch and jewelry boutique is located at 2 Freedom Square, in the heart of Tbilisi.
According to data obtained from the Georgian State Registry, Aram Khachatryan serves as the director of Watch World Ltd, owned by Westpoint Merchants L.P., registered in Scotland. Westpoint Merchants L.P is a sole shareholder of Georgian company.
The Khachatryan brothers Artyom and Gurgen took over control of Westpoint on June 26, 2017 as evidenced by the British Companies House Register.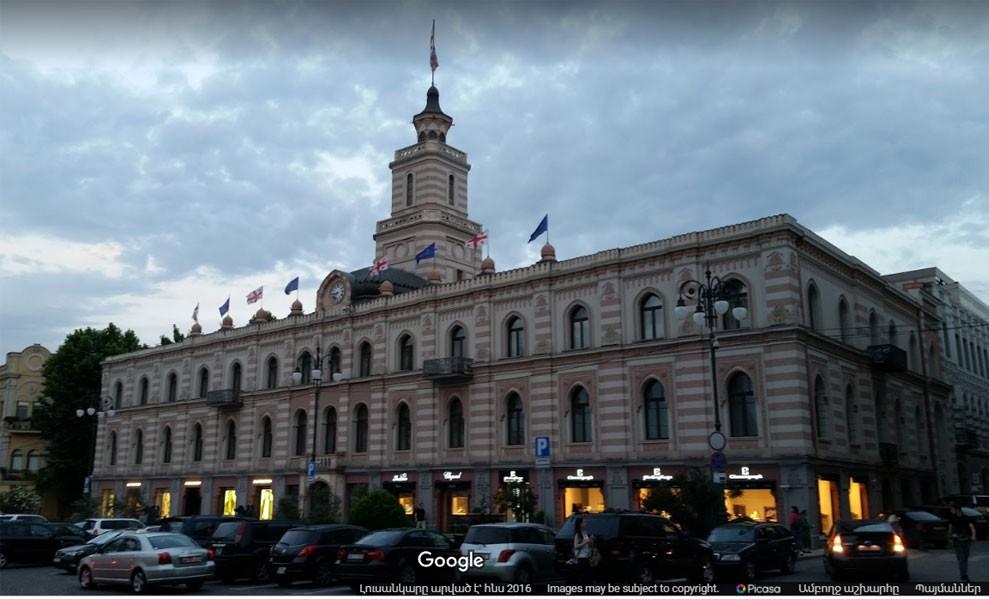 The Chronograph Boutique in Tbilisi occupies the building's entire ground floor
The Khachatryan family's company and real estate in Paris
With the help of Investigative Dashboard researchers, we come across Aram Khachatryan's name when we take a look at a company the family owns in Paris.
Gagik Khachatryan's son Artyom Khachatryan, and Artyom's wife Kristine Safaryan, registered a company called Nakrinamang LLC in Paris in 2011. Aram Khachatryan served as company director until May 27, 2016 when he was replaced by a decision reached at a general stockholders' meeting.
The company's registration documents say it's engaged in real estate. Currently, it owns an apartment located in a building located at 6 Rue Edmond Valentine, not far from the Eiffel Tower. Artyom Khachatryan and Kristine Safaryan purchased the apartment on June 18, 2009, before the company was registered, at the price of €2.6 million.
The six room 164 square meter apartment is located on the sixth floor, and has additional space for a separate dressing area, an office, and showers.
The Khachatryans also own a garage, worth €40,000, at Passage Landrieu, 9, rue Pierre Villey. They bought it in January 2011. The garage is a five-minute walk from the apartment.
Gurgen Khachatryan and his wife Kristine Hunanyan got in on the action by investing €2.620 million in Nakrinamang LLC in order to purchase an apartment on Avenue Émile-Deschanel in Paris. Subsequent documents fail to reveal if the apartment was ever purchased.
The company's capital now amounts to €5.244 million, and its divided into four equal shares owned by the brothers and their wives.
Luxury private homes in the U.S.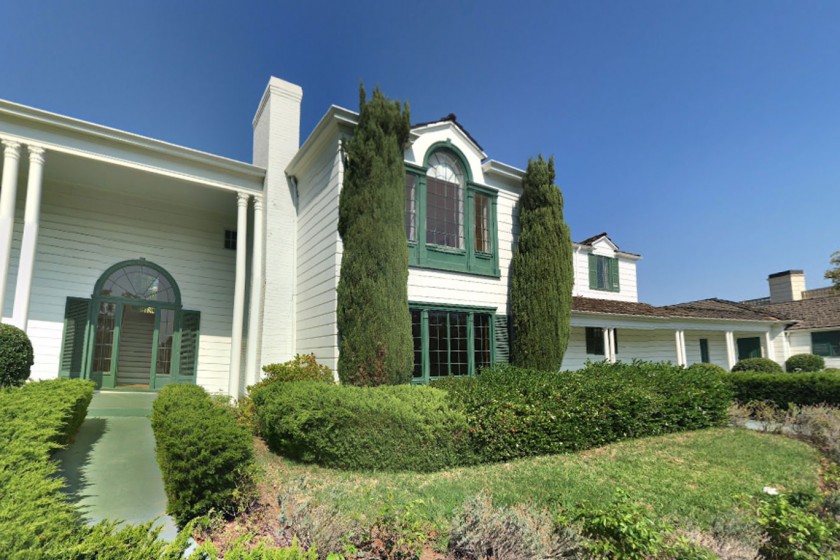 In 2010, Gurgen and Artyom, the two sons of Gagik Khachatryan, purchased a sprawling private house in the affluent Los Angeles neighborhood of Westwood. They paid $11 million. In April 2017, they sold the house for $18.8 million.
(Gagik Khachatryan was serving as the President of Armenia's State Revenue Committee at the time and controlled the country's tax and customs services.)
On August 5, 2011, Gurgen Khachatryan and Veto Trust purchased a private house at 530 S. Mapleton Drive for $14.4 million. In essence, the house was transferred to Veto Trust and its trustee Gurgen Khachatryan. The house was later demolished to make way for a much larger private house. From documents culled from a Los Angeles court case against the Khachatryans, we know that the house, appraised for $120 million, has been seized. (Hetq will cover this story at a later date.)
In addition, Gurgen and Artyom Khachatryan founded a company called Apeyron USA Inc. in 2011 in the U.S. As of 2013, the two managed the company's financial and other matters. The company is now inactive.
Khachatryan family businesses and real estate in Armenia
A company called Apeyron LLC operates in Armenia, and imports various confectionary items. According to the State Revenue Committee, it used to buy and sell bakeries. Artyom and Gurgen own 50% each of the company.
Here's an interactive chart of the Armenian business interests linked to the sons of Gagik Khachatryan
Watch World LLC, wholly owned by Aram Khachatryan, operates the prominent Chronograph watch and jewelry store on Yerevan's Northern Avenue. The company, with charter capital of AMD 600 million, is registered at 5/171 Northern Avenue. Other companies owned by Gurgen and Artyom Khachatryan (Khaksyan, Timeless, J Tableau Holding) are also registered here.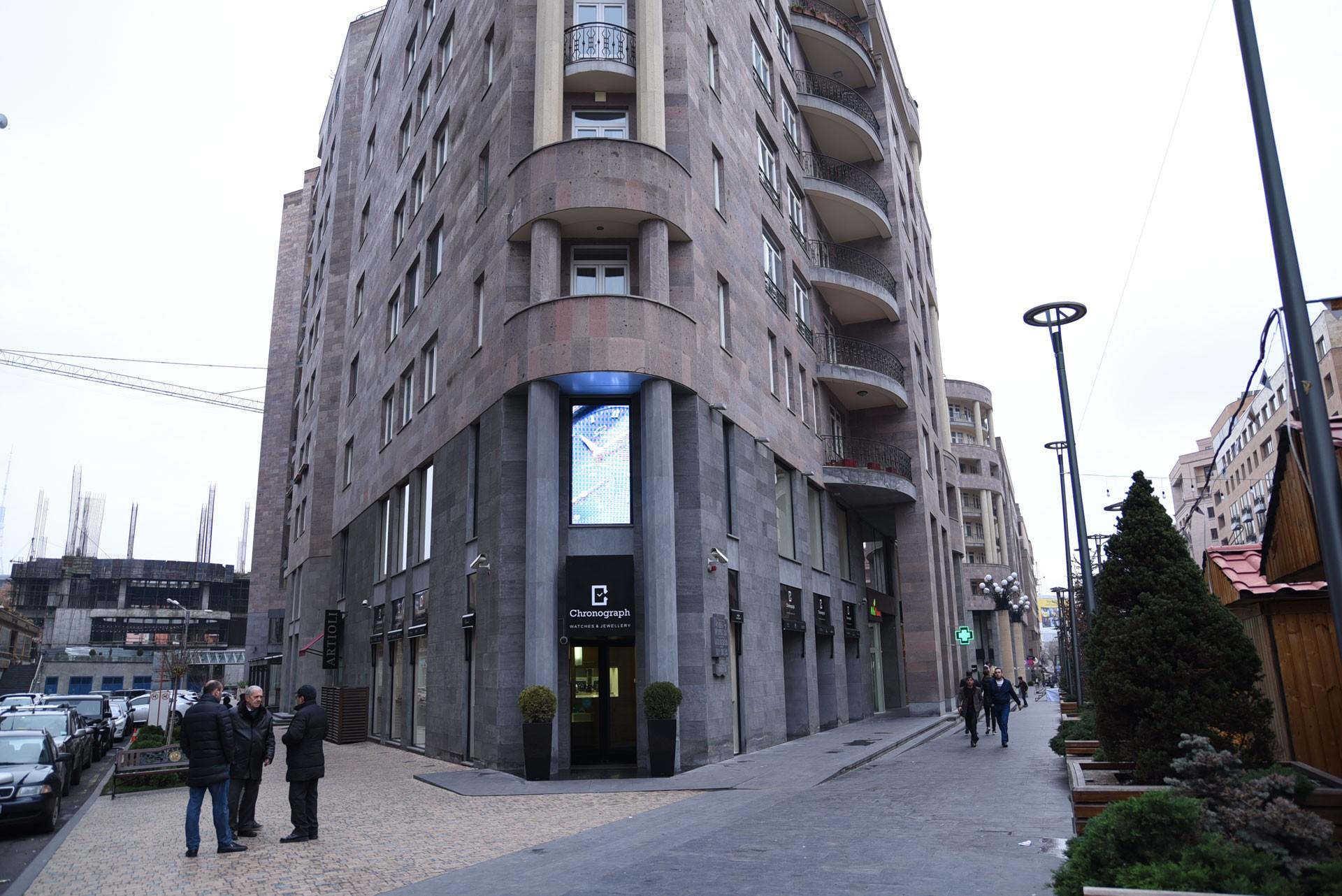 Chronograph store on Yerevan's Northern Avenue
Chronograph store on Yerevan's Northern Avenue
The store occupies a large space – 459 square meters. As of 2011, the space is owned by Khaksyan LLC. Documents obtained from the Armenian State Cadastre show that the space is comprised of three parcels measuring 158, 279 and 22 square meters.
Khaksyan LLC is registered as a company engaged in real estate leasing and other services. Aram Khachatryan served as company director for 12 years, until 2016. The company owns other property in downtown Yerevan.
Naturally, this isn't the full extent of the Khachatryan family's business interests.
In an earlier interview, when a reporter asked Gagik Khachatryan about the large sums appearing in his and his wife's financial disclosures, the former minister replied: "I've always stated that one must be afraid not of the amounts disclosed but of those not disclosed. If I've disclosed an amount, it means that I know what I've disclosed."
Photos and videօs by Saro Baghdasaryan
If you found a typo you can notify us by selecting the text area and pressing CTRL+Enter