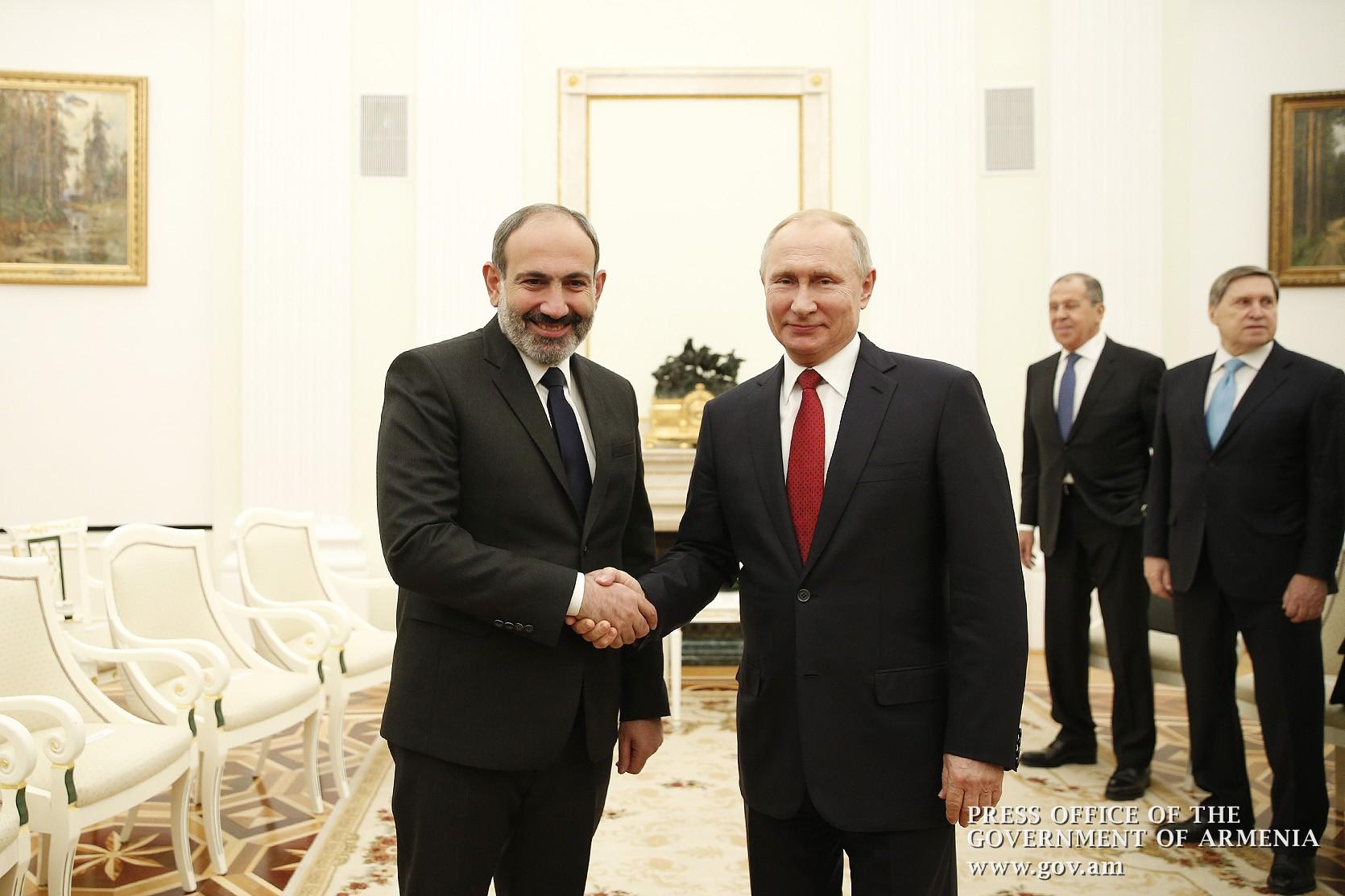 Pashinyan and Putin Meet in Moscow; Promise to Work Towards Greater Bilateral Cooperation
Acting Armenian Prime Minister Nikol Pashinyan met Russian President Vladimir Putin today in Moscow and the two discussed issues related to bilateral and multilateral cooperation.
Putin, according to a statement released by the Armenian government, said this was the first such meeting of the two since the December 9 parliamentary election in Armenia in which Pashinyan and his supporters garnered a "convincing victory" and wished Pashinyan success in realizing his projects for the betterment of Armenia and the Armenian people.
Putin noted that in terms of Armenia's economic cooperation with foreign states, Russia remains in first place at 25.5%.
"Trade volume between the two countries is growing and has increased some 30% over last year," Putin said.
The Russian president said his country would do its utmost to see the level of relations in this and other sectors is maintained.
"I mean the security sector as well. There's CSTO collaboration and the multilevel economic cooperation as part of the Eurasian Economic Union. In a word, we have a very rich and full agenda. I am very happy to see you. Welcome," Putin said.
In response, Pashinyan thanked Putin for inviting him to Moscow.
"I too am very pleased to see you, to see our partners. I've lost count of the number of times we've met. Members of the protocol staff at the airport reminded me that I'm one of the three foreign leaders who have visited Russia the most," Pashinyan said, adding that Armenia awaits Putin's official visit in 2019.
Pashinyan noted that a growing number of Russian tourists are showing an interest in Armenia, and that the number visiting Yerevan during the New Year holiday season has increased 70% over last year.
Pashinyan said he was certain the new Armenian parliament would deepen ties with its Russian counterpart and that the new Armenian government intends to strengthen the country's economic cooperation with Russia and the Eurasian Economic Union (EAU).
"We would like to deepen Armenia's integration into the EAU and we take very seriously our presidency of it. I am certain that as a result of presidency we will see a more efficient EAU integration," Pashinyan said.