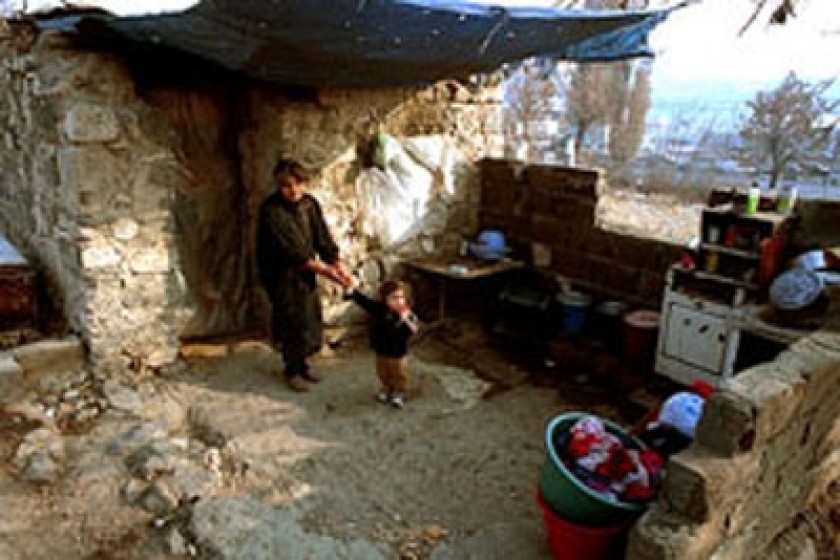 Hope is what we live on
Passing by the construction site of the new American Embassy compound in Yerevan, we noticed laundry hanging on a line in the desolate territory. We moved toward it, and heard dogs as we approached. A woman emerged from her home (if you can call it a home) and scolded the dogs.
There were three beds in the twelve-square-meter earth dwelling. The two dogs were lying among children's toys on the floor. The "owner", Juliette Zakaryan, told me her story. She, her sons Arthur, Harut, and Karen, her daughter-in-law, Lusine, and her small granddaughter Lilit have been living here for three years now, six people living by the sidewalk near the new embassy building. "We sold our house, supposedly to buy another one, but my husband was hit by a car and killed. It was in 1997. We began spending the money. It was four thousand dollars. We wanted to buy a small house, because our apartment was too small for us. We had to pay for the funeral, the forty days, and the grave stone, and then we sent a boy to the Army. My son served in the Army in Karabakh. So we began spending the money and the prices for houses jumped."
At first they rented a place. One day their home was robbed and all their documents were stolen. Now none of the adults has a passport. When they could no longer pay the rent, one of her sons found this shelter and they moved in here. In the past, Juliette worked at a barber's shop. Now she is unemployed and takes care of her granddaughter. "My sons do occasional unskilled work. I don't get a pension. Artur is entitled to disability pension but he hasn't received it for two years - he doesn't have the necessary papers, and we can't get them since that also requires payment. He is a second degree invalid and it is time now to make his pension permanent. He had gotten the pension for ten years, before."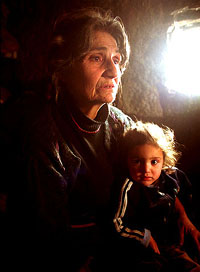 Two-year-old Lilit doesn't even have a birth certificate. They couldn't get it in the maternity hospital. Lilit's mother, Lusine, doesn't have a passport either. In two months she is due to give birth again.
The family receives no government assistance. "Have you tried to apply for assistance?" I asked.
"None of us is registered and we don't have documents. We sold our home, lost our registration and have been left hanging in the air. Now the police tell us that we have to have a place where we're registered in order to get passports. But they took my son to the army without a passport."
When I suggested they wouldn't be able to go on like this much longer, and that they would have to think of something, Juliette said, "I don't know what can we do. No one from the government has come to see us, although we've been here for so many years. Some Englishmen came a year ago, filmed us, and told us they would help, but they never showed up again." Then she added, "They say that the embassy will buy this land here, so we think that maybe we can get an apartment. We hold on to this hope; hope is what we live on.
Photos by Onnik Krikorian