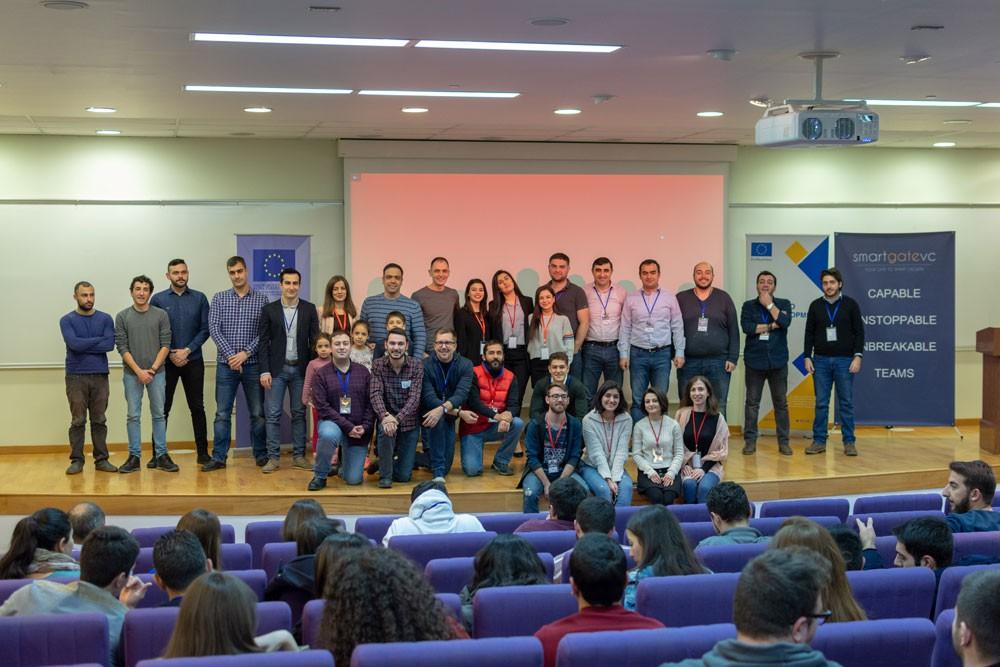 Armenia Startup Academy Graduates: From Healthcare Services to Email Security
On January 19, the twelve graduates of the Armenia Startup Academy presented their startups at the American University of Armenia.
The Armenia Startup Academy is a 12-week pre-acceleration program aimed at developing Armenia's startup ecosystem and creating an environment for world-class tech startups.
The Academy is one of the initiatives of the Catalyst Foundation created by SmartGateVC's founders. It is implemented within the framework of the SMEDA program funded by the European Union and the German Federal Ministry for Economic Cooperation and Development (BMZ) and supported by the German Federal Enterprise for International Cooperation (GIZ).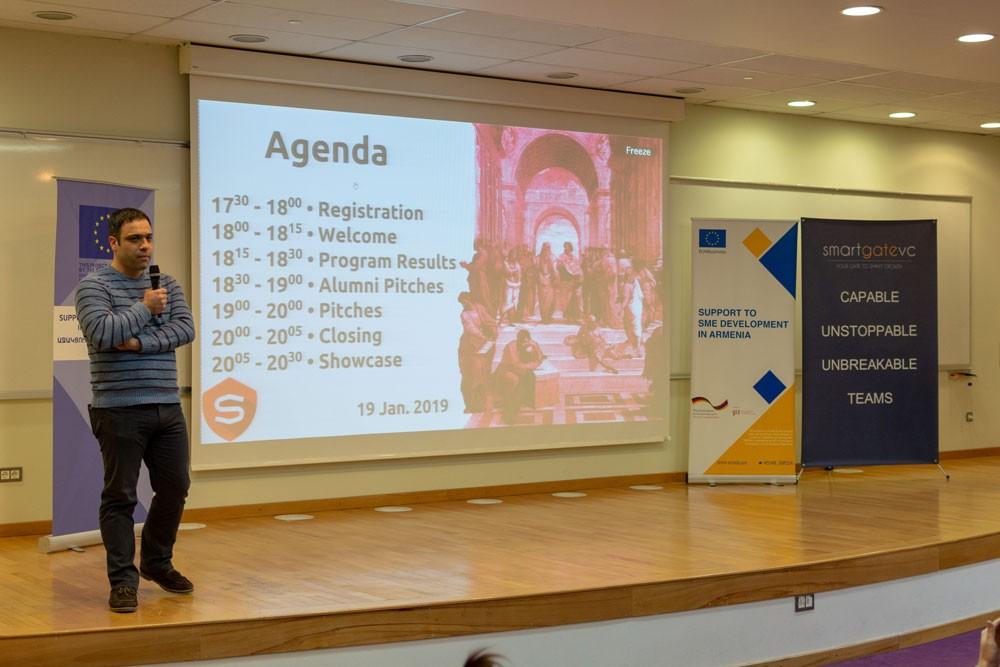 Co-founder of Catalyst Foundation Ashot Arzumanyan
52 start-ups and 121 entrepreneurs participated in the three cycles of the Armenia Startup Academy, having more than 400 individual meetings, 117 training sessions and workshops conducted by over 60 professionals and mentors from all over the world - from Australia to Silicon Valley.
As a result, thirteen startups have gained greater experience and 28 new companies have been established, of which 25 are still active.
40 startups applied to participate in the third cycle of the Academy, 17 were selected, and 12 have graduated from it.
Four of the participants will take part in a one-week program to be held in Silicon Valley. The 12 startups are IMPEL-H1 Heart Monitoring System, Illuria security, Risksensor, Robin by Expper Technologies, EasyDMARC, RetentionForce, Anteo Health, Puzl, Petto, DoHirus, Cryptondx, Altered Silicon.
IMPEL-H1 Heart Monitoring System is a system of algorithms that allows one to monitor their cardiovascular system and detect problems with 99% accuracy.
Robin by Expper Technologies is a robot serving customers. It replies to customers' questions via artificial intelligence.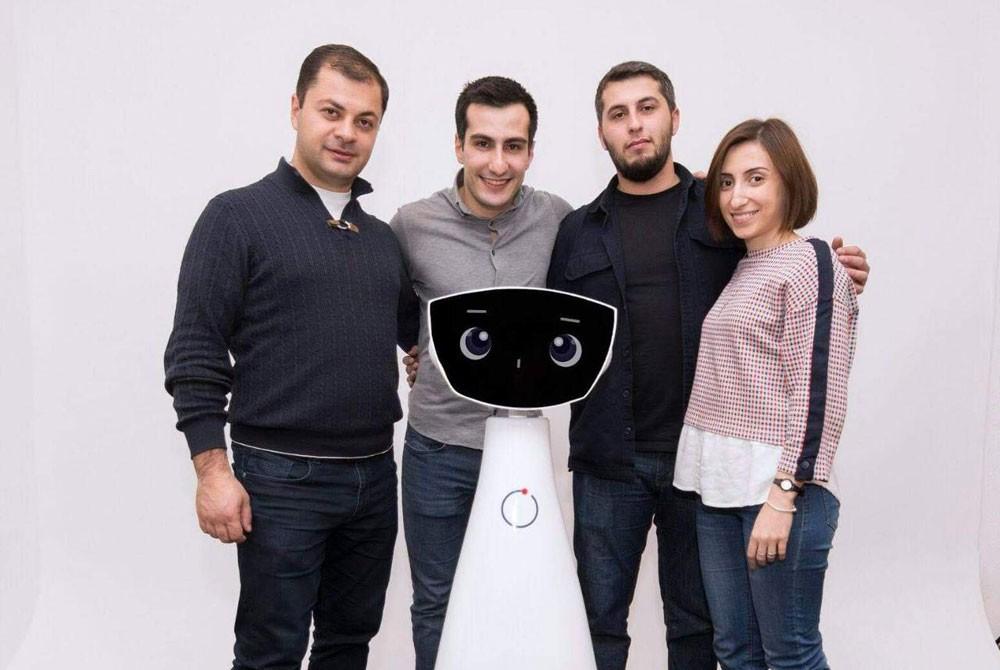 Robin by Expper Technologies startup team
Risksensor is a financial risk management toolkit that uses artificial intelligence. It is designed for individual traders.
EasyDMARC is a comprehensive solution for email system security. It allows only authorized people, organizations and services to send emails on behalf of a specific brand or organization.
Puzl is an artificial intelligence platform based on cloud computing, designed for robots that classify products.
RetentionForce is a marketing automation and customer service tool for beauty salons.
Illuria security is an automated system for information security that discovers and neutralizes cyber-attacks.
Anteo Health is a healthcare virtual platform that helps one connect with the best medical professionals in a few minutes and get a treatment plan through a mobile app.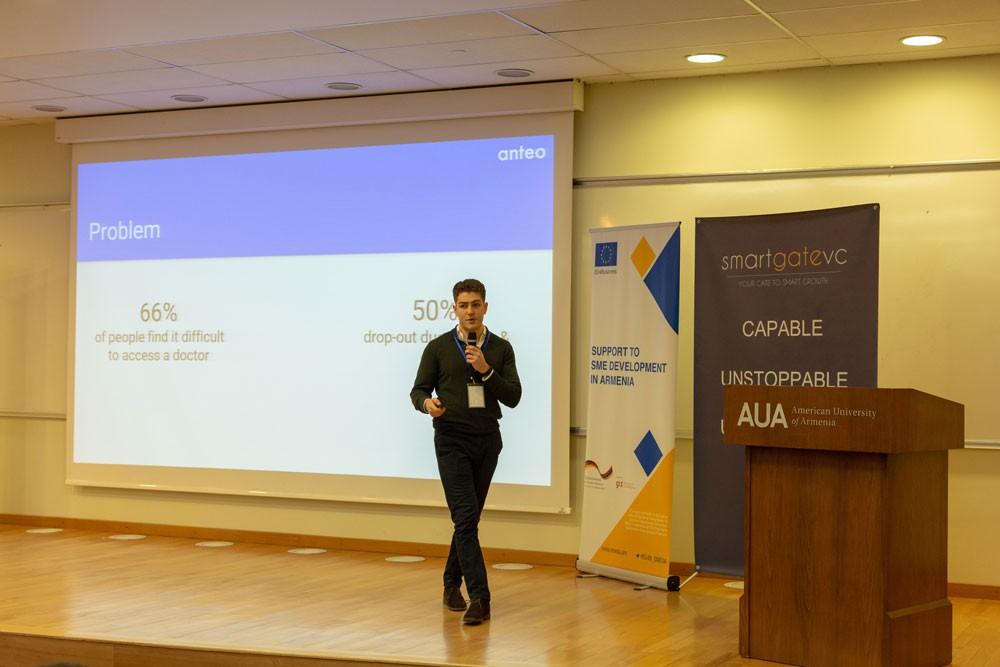 Co-founder of Anteo Health Anthony Avedissian
Petto is a system that allows users to communicate with a plant via artificial intelligence, by writing messages to each other via a mobile app.
DoHirus is a platform that allows individuals to publish short-term jobs, while others earn money doing that work.
Cryptondx is a platform that provides full information about crypto-currencies and crypto-markets.
Altered Silicon combines the economics of mining with the lucrative revenue generation of Compute-as-a-Service by renting out high-tech servers that enable data acceleration. As a result, the servers generate income 24/7.
If you found a typo you can notify us by selecting the text area and pressing CTRL+Enter