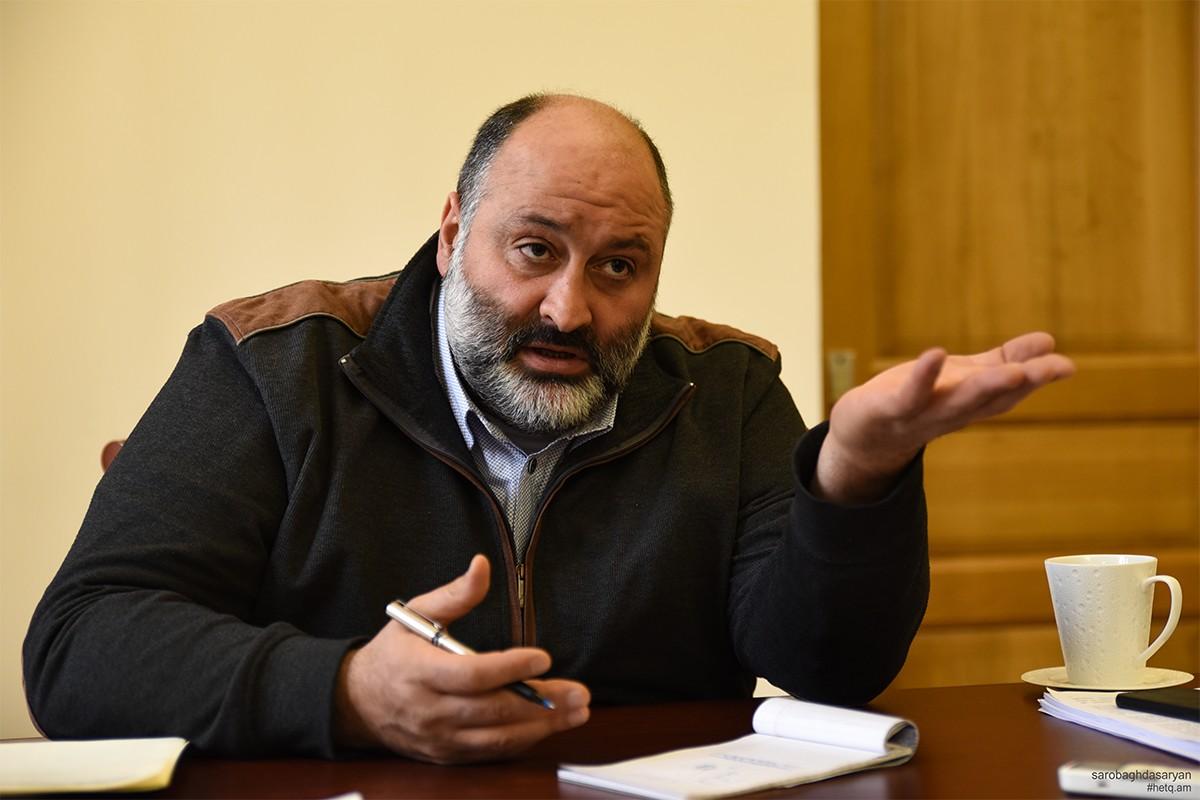 Newly Elected Armenian MP Varazdat Karapetyan: "People, working people, are the ones to develop our economy, not the government"
Hetq talks to Varazdat Karapetyan, elected an MP from the My Step faction list. Karapetyan has a Doctoral Degree in Economics, was Deputy Minister of Territorial Administration and Development in 2017-2018, and worked as an advisor to Prime Minister Nikol Pashinyan from June 2018 to January this year. He received more than 14,500 votes in Armenia's snap parliamentary elections on December 9, 2018, thus leading the preferential voting list in Gegharkounik Province. On January 18, he was elected Chairman of the National Assembly's Standing Committee on Territorial Administration, Local Self-Government, Agriculture and Environment.
Mr. Karapetyan, in your speech addressed to the National Assembly on January 17, you referred to the role of territorial administration in Armenia's economic development, emphasizing the contribution of villages and land. Could you please present your views on economic development?
People, working people, are the ones to develop our economy, not the government. The government is the people's agent. People should unite and motivate the government to act. To implement an economic revolution, thousands of people should raise their voices and say what they need, and the government must listen to them. If it doesn't, then those thousands of people will change the government.
The economy is based on relations. If enterprises cannot find specialists in this or that field, they should apply to the government, since it means that the enterprise-education chain is blocked or doesn't exist. The government should create this chain, for example, by giving enterprises a larger share in the governing bodies of vocational education institutions and councils of higher education institutions. University councils will then add the required subjects and professions in the curriculum.
If the enterprises have issues with legislation, it should serve as an impulse for the government to change the laws.
The government should create this dialogue platform to listen to the enterprises and then fulfill their orders.
Is this connection interrupted now?
No, but it's very weak. When you came to this building, you had to overcome some barriers to enter this room, right? For me, it's offensive that people - my employers - must overcome some obstacles for getting into this room.
Do you feel uncomfortable in the National Assembly?
In general, I feel uncomfortable at any state institution, because when you come inside, you leave people behind this wall, you start to get used to this situation - having a reception, assistants, a car, a driver - and gradually this comfy life takes over, making them believe they are higher in the pecking order than those down below.
Now, we must change everything, since the people expect it. But the processes for change are quite slow here. We need to create platforms for direct democracy, especially in terms of referendum policy.
You mentioned in your speech that you want to see Armenia as a country that exports education and healthcare technologies. Could you please explain?
Young people do not trust our educational system. Children do not want to go to school, and universities provide very poor education. And this is true not only in Armenia, but also in the whole world. Children have their own connection with the future, their dreams, and no matter how hard we try to deprive them of it, they stay with their dreams and clearly know that the school doesn't fit in those dreams. It contradicts their dreams and is not the place where they will get educated.
We have to work hard to understand children's dreams, where they are going to take our country, and how we build our relationship with our children. Should they have teachers who shout and beat, who can only give them knowledge that is very limited and merely memorized, or do we need to come up with something else?
You've been working on the pivotal town concept together with the Ministry of Territorial Administration and Development. Could you please give more details?
The concept has been developed. The main objective is to select two or three cities in each province, where all infrastructures will be fully utilized by means of local and central budgets. Thus, we will have platforms for businesses, even by granting free economic zone status if needed.
When businesses in these town start developing rapidly, it will contribute to the development of the adjacent territories, too. Now we have to find financial support to develop these towns. The Asian Development Bank is ready to join the process, and I think we will have the first projects later this year.
Have you already chosen the towns?
No, we don't want the choice to be arbitrarily made by state officials. The selection criteria have already been developed so that towns can apply for it. In the end, the towns will be selected based on their applications.
Photos by Saro Baghdasaryan
If you found a typo you can notify us by selecting the text area and pressing CTRL+Enter