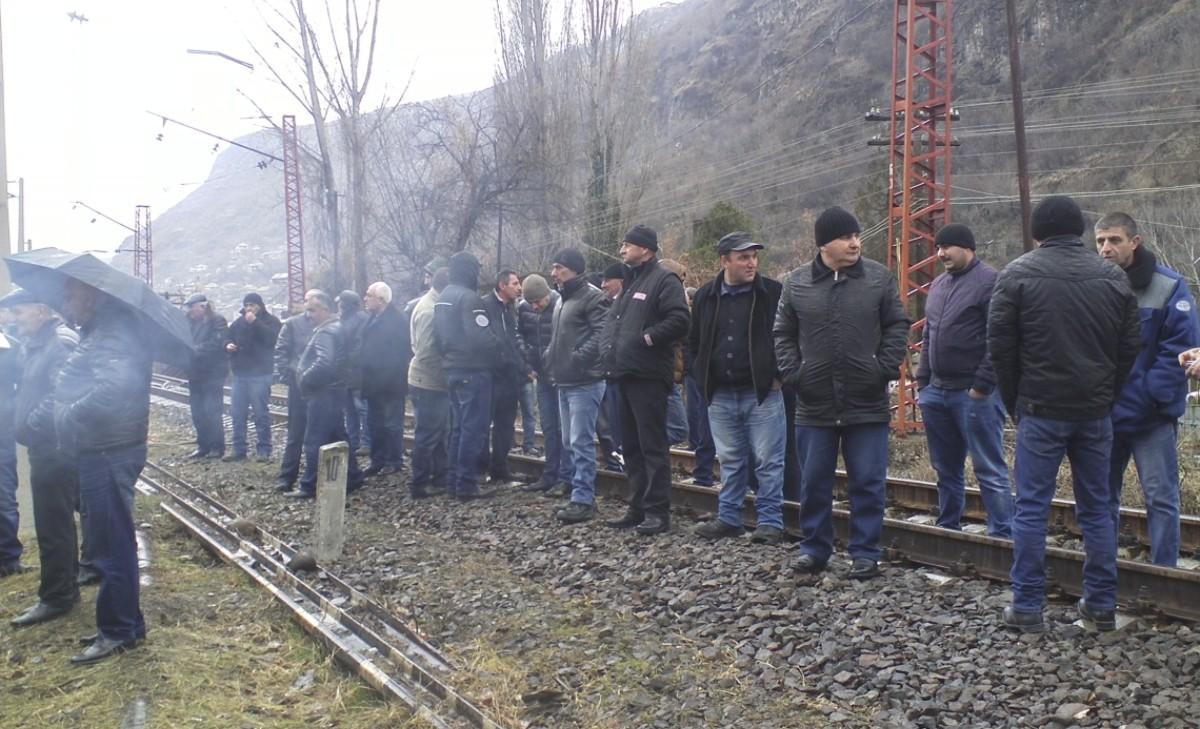 Alaverdi Copper Smelter Workers Block Railway: Demand Negotiations to Reopen Plant
For the second day in a row, Armenian Copper Programme (ACP) company workers again blocked the railway adjacent to the Alaverdi Cooper Smelting Plant and demanded that the government negotiate with VTB Bank and Vallex Group representatives to reopen the plant.
The plant, which is owned by the ACP (a subsidiary of Vallex Group) was closed last year after a study found it had violated air pollution standards set by the Armenian government in 2005. The ACP was fined $800,000.
The fate of the plant is complicated according to ACP Director Lusineh Mejlumyan.
"It's up in the air since we still don't know the position of the bank. It creates serious obstacles to reopening the plant," Mejlumyan told Hetq.
Russian commercial VTB Bank is involved because the financially-strapped Vallex Group used the Alaverdi smelter as collateral for a loan from the bank that it failed to repay.
Vallex lost control of the Teghout copper and molybdenum mine in 2018 as a result. Teghout was closed in January of 2018 because it was unable to renovate its waste disposal unit. Most of the 1,200 workers at the mine lost their jobs.
At noon today, some 400 ACP workers met with Lori Provincial Governor Andrei Ghukasyan, who told the demonstrators that he had discussed the matter with VTB representatives and two Armenian deputy prime ministers.
Ghukasyan told the workers that he couldn't reveal the totality of what was discussed because it would damage future any steps now underway to reach some type of settlement with all the parties involved. He did note that the issues of reopening the Teghout mine and the Alaverdi smelter were being pursued in tandem, as a package deal.
Governor Ghukasyan revealed that there are companies now negotiating with VTB Bank regarding relaunching the Teghout mine. He refused to name the companies, arguing it wouldn't be appropriate at this juncture.
Regrading VTB Bank's position on Teghout and the Alaverdi smelter, Ghukasyan said the bank is looking to hand over operations at Teghout to someone who would run it professionally and in accordance with environmental standards.
Ghukasyan said VTB Bank is willing to pay outside specialists to monitor the mine.
Ghukasyan promised the Alaverdi smelter workers that he would periodically provide updates on the ongoing negotiations.
After the meeting, a delegation representing Alaverdi smelter workers left for Yerevan to meet with Deputy Prime Minister Tigran Avinyan and discuss the reopening of the plant.
In November 2018, smelter workers blocked a nearby highway and railway crossing, demanding that the government refrain from taking punitive measures against ACP.
If you found a typo you can notify us by selecting the text area and pressing CTRL+Enter