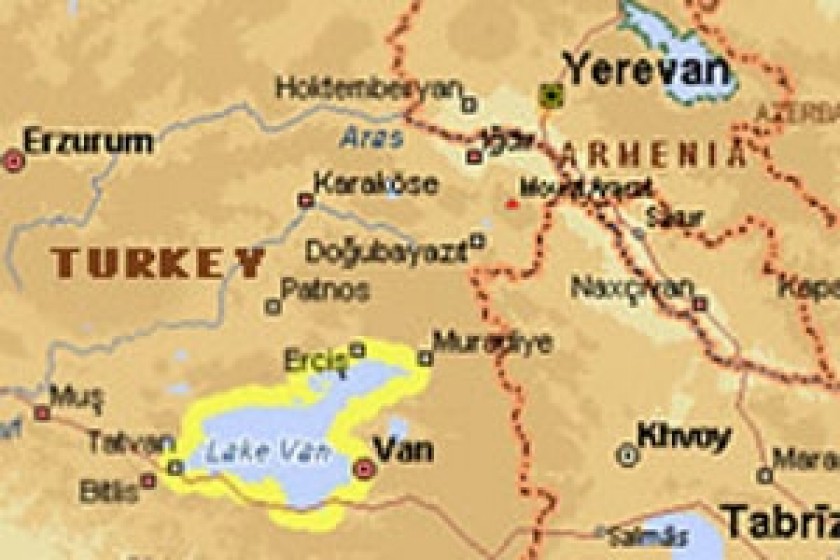 Ankara's Response to Yerevan
On April 3, 1993 Karabakh forces occupied Kelbajar. A day later Turkey closed its border with Armenia
US Assistant Secretary of State for European and Eurasian Affairs Daniel Fried has announced that his country hopes, but also anticipates, that a solution on Nagorno-Karabakh will result in an open border with Turkey. In his address to participants at an Armenian Assembly of America conference on March 27 th , Ambassador Fried said that on his recent visit to Ankara he had urged Turkish officials to open the border with Armenia as soon as possible. " Can I guarantee that the border with Turkey will be open? I can't guarantee that, and to say that I could would not be honest. But I can say that we take Armenia's security seriously. Armenia didn't choose its neighborhood, but there you are," Fried told Armenian-Americans.
Turkey recognized Armenia's independence on December 16, 1991 but refused to establish diplomatic relations, putting forward two preconditions: Yerevan had to accept the present borders of Turkey and had to abandon its demands for recognition of the Armenian Genocide. Subsequently, a third precondition was added when on April 3, 1993 the Karabakh forces took the Kelbajar region under their control. One day later the Turkish government decided to close its border with Armenia which, by diplomatic standards, is considered a hostile act.
Khosrov Harutyunyan, who was Armenia's prime minister when our country was importing bread through the territory of Turkey via the Kars-Gyumri railroad told me, "We should have acted in such a way that Turkey not close its doors. We should have treated our relations with Turkey with more care. I'm not saying that we would have succeeded in everything, but we didn't attach enough importance to those relations, we have too easily reconciled ourselves to Turkey's blockade. It was possible to exert efforts to maintain relations with Turkey even in case of Shushi, Lachin, and Kelbajar because the international community was in favor of maintaining them. I think we made things easier for the Turks; we should not have let the Turks make easy decisions. They should have worried more about making the decision to close the border. We gave in too easily."
The former chief advisor to the first president of Armenia, Gerard Libaridian, was from 1992 to1997 the main Armenian negotiator on normalizing Armenian-Turkish relations. He visited Turkey many times and had meetings at the highest level in Ankara. Libaridian believes that from the point of view of establishing diplomatic relations, the priority for Turkey is not the Armenian Genocide but Karabakh. "When we took Kelbajar, I remember well, I went to Ankara, the prime minister was Demirel at the time. During our meeting he took a map out of a drawer and explained me in Turkish: 'This is Armenia, Armenian land, we have no question, it's our neighbor. This is Karabakh, it's not Armenian land, but Armenians live there. You have concerns, you took Karabakh, we understand that as well. This is Lachin, it's not your land, and Armenians didn't live there. You took it and said it was for security reasons, we understand that too. But what do you have to do with Kelbajar? That is how they linked the Karabakh problem to Armenian Turkish relations," Libaridian recalled.
David Babayan, a political analyst from Stepanakert, emphasizes that Ankara not only links the Karabakh problem to the normalization of Armenian-Turkish relations but that Turkey is the only state which fully supports Azerbaijan in the Karabakh conflict. "This circumstance leads us to a situation in which the settlement of the Karabakh conflict is often viewed within the context of Armenian-Turkish relations. This development has both positive and negative aspects. The negative aspect is that the settlement of the Karabakh conflict becomes more complicated and the existing contradictions may become more acute. The positive aspect is that a trend like this will have a positive impact on inter-Armenian unity and will further strengthen Armenia-Artsakh-Diaspora links," Babayan said.
The political representative of the Bureau of the Armenian Revolutionary Federation/Dashnaksutyun (ARF), Kiro Manoyan, stresses that Ankara considers the Karabakh problem part of Armenian-Turkish relations. "One of the three preconditions put forward by Turkey for lifting the blockade of Armenia is the settlement of the Karabakh conflict, from their point of view - a pro Azerbaijani settlement. I think, however, that the Turkish leaders realize that they have been at a dead-end for 13 years by espousing such an attitude; to some extent they have become a hostage to Azerbaijan, and any effort aimed at changing this attitude will encounter hysterical opposition by Azerbaijan. By considering the Karabakh problem to be a part of Armenian-Turkish relations, Ankara has erected barriers on its path from the point of view of becoming more influential in the region," Manoyan said.
Former head of the National Security Service of Armenia, David Shahnazaryan, agrees that after Kelbajar Turkish policy changed sharply and the blockade was imposed. "But a very interesting event took place in the winter of 1994. A Turkish delegation headed by Ambassador Omer Ersun visited Armenia. In 1993 Turkey had closed not only the land border but the air border as well. At a reception, I told the ambassador that it was incomprehensible to us that Turkey had closed its air border with Armenia. I said that Yerevan was preparing to announce at various international forums that Turkey had a tougher position than Azerbaijan. The air borders between Armenia and Azerbaijan had never been closed and we had been using each other's airspace; mutual payments for using each other's airspace had been paid fully and on time. Soon after that the airspace was opened," Shahnazaryan says.
Former Foreign Minister Vahan Papazyan met with six Turkish foreign ministers during his tenure - Cetin, Inonu, Karayalcin, Baykal, Soysal, Ciller. "All these meetings were quite frank since neither Armenia nor Turkey had anything to hide from each other. The problems were known, there was not much need to play diplomacy. I see one thing - at that time Turkey had many fewer demands from Armenia for opening the borders and establishing diplomatic relations than now. Who is to blame for that - the Armenian authorities, or has the Turkish attitude become more rigid, or are there other reasons? It's hard to say but the fact is that the demands from Armenia at that time were much softer, fewer, and more reserved," Papazyan said.
Does Turkey in fact consider the Nagorno Karabakh problem as an element of Armenian-Turkish relations, or does it just not wish to establish relations with Armenia, that is to say - it wants the other two preconditions met and uses the Karabakh issue as a pretext?
"When they adopted this approach, I think, they believed that it would pressure Armenia to give in. The 13 years that have since gone by have shown that on the contrary, Turkey attitude hinders the Karabakh problem from being settled for it is the only leverage Azerbaijan has at the negotiating table. That is why they react hysterically when Turkey even talks in a soft tone about the possibility of opening the border before the Karabakh conflict is settled. In response to this, Ilham Aliyev stated that in that case Azerbaijan would withdraw from negotiations with Armenia. It is not a pretext, but the Turks have found themselves in a situation where after following this policy for 13 years, they don't feel comfortable. Not abandoning this attitude diminishes Turkey's role in the region, they fall under pressure from the US and the EU, who demand that the border with Armenia be opened - not necessarily for Armenia's sake. The Americans have their own interests, as do the Europeans. And Turkey doesn't open the border because 13 years ago it decided to close it in support of Azerbaijan, and Baku will view the border opening as a betrayal of Azerbaijan," Manoyan said.
Could Turkey's constructive involvement in the Nagorno Karabakh problem advance the negotiating process? Kiro Manoyan believes that through its present attitude, Turkey is a party to the conflict, and that, in fact, creates a contradiction - how can it be a mediator? "The standpoint that progress in the Karabakh conflict will promote Armenian-Turkish relations is the official Turkish position. Armenia from the outset has separated the Nagorno Karabakh problem from Armenian-Turkish relations and changing that today would not be very realistic," the ARF Bureau political representative added.
But however unacceptable it may be for the Armenian side or whatever label is put on Turkey's position, the West, especially lately, is attempting to link two questions of vital importance for Armenia and Artsakh - the Nagorno Karabakh conflict and Armenian-Turkish relations. The West, in the person of the United States, is trying to insert the settlement of the Nagorno Karabakh conflict and the normalization of the Armenian-Turkish relations into one package, that is, to find a simultaneous resolution for the two most intricate and, for the Armenian side, psychologically difficult, vital problems. It is important for us to understand here the contents of the "resolution". In other words, if we get something in the Karabakh issue, what are we supposed to give in exchange to Armenian-Turkish relations? And vice versa, if we get something in Armenian-Turkish relations, then what and to what extent are we supposed to give in the Nagorno Karabakh case.
"If we register significant progress in the Karabakh question, I think we will advance substantially in the process of establishing state relations with Turkey," Libaridian noted. "There were prime ministers in Turkey who made serious attempts at getting results in negotiations. I believe Demirel had a sincere desire, but I'm not sure he was ready to stake heavily. As for Ciller - no, she focused on other issues. Mesut Yilmaz's attitude was quite serious, but Azerbaijan put obstacles in his way," he says.
Armen Manvelyan, an expert on regional issues, disagrees: "It is not the Karabakh problem that impedes the opening of the Turkish-Armenian border or the normalization of bilateral relations, but the nationalistic policy of Turkey that views Armenians as an obstacle in the way of expanding its influence in the region and fulfilling its imperial ambitions. As a matter of fact, the Artsakh problem was not the reason, but just a cause for imposing the blockade and for avoiding establishing diplomatic relations with Armenia. Linking together the Artsakh problem and Armenian-Turkish relations is a purely Turkish idea aimed at justifying its own policy toward Armenia."
Russia, which is connected with the Caucasian region by numerous threads, is playing its own separate game. Moscow not only doesn't link the Nagorno Karabakh settlement and the Armenian-Turkish relations together, but categorically opposes doing so. The opening of the Turkish-Armenian border will mean the uselessness of the Russian military presence in Armenia. After all, the 102 nd Russian military base and the Russian soldiers stationed on the Armenian-Turkish border, according to assertions by Yerevan and Moscow, are there to guard against a potential Turkish threat against Armenia.
If you found a typo you can notify us by selecting the text area and pressing CTRL+Enter