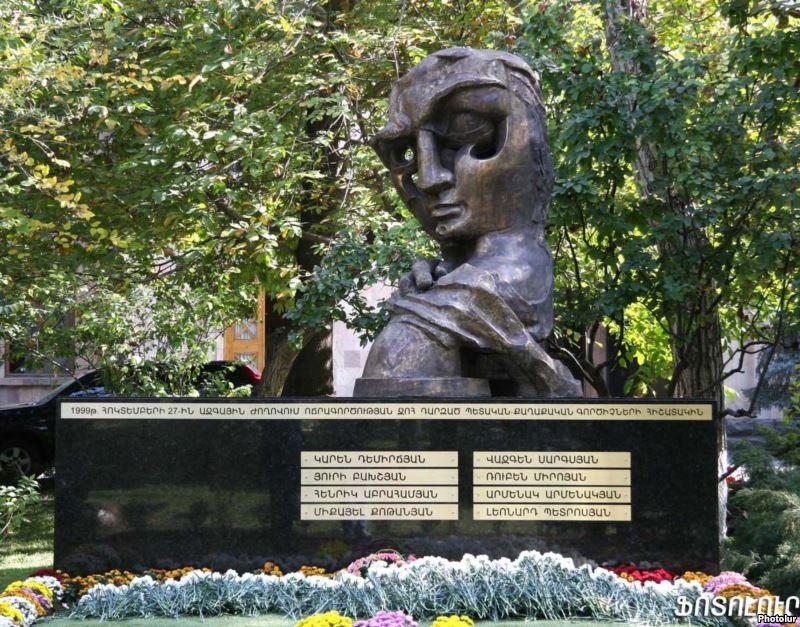 Security Agency Head Says 1999 Parliament Shooting Case Will be Reopened if Compelling Evidence is Uncovered
Armenian National Security Service (NSS) Head Artur Vanetsyan neither confirmed nor denied an allegation made by former Deputy Defense Minister Vahan Shirkhanyan that Nairi Hunanyan, the leader of an armed group that attacked the Armenian parliament on October 27, 1999, was an NSS agent.
"I will neither confirm or deny the words of Mr. Shirkhanyan. The Special Investigative Service (SIS) is examining the matter. Please direct all questions there," Vanetsyan told reporters at the National Assembly today.
Shirkhanyan, who served as Armenia Deputy Defense Minister from1992-1999, made the allegation in an open letter.
As to whether the "October 27" case will be reopened on the basis of Shirkhanyan's letter, Vanetsyan said the Prosecutor General had forwarded the letter to the NSS and the SIS.
"The appropriate examinations will be made. If certain evidence is found as a basis to reopen the 'October 27' case, or to launch a new criminal case, rest assured it will happen," Vanetsyan told reporters.
Prime Minister Vazgen Sargsyan, Parliament Speaker Karen Demirchyan, Deputy PM Leonard Petrosyan, Deputy Parliament Speakers Yuri Bakhshyan and Ruben Miroyan, and MPs Henrik Abrahamyan, Armenak Armenakyan and Mikayel Kotanyan shot and killed in the attack that injured at least thirty.
Top photo: National Assembly park memorial to the victims of the October 27, 1999 attack
If you found a typo you can notify us by selecting the text area and pressing CTRL+Enter