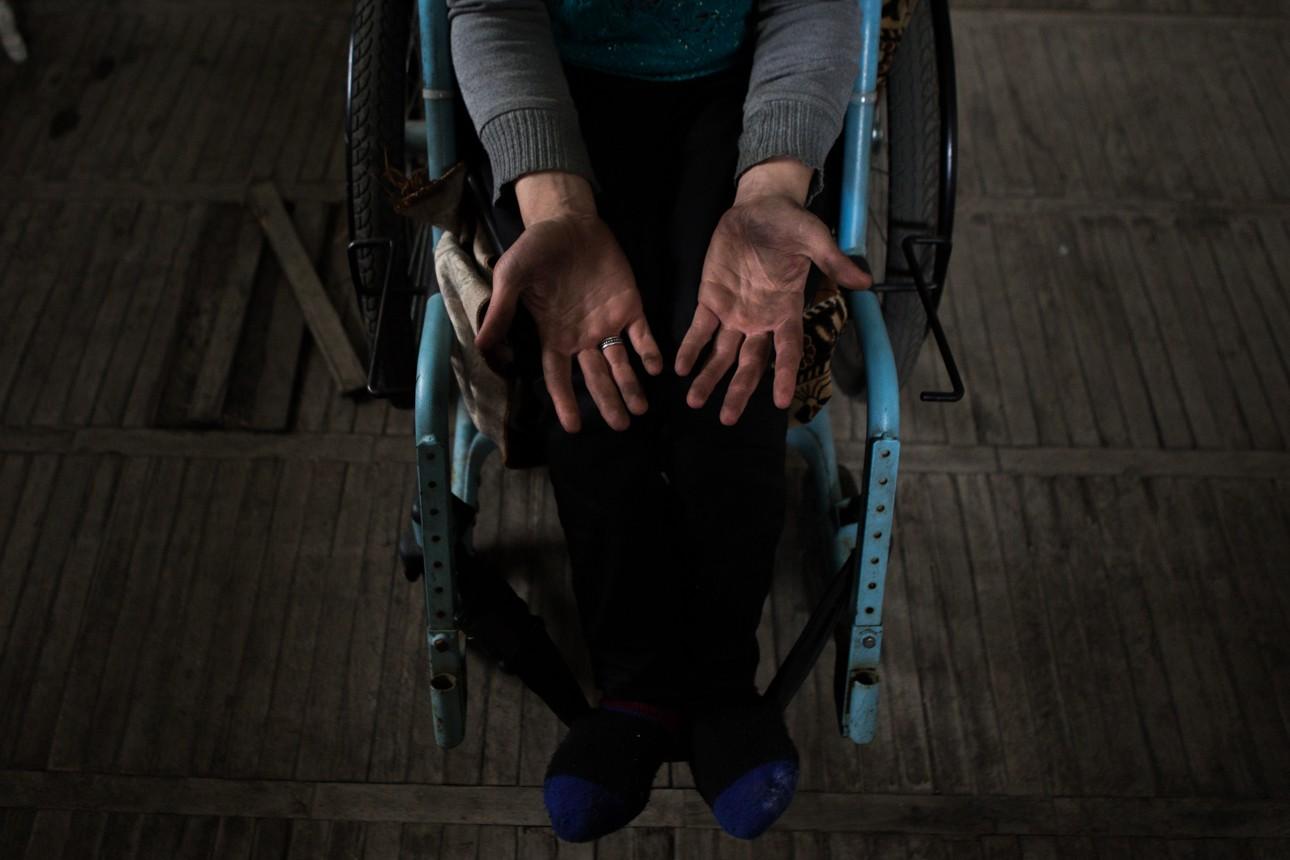 Nowhere Else to Go: Defense Ministry Threatens Mom and Disabled Daughter with Eviction
Mariam is having difficulty navigating her wheelchair along the cracked wooden floor.
She pushes and pulls the wheels back and forth and then attempts a right turn in order to move forward.
Her hands are rough and soiled from grasping the rubber of the antiquated chair. There's a silver ring on one finger. Her fingernails are polished in red.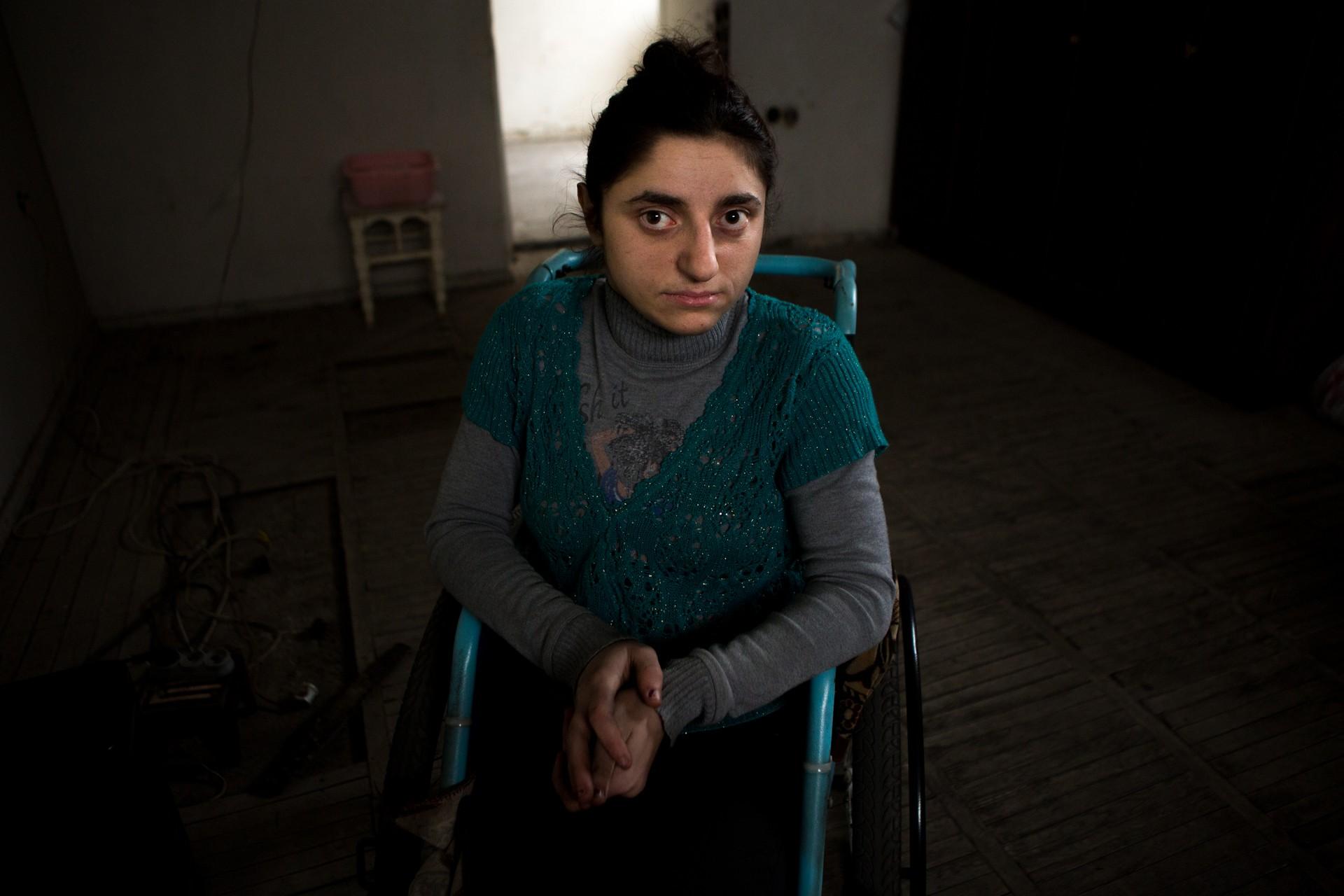 23-year-old Mariam, from Yerevan, has to use a wheelchair to get around due to cerebral palsy. When she was four years old, her parents divorced.
Mariam's monthly disability pension is 25,000 drams.
The pink basin with water at the entrance of the room is for Mary to wash her hands. She does so several times a day, but they get dirty again soon after. Margarita Babayan, Mariam's mother, says that cleaning the room doesn't get rid of the dirt.
47-year-old Margarita Babayan is a fighter. She participated in the Artsakh War of the 1990s and the four-day battle in 2016. She says it was her duty to the homeland and she doesn't want to talk much about it.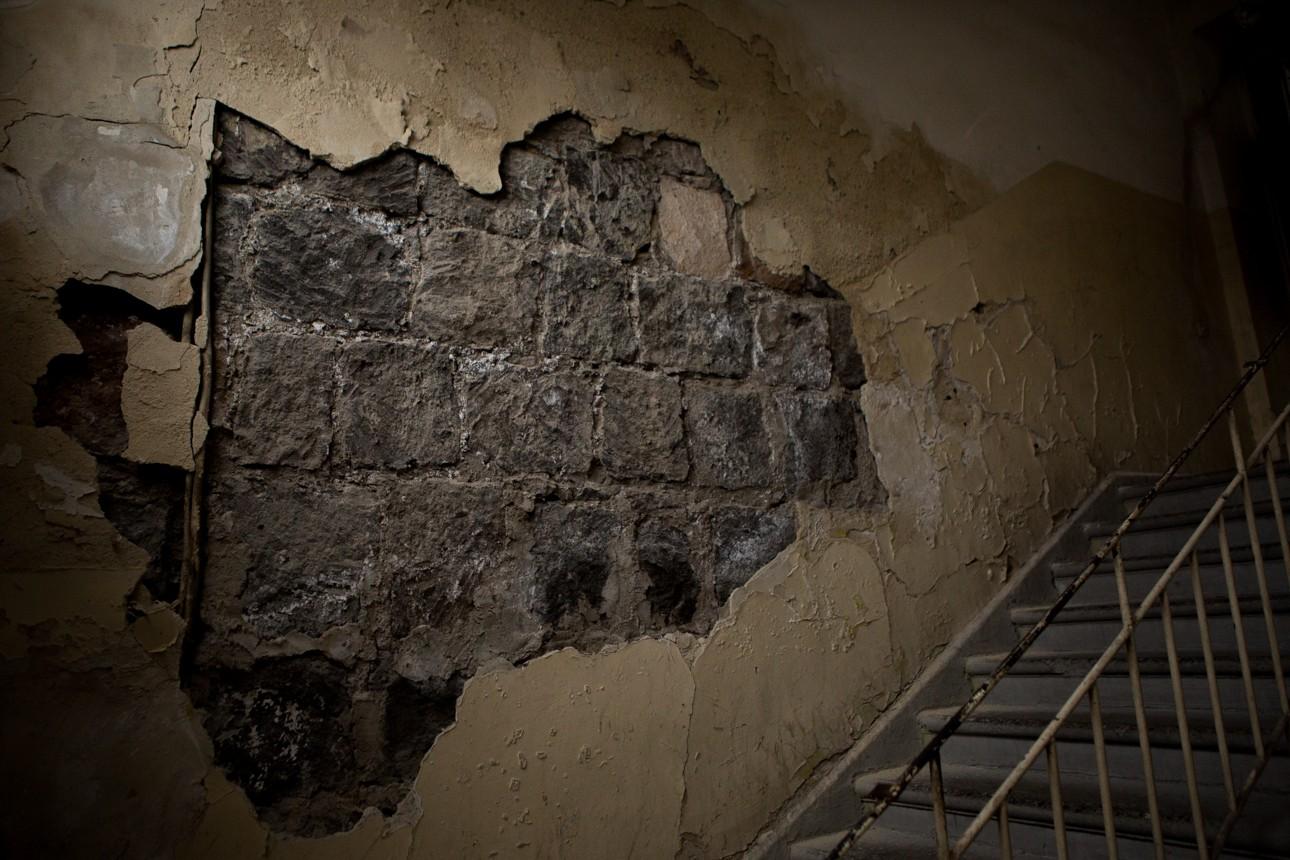 Mariam and her mother live in a three-story building at 110 Mouratsan Street, Yerevan. It's registered to the Ministry of Defense.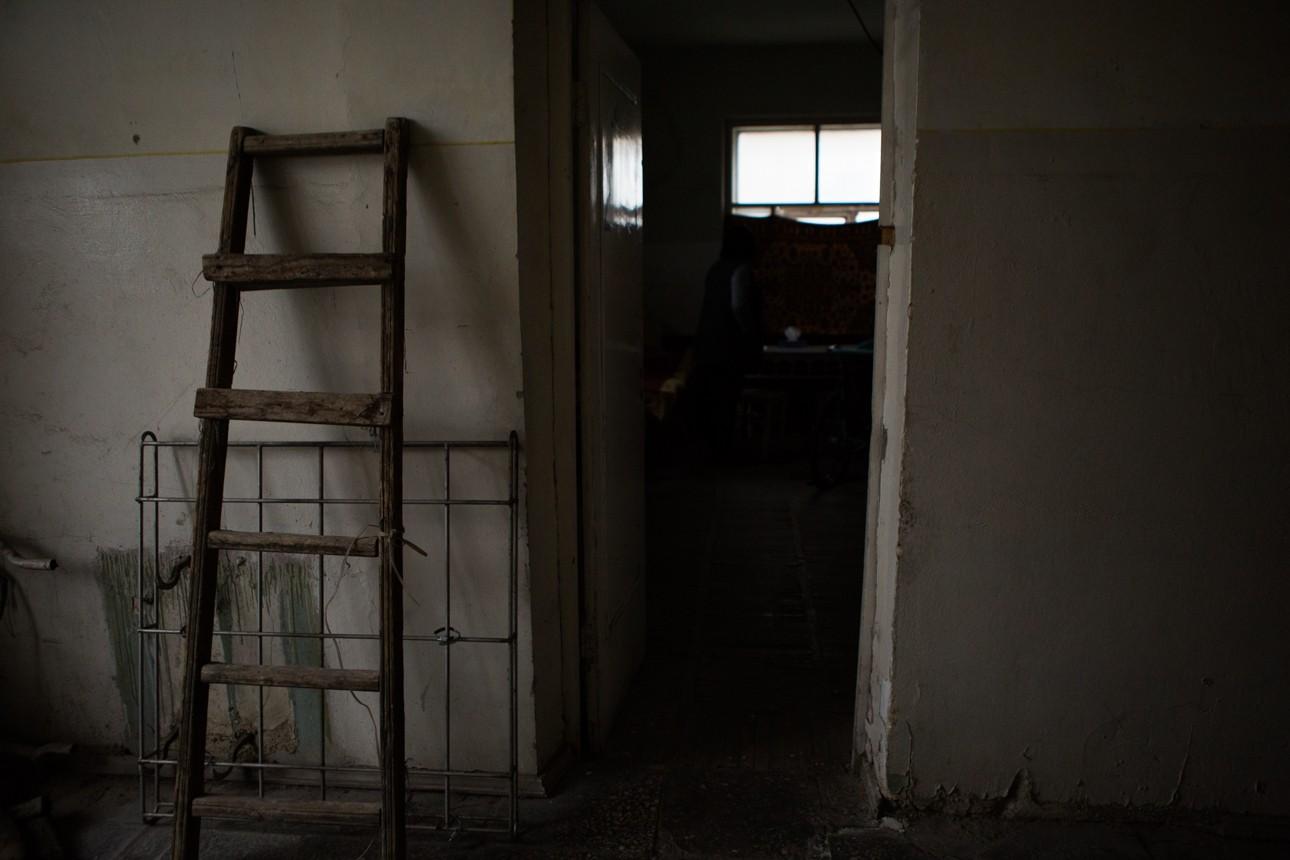 On the first floor, there are the offices of non-governmental organizations related to the army. The second and third floors were inhabited by 12 war veterans and their families in April 2018. They moved out tons of garbage back then, since the building hadn't been inhabited for years. Margarita says the previous authorities promised to support them, but the revolution left them empty-handed.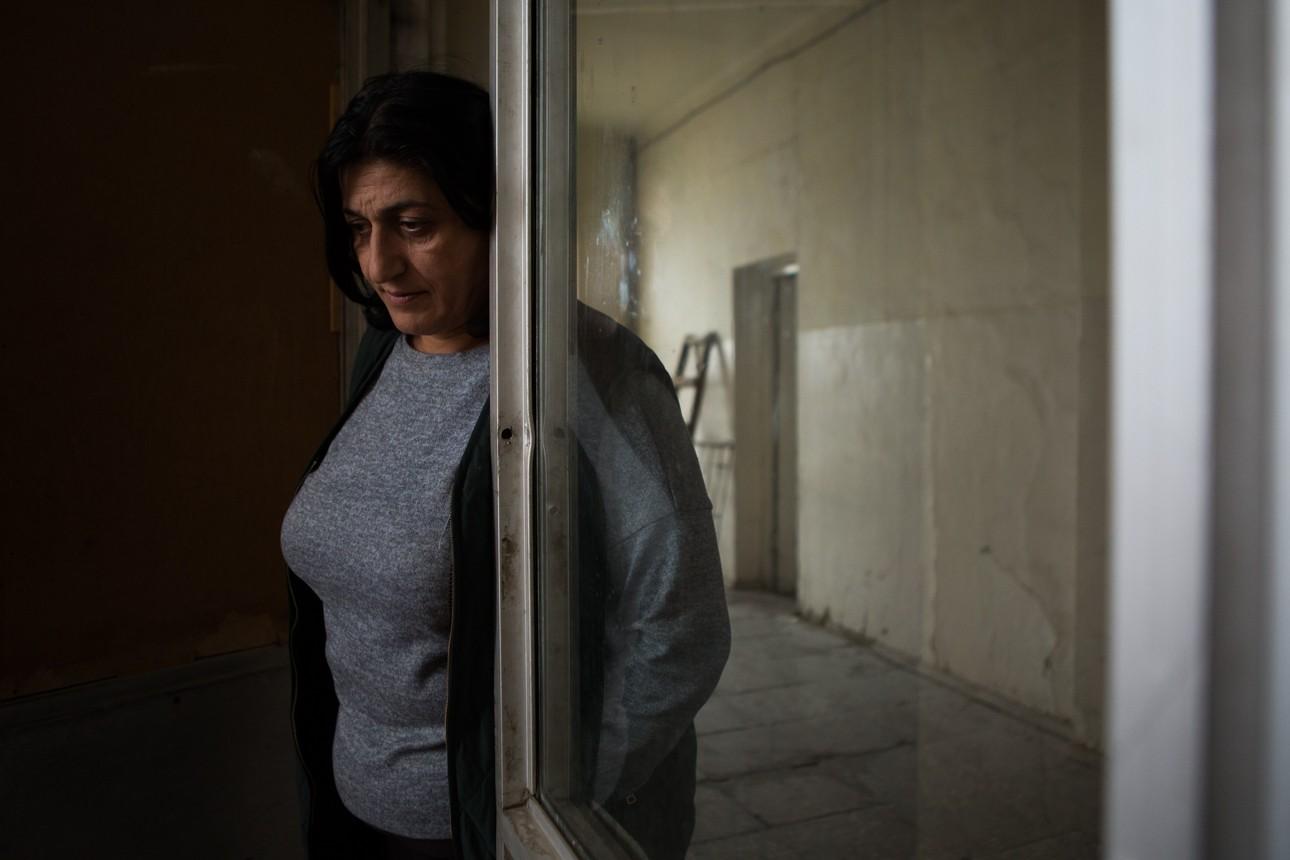 According to Mrs. Babayan, the Ministry of Defense claims that they entered the building illegally and have to vacate the premises. The ministry is threatening to take the matter to the courts if they don't.
Mrs. Babayan says they have no other place to go. As a solution, she suggests that they be allowed to privatize the rooms or that they become wards of the Ministry of Defense.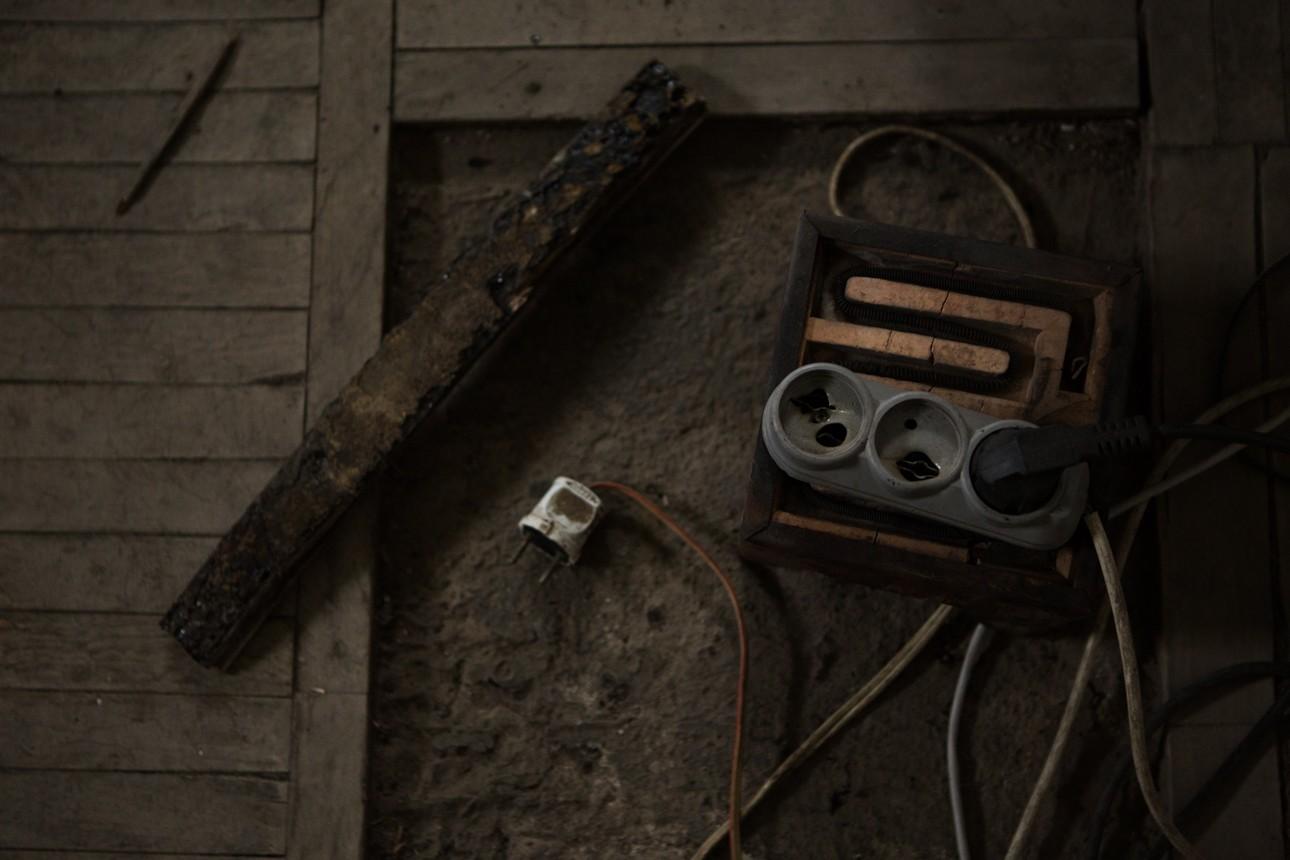 The housing conditions are far from ideal. Sofa covers hang instead of curtains on the windows. The wardrobe is half-empty. They just have a small electric heater. The kitchen has a concrete floor. It's too cold inside. They share a toilet with others living on their floor. Getting there and using it is a problem for Mariam. Bathing is a bigger obstacle. They put a washtub in the bathroom and bath somehow.
Mrs. Babayan is unemployed. They survive on Mariam's disability pension. Her son left for Russia to work after serving in the army. She says her son is having a hard time as well.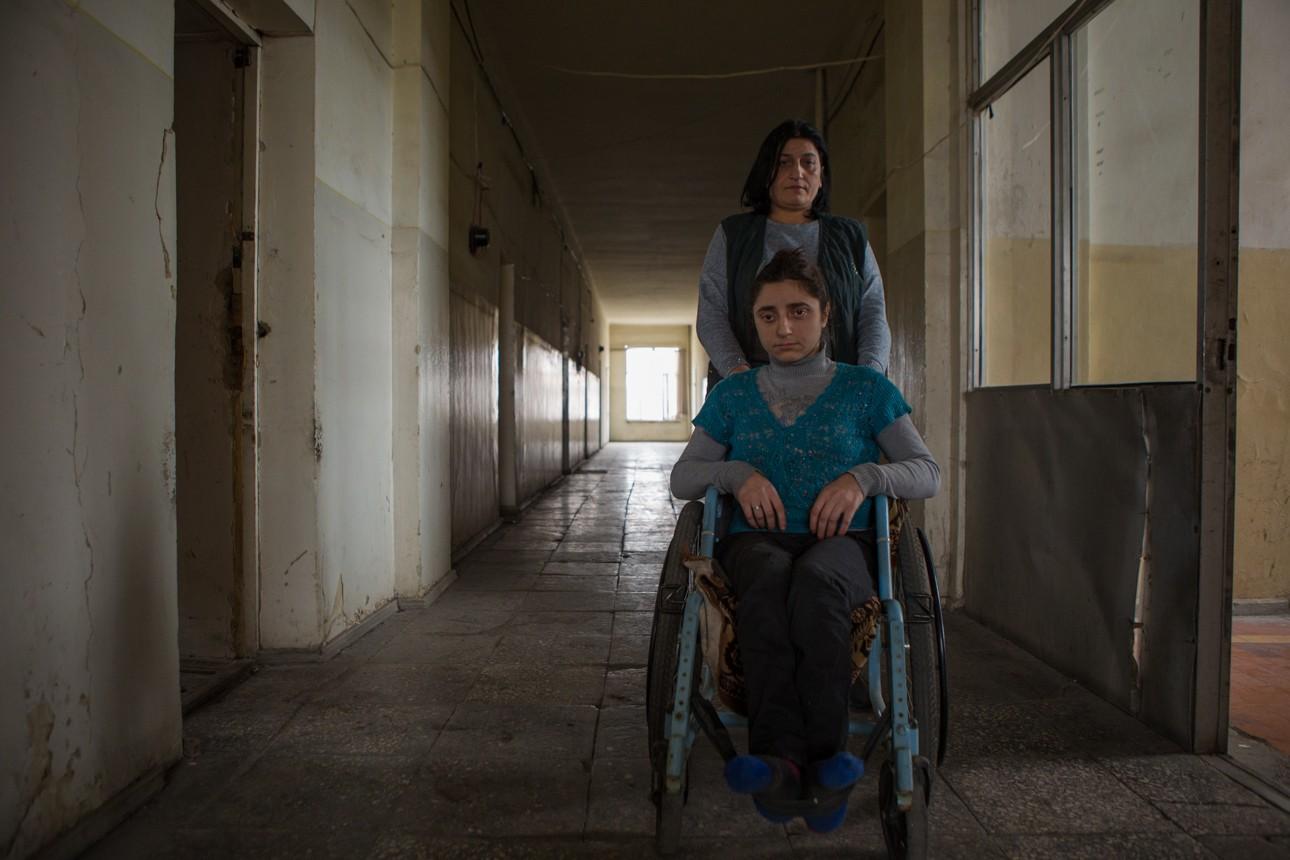 Mother and daughter say they've talked to so many reporters about their situation that they feel like "stars" now.
Mariam tells us she wants to become a computer programmer.
She attends a few programming classes. She wants to have a good job. That, she believes, will lead to having good friends and colleagues.
She's feeling pretty desperate right now.
Mrs. Babayan says her daughter's future is uppermost in her mind .
"I hope, that at least in ten years, even if I'm gone, Mariam has her own four walls, a room with a carpet, so that her hands don't get dirty again," she says.
If you found a typo you can notify us by selecting the text area and pressing CTRL+Enter